In the 2007 NBA Draft, the Portland Trail Blazers drafted Ohio State University center Greg Oden at No. 1 overall.
Oden spent months leading up to draft night competing with Texas University's Kevin Durant for a place on the Portland squad that touted a talented young roster with Brandon Roy and Lamarcus Aldridge as headliners to a show that seemed destined to take the league by storm.
Oden won that competition. On draft night, he was picked first overall by the Blazers and it appeared that he had a long and impressive career ahead of him.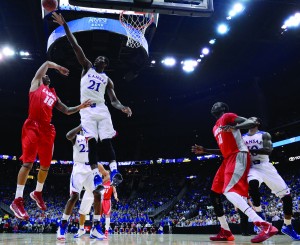 Bad luck, however, had other plans for the big man's career.
Before his first season in the NBA, Oden decided to have season-ending micro-fracture surgery on his knee, ending his rookie campaign before it could even begin.
The following year, Oden showed flashes of brilliance and it seemed that despite the lost year, he would finally step into his place as the league's next dominant center.
Again, fate would have its say. A collision with Corey Maggette caused Oden to miss more than a month, and his play after his return was uninspiring to say the least, as he missed making any of the all-rookie teams.
In the 2009-2010 season, Oden once again raised his supporters'hopes as he played at an elite level, dazzling fans with his potential. But injury once again entered the foray. In just the 21st game of the season, Oden leapt to block an Aaron Brooks floater and landed awkwardly, fracturing his left patella.
Since then, Oden has become the poster child for injury-plagued careers ruining the potential of greatness. More than that, Oden has impacted every draft since his 2009 injury.
Because of Oden's unfortunate career, general managers are now more cautious with injured prospects than ever before. We saw it just last year, as potential first overall pick Nerlens Noel fell five spots to No. 6 because of an anterior cruciate ligament tear during his only college season.
And that's what's facing Kansas University's Joel Embiid this year.
While other prospects are inundated with questions about their play, their character (hello, Marcus Smart) or the size of their hands, Embiid has only one real question facing him: Can he stay healthy?
And that's what every GM, commentator, scout, fan and even mascot is asking of the young man.
Does he deserve this scrutiny as a result of his injury? Almost certainly not. Embiid has rehabbed for months and has put on multiple extensive workouts for scouts, including one that inspired Yahoo Sports'Adrian Wojnarowski to tweet that it is "impossible to imagine passing on [Embiid] at No. 1."
Embiid has everything scouts look for in an NBA prospect. He's huge, standing seven feet tall without shoes and sporting a seven-foot, five-inch wingspan. He moves with more fluidity than any seven-footer ever should, and he's virtually unstoppable when he has the ball. Among seven-footers, his ability to move throughout the lane and handle the ball is incredibly rare. With Kansas, his ability to move and score as well as his size drew comparisons to San Antonio Spurs center Tim Duncan.
He averaged 11.2 points, 8.1 rebounds and 2.6 blocks in his time with Kansas while playing just over 23 minutes per game.
Embiid has an incredible ability to score while facing up on defenders, shooting from the post, and he has an above average hook shot to finish over defenders.
On defense, Embiid has the size and ability to develop into a game-changing defensive player, plugging up the painted area and blocking shots, which he did very well at Kansas, averaging 2.6 blocks per game.
More than anything else, Embiid is interesting because he's only been playing basketball since 2011. To NBA GMs that means one thing, a word more important than any other when preparing for a draft: potential.
Embiid dominated college competition in only his third year of playing basketball, which is truly unbelievable considering how naturally the game comes to him.
The only flaw in his draft stock is history. Embiid has a history of injury, as did Oden. He dominated in college and has the skills to be the best center in the league, as did Oden.
The difference? Before Oden, there wasn't a recent precedent of an injured center missing out on his potential because of injury. So really, what's hurting Embiid is Oden. The wounds created by Oden's missed potential are still open and they're hurting more than just the Blazers and Oden, they're hurting every prospect with injury history, none more so than Embiid.
With all that in mind, Embiid should be the first pick. He simply has too much potential to be missed, and the Cleveland Cavaliers have too much need for a franchise center to play off of Kyrie Irving. If he falls to the Philadelphia 76ers at the third pick, the entire city of Philadelphia should throw a parade in celebration, because at the third pick Embiid could be the biggest steal in recent memory.
Embiid aside, the "Big Four"of draft prospects is rounded out by Australian shooting guard Dante Exum.
Exum is basically the same player as the Sixers'Michael Carter-Williams. He is a lanky, athletic player with high potential and an elite ability to get out on the fast break, and a jump shot that needs improvement. That being said, he has higher potential than Carter-Williams as he is younger at just 18 years old, while Carter-Williams is 22, and Exum is notably more athletic.
Out of the top four prospects, Exum is the least known. He's played overseas for his entire career, so while the average fan wouldn't have seen him play, GMs have been paying attention to Exum for years. He has a high ceiling, but is generally viewed as less impressive than Embiid, Jabari Parker and Andrew Wiggins, and he'e projected to be taken by the Orlando Magic at No. 4.
The only way the Sixers will pick up Exum looks to be a trade involving Michael Carter-Williams. If Carter-Williams is traded for assets, there will be room for Exum on the team, but it's highly unlikely the Sixers will leave the top three picks.
Twenty days. Mark your calendars. If it's already marked, mark it again. We have entered Draft Month.