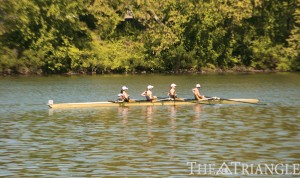 After a spirited performance at the Rumson Boat Race Sept. 29, the Drexel men's and women's crew teams continue their season with the 2012 Navy Day Regatta Oct. 13, held on the banks of the Schuylkill River in Philadelphia. The Dragons will be going up against the likes of city rivals the University of Pennsylvania, Saint Joseph's University, Villanova University and other teams from around the country.
Drexel comes into this regatta on the heels of a great showing at the Rumson Boat Race two weeks ago. Drexel won three out of the four events on hand, including a clean sweep of the men's and women's varsity eight races. The men's varsity eight defeated second-place Rutgers University by 2.5 seconds (8:02.48 to 8:04.83), while the women's varsity eight won their race by a very comfortable margin, defeating second-place Villanova by nearly 30 seconds (9.21:52 to 9:48.9). The women's second varsity eight also won their race, but the Dragons were denied a clean sweep of all proceedings when the men's second varsity eight lost to Army by the slimmest of margins.
Nevertheless, Director of Rowing and head men's and women's coach Paul Savell was happy with his team's efforts.
"The early victory was a good reward for all the hard work put in during preseason training," he said. "Hopefully it creates some momentum for our upcoming races."
Savell was also impressed by the intensity and tenacity shown by his team at the Rumson race, saying that the mixture of underclassmen and upperclassmen involved were the catalyst to their "aggressive and energetic races, which helped produce a strong showing."
As dominant a performance as the Dragons showed in Rumson, it doesn't get easier for them this weekend. The Navy Day Regatta will act as a showcase for some of the top rowing teams on the East Coast and beyond, which Savell says should be a reminder that his team should "stay ahead with our training, for our competition will be training to improve and get faster as well`