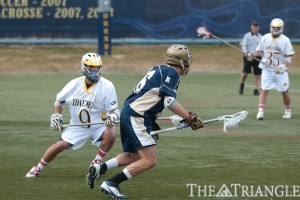 Drexel senior defender Dana Wilber keeps his distance against a University of Notre Dame attackman during the Dragons 5-6 loss to the Irish at Vidas Field March 3.
It's always great to go out on top. While the Drexel University men's lacrosse team could not bring home the ultimate prize, the Colonial Athletic Association Championship, senior defenseman Dana Wilber just capped off his finest season to date.
To validate his efforts, Wilber was awarded the CAA Defensive Player of the Year award. Wilber's superb performance this season has contributed to the Dragons' No. 18 national ranking. The Dragons also have one of the best defenses both within the conference and throughout the country.
The Dragons' schedule this season ranked as one of the most difficult in the nation. Holding opponents to under nine goals per game is no small feat, and the Dragons were able to accomplish that this season thanks largely to Wilber's excellent play throughout the year.
Throughout the season, the Dragons' defense held ranked opponents to subpar performances. Unfortunately, some of those results did not go the Dragons' way. Drexel's defense held then-No.1 University of Virginia to nine goals, then-No. 2 University of Massachusetts to eight goals, and No. 5 University of Notre Dame to six goals in admirable efforts. Wilber had strong performances in those losses to top-ranked opponents.
Overall, Wilber caused 18 turnovers and 30 ground balls, leading the Dragons for 2012.  One of the highlights of his season was holding Tewaaraton Trophy winner Steele Stanwick, the nation's top lacrosse player, scoreless and without an assist in the Dragons' one-goal loss to UVA.
Wilber capped off his season by helping the Dragons to make a run to the CAA Championship final, where they lost to UMass. Wilber may not have won the title that he and his teammates wanted the most, but he was still recognized for his outstanding defensive efforts with this honor. As a result, he will go out on top this year as the best defenseman in the CAA.