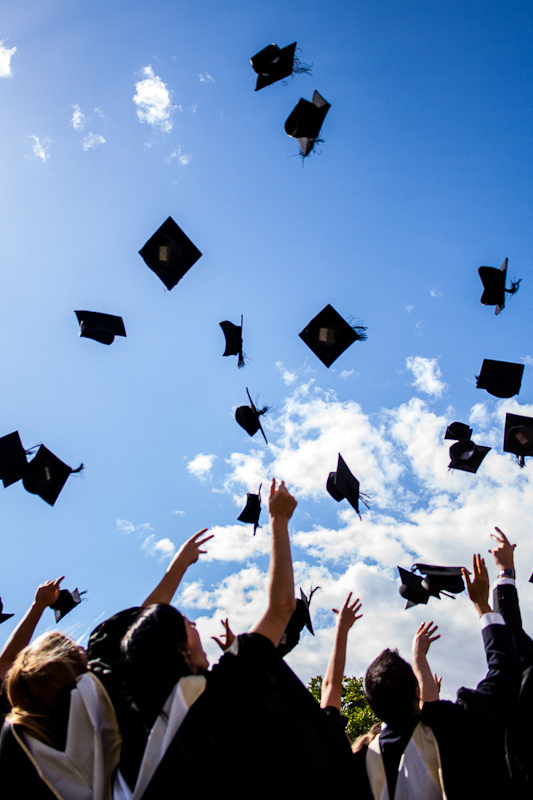 Drexel will have two graduating classes this year.
One is the student body's. The occasion will be proud and happy for those who have completed their bachelor's, professional, or graduate degrees, and to all those students — some of whom have been mine — I extend my warmest congratulations and best wishes. I don't need to tell you it's a rocky world out there, and that some of the assumptions I could make when I stood in your shoes about a more or less stable workplace with secure employment, benefits and pensions are no longer the case. You'll have to be nimble, and often quick. But I hope you'll remember the virtues of friendship, solidarity and mutual care. They're the ones that count in the end. To all of you, best of luck.
The other graduating class is a different story. Some of its members are leaving voluntarily. But many aren't, and even for those whose decisions are entirely their own, there is a sense of unseemly haste and pressure, not to say coercion. I speak of those faculty and staff who are being pushed toward retirement by the university's decision to terminate all post-retirement monetary benefits as of June 30 for staff and, for some faculty retirees, Aug. 31.
I've written about this subject before, but as I've spoken to faculty and staff, including both those who are retiring and those who aren't, I've been all the more deeply impressed with the sense of stress, frustration, resentment, bitterness, and plain, raw anger I've encountered. And it isn't lessening as the hour of severance approaches, but deepening. If there's a single word that sums up all the emotions people are experiencing, I'd say it's this: betrayal.
In a way, this is surprising. Surely the experience of the modern American workplace is familiar enough by now? Surely we've heard and read about the implosion of America's manufacturing sector as good jobs became the country's chief export; of the collapse of unions; of falling wages and unfunded pensions? Surely we've come to understand that the postwar social contract between capital and labor has long been shredded, if indeed it was ever anything but a pious fiction?
Well, yes — but a university is supposed to be different. It's an academic community, and a community is a place where people work toward common goals and look out after each other, and where the bottom line isn't a buck but some nobler value like education, knowledge and free exchange. All of which presupposes some personal and institutional virtues, such as dignity and respect.
But, time's up, class. It's time to stop trying to smell the roses, because, although there may be a few left, there are an awful lot of stinkweeds pushing up through the grass.
Exhibit A would be the Voluntary Retirement Incentive Plan.
Back in the day of defined benefit retirement plans, universities committed (once you were contractually vested) to giving faculty a lifetime retirement income typically approximating half of your last working income. Ancillary benefits were similarly guaranteed. With the advent of defined contribution plans, the university guaranteed only an annual monetary contribution, part of which was, of course, your own. Where that money went, and what it ultimately provided, was up to you: for faculty, into TIAA-CREF accounts; for staff, 401(k)s. The university washed its hands of any post-employment responsibility, other than for such benefits — medical and life insurance, severance pay, tuition remission — that it chose to offer, but could reduce or retract at will. You might say that they constituted a moral obligation, since they would have been part of the compensation package that served to attract labor. But, now you see it, now you don't. Drexel's medical and severance benefits were cut sharply four years ago. With this year — with the current crop of retirees — they will vanish.
Many of those now retiring have been counting on Drexel's medical benefit, degraded as it's been. I probably needn't tell anyone that you don't want to enter the health insurance racket these days with your naked wallet alone. You might want — you might need — a few extra years of employment to top off a minimally adequate retirement. But the loss of medical coverage might be too big a risk to take. Anyway, Starbucks is still hiring.
See what I mean about academia being one big, happy family?
What I don't get, though, is how buying yourself a raft of ill will is going to solve a $72-75 million budget hole (or whatever the actual figure is). My guess is that the immediate payoff for the VRIP won't exceed ten percent of the deficit. For that, several score people around the university have been sent rushing through a two-month retirement process that, to be orderly, should involve a minimum of two years' personal and institutional planning. Their divisions and departments will be left scrambling for replacements, if any, or assigning new (and, of course, unpaid) duties to those who remain. There won't be much time for goodbyes, if anyone's in the mood for them.
These graduates of the Drexel retirement class of 2017 will not, by and large, be taking happy memories with them. I had a conversation recently with a departing departmental secretary who'd spent nearly thirty years at her job, enjoying the lively atmosphere of intellectual life around her and the good friends, both faculty and staff, that she'd made. She'd been thinking of retirement, but not the guillotine. Now she found herself with a host of transition problems she hadn't planned for, including the need to sell a house.
A good person, a good worker, a familiar and valued colleague. See you later.
I've pointed out that student alumni aren't the only ones who take the reputation of Drexel into the world with them. So do retirees. That the retirement class of 2017 won't be doing any cheerleading is a given, but that's only the tip of the iceberg. More retirement-eligible faculty and staff are staying than leaving, meaning that they will give up their retirement benefits to keep earning a paycheck and pursuing a career. I've talked to them, too, and they are just as burned as those who are going. They will do their jobs — they are professionals — but their resentments will fester, and that bad blood will find its way into the tissue of the institution.
If the senior administration has any awareness of the anger it has stoked, it certainly isn't showing any sign of it. Perhaps it has climbed so high on its perch that it can't see the toilers below who merely carry out the humble tasks of education. Drexel would certainly not be alone in this assumed arrogance; the administrative class that has insinuated itself at the heart of the modern university with Weberian diligence regularly confuses itself with the academic enterprise as such. That would explain why Drexel's retirement benefits were scrapped without public notice or discussion; why the rollout of the VRIP was so botched that even those charged with implementing it had no answers to elementary questions about it; and why retirees are being hustled out the door with such indecent haste and without the slightest acknowledgment of their service.
President Fry, who likes to think about the Big Picture, recently wrote an op-ed for The Philadelphia Inquirer in which he suggested that colleges and universities "have a duty to foster healthy debates founded in civil discourse" because "University campuses are perfectly suited to bring together different people" to air their differences in an atmosphere of "respectful, thoughtful and honest dialogue — done face to face and not behind the safety of a mobile phone."
Yes, and such dialogue would have been particularly useful this past year between the [resident and his own university community. Apparently, the thought never dawned on him.