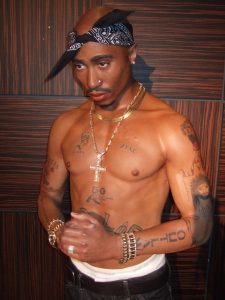 Elvis Presley, The Beatles, Led Zeppelin, Pink Floyd, Queen, The Rolling Stones, Public Enemy, Run-D.M.C. and NWA. What do all of these groups have in common? They are all members of the Rock and Roll Hall of Fame. Yes, that's right. Public Enemy, Run-D.M.C. and NWA, three of the all-time greatest rap groups, are all in the Rock and Roll Hall of Fame. How does this make sense?
Don't get me wrong, I personally love these groups, and all of them deserve recognition in their own right. Public Enemy gave us not only Flavor Flav, probably one of the biggest rap icons of all time, but also told us to "Fight the Power," a phrase people follow every single day, especially when boycotting this year's presidential election. Run-D.M.C. not only put out one of the best shirt designs in history, but also brought Aerosmith back to life with a "Walk This Way" remix that is arguably better than the original. Without Run-D.M.C., we probably would never have "Don't Want to Miss a Thing," and that alone would be a tragic blow to music.
Do all of these acts deserve to be in a hall of fame? Absolutely. They have more than put the work in to gain entry.
Do they deserve to be put in the Rock and Roll Hall of Fame? Absolutely not.
This is not at all a knock to any of these acts, but it just doesn't make sense to put them in the Rock and Roll Hall of Fame. It's like putting Elvis Presley in the U.K. Music Hall of Fame, or Led Zeppelin in the Country Hall of Fame, or Justin Bieber in any hall of fame. It just doesn't make sense. Their induction essentially states that rock and rap are the exact same thing.
Rock and rap each have unique histories, unique characteristics, unique adaptations and unique evolutions. Saying that someone like Tupac Shakur, who will be inducted this year into the Rock and Roll Hall of Fame, creates better music than a group like The Beatles is highly subjective, especially considering that these are from two different and distinct genres. However, they are being classified in this way.
So what should be done? Their admissions into the Rock and Roll Hall of Fame should be reconsidered, their inductions in the Rock and Roll Hall of Fame should be revoked and they should be inducted into a new hall of fame. One that respects the histories of rap and hip-hop.
If you think about it, the timing is just about right. By the time of the Rock and Roll Hall of Fame's first class in 1986, the genre had already experienced quite a history, one that had endured about 50 years. Rap today has existed for nearly that same amount of time, with many major stars that have symbolized the biggest changes in its evolution. If rock 'n' roll has already had its chance to embrace its pioneers and its game changers, shouldn't rap be given that chance?
Even though the Rap Hall of Fame should be created, the first inductees should not be this year. Using the Rock and Roll Hall of Fame's eligibility rule (25 years since their first album), most of the original greatest hip-hop and rap artists are still not eligible. Artists such as The Notorious B.I.G., Jay-Z, Eminem and Dr. Dre will not be eligible for another 5 years. And wouldn't it be fun to see Tupac, Biggie Smalls, NWA, Jay-Z, Ice Cube, Dr. Dre, Eminem, Run-D.M.C., Public Enemy and the Wu-Tang Clan headline the first ever class? It would be a moment fit for the musical gods. It would be historic.
However, until that day arrives, the world will just have to accept that the musical community believes that Kendrick Lamar and Imagine Dragons perform the same type of music. It's a musical injustice, but one that can be corrected. It's time to bust some new rhymes — rhymes that redefine the boundaries of music.