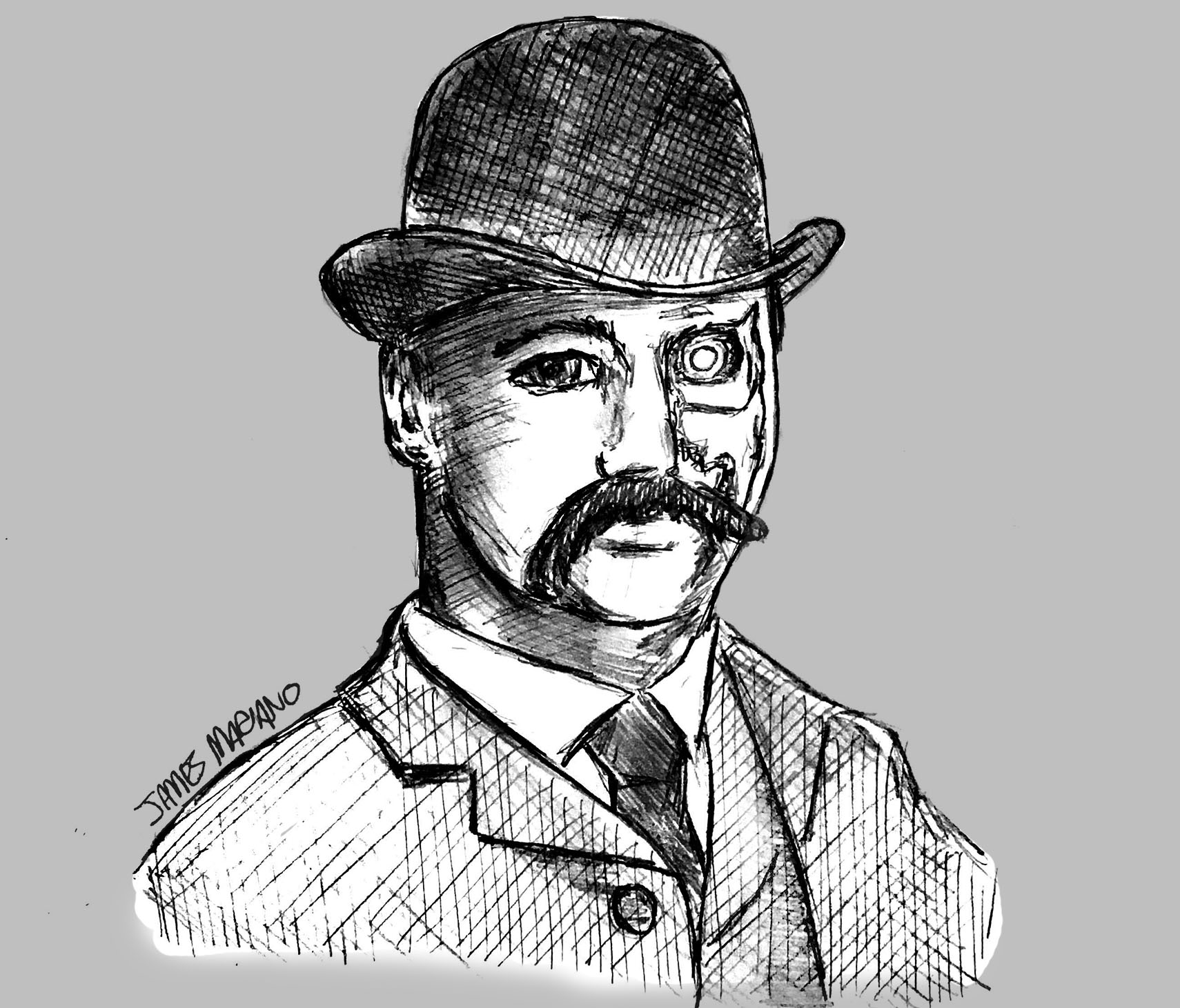 Philadelphia native H. H. Holmes, subject of Erik Larson's popular 2003 book "Devil in the White City," was convicted and sentenced to death in the 1890s for the murder of his business partner. He is more famous for having allegedly murdered several dozen if not hundreds of people during the 1893 Chicago World's Fair, where he lured guests to his "hotel," which was home to trap doors, gas chambers and a crematorium, though he was never officially charged for these crimes. H. H. Holmes was hanged at a Philadelphia prison May 7, 1896.
Or was he?
Rumors have been swirling for over a hundred years about the possibility that Holmes evaded execution, and that the corpse in his burial plot is not his own. As of this week, NBC10 reports that the exhumation process has begun to determine once and for all, through DNA analysis by the University of Pennsylvania, if Holmes is in fact buried in the grave that bears his name in Holy Cross Cemetery, just a twenty-minute car ride from University City.
From an anthropological perspective, we see the value in this. It will put to rest a speculation that is over a century old, about a man that is often referred to as the first serial killer in the United States. It is an intriguing and perhaps essential part of our history, ugliness notwithstanding.
But it isn't anthropologists who brought the exhumation request to a Delaware County court, according to the Associated Press; it was his own great-grandchildren. A family member told the AP that the great-grandchildren were not commenting.
Why, from his descendents' perspective, could this really matter? Is it a matter of pride? Are they trying to prove with certainty that their ancestor paid for his crime? If so, how much redeeming value could that possibly have, considering he was still a serial killer with a fairly horrific modus operandi?
Perhaps it's a matter of curiosity, the way people look into their family trees to discover quirks about their ancestors. But is curiosity a powerful enough motivator to dig up a body that is surrounded by layers of concrete and subject it to DNA testing? What will they gain from knowing with certainty that he was executed? How will they feel if it turns out he wasn't? Or, further still, that the nearly 121-year-old corpse does not have enough intact DNA for a conclusive answer?
All of these questions aside, there is one issue that stands out uniquely. Anywhere from two to 200 people were killed in Holmes' mansion of horror — and many if not all of them were cremated. The great-grandchildren of these victims do not have the privilege of an exhumation. Many of them can't even be certain about their ancestors' fate, and they never will have it. There is no justice for them. From this perspective, do Holmes' descendants really have the right to ask whether their great-murderous-grandfather died of a hanging in Philadelphia or somewhere else while hiding from the law? Have they thought about the pain it may cause the victims' families if it is determined that the perpetrator never faced consequences for what he did?
After much consideration, this exhumation seems like it may be raising more questions than it will provide answers. Either way, events like this, with such historical significance and deep-rooted controversy, don't happen every day, and they certainly don't happen in Philadelphia's backyard. Though it likely will not impact any of us directly, it may be in our best interest to pay attention to what happens next. Anthropologists are digging 120 years into the past to determine the fate of a man who is perhaps America's most notorious serial murder, and there may be no precedent for the implications of what they discover.