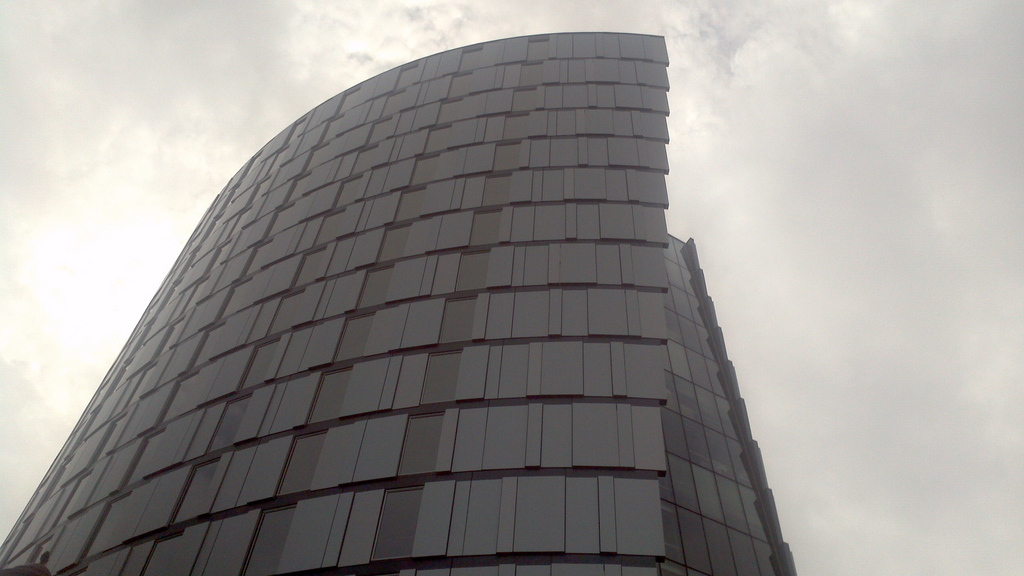 Standing tall at 17 floors with its curvy structure and shiny appearance, most people are in awe when they see Millennium Hall at first glance. I was definitely excited to be living there for my freshman year. The exterior design of the building makes it look far more superior to the other buildings, and what's inside makes it even better. I advise all freshman looking to truly experience dorm life to give Millennium a chance.
Now don't get me wrong: Millennium Hall is still a dorm, and by all means is not perfect. At least 10 percent of the time, you can expect one of the three elevators to break down, and you better hope that you're not trapped inside. There's the occasional random fire drill and there's a crazy game of shower roulette where someone is going to end up coming out in a bathrobe until the okay is given to head back inside. The lounges — which are not that big to begin with — are haphazardly  thrown together, and it's always a battle for chairs. The hallways are tight, so maneuvering past people is always an awkward hello and goodbye. It gets cramped in a lot of places across the building. The rooms aren't that big, so you don't have that much space to move around if you're having more than a handful of people in the room. The good news is that the window gives you an amazing view of the city. However, you can't open the window, so that's the price you pay for the view.
Yeah, some things aren't really great here, but nothing is perfect. The resident assistants can be sticklers at times and can really come down on you, but what can you do? At the end of the day, they just want things to work well for everyone because they care.
The building is nice, but that's not what makes this building great. To be frank, it's the people. One of the things that makes Millennium Hall great is that it's an all-freshmen dorm. Everyone wants to meet people, and it's so easy to do. You can walk on any floor and expect a warm welcome. You meet people in the elevators, in the laundry room and the occasional getting off on the wrong floor. I've made a handful of friends with people who would have been complete strangers had I not run into them. There is also a pool table in the lobby, and no one knows how to play, so it's always fun to play with random people. It's nice that there is a sense of community here, because for most people, it's the closest thing they're going to have that feels like home.
There is a little family on every floor in Millennium. Because the rooms are so small, it forces most people to go interact with others. Everyone can hang out and sprawl on the couch together and bond. There's floor four, which is like the party floor; you can go down and hear good music and have a good time. There's floor 17, which by far has the best view of University City that you'll get in a dorm. It's always nice to go up there at night. There's floor 10, because for some odd reason, people say that everyone lives on floor 10. And then there's my home floor, 11th Heaven.
My floor is unique to me and everyone who lives there because it feels like home. I've met some of my best friends on this floor. A majority of the floor resides in the lobby together, helping each other with homework and sharing laughs throughout the night. We have an open door policy, so people walk into each other's rooms to talk and socialize freely. Passing the time is never a hard task, because we get creative and play games like Twister and Uno, and sometimes we even make up our own games. Even playing a little music on a speaker can turn our lounge from a simple room with couches to a dance party. Everyone always has someone to talk to. One of the best things about our floor is the kitchen. People have left their supplies in the kitchen, so now it's fully stocked! You can walk in and make some toast, pop some popcorn, whip out a skillet and fry some bacon, you can even boil rice in our rice cooker. There's also a nice spread of tea bags to take from, with a kettle to boil water. It's a community that we've created for each other. We all have to live together, so why not make it work?
Local 11th Heaven resident Niayla-Dia Murray said, "It's great that everyone can respect each other's hygienic preferences. We just have a trust policy that people can wash dishes and clean up after each other so that the kitchen can stay tidy."
Other residents Ayana Stanton and Jeremy Barnes also enjoy Millennium Hall. Stanton said that "we are like a family," and Barnes corrected her saying, "we are a family."
The culture that exists within Millennium is what makes it so great. It's what makes me glad that I have the chance to live here now.
There are many dorm buildings to choose from. You can hang from Van Rensselaer to Race, you can chill from Kelly to Myers. To get the true experience of dorm living, to live within an amiable community, to even live the fanciest of dorm life, you want to live at the Hall, Millennium Hall.