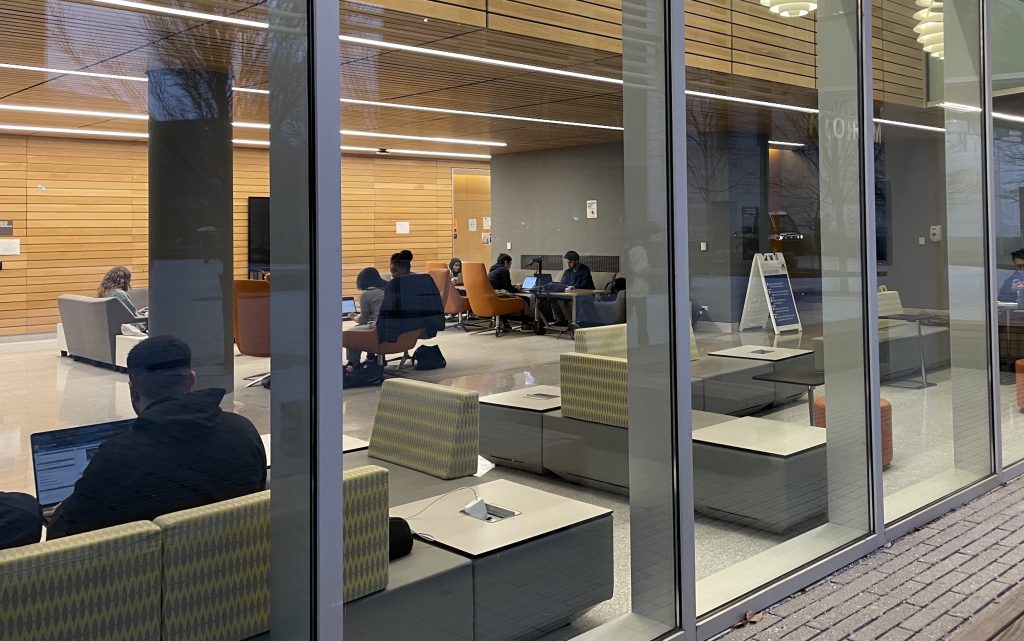 With winter term in full swing, the mountain of stress that comes with the endless homework, projects, exams, and assignments can lead us down a rabbit hole. It can be easy for us to get stuck in the mindset of the "winter term blues" as we stay locked away indoors during this time. However, it is important to push through these lethargic feelings and work towards keeping our mental health in check in order to have a successful winter term!
For me, having a routine and forcing myself to stick with it really helps me stay sane. While in the moment I may dread having to get out of bed and head to the gym or brave the cold to meet a friend for coffee, once I'm doing the activity, I tend to feel much happier. The routine doesn't have to be anything elaborate, just a reason to get you away from your desk or room to do something fun. My roommates and I have started a weekly movie night tradition, and while this may not seem like a big deal, we really try to get all our homework done earlier in the day so we can just sit back and enjoy some quality time together while watching tv.
While this may sound contradictory to my previous piece of advice, make an effort to be spontaneous. Say "yes" to events or plans that come your way! This helps differentiate your days from each other, otherwise every day of the week just seems like a cold day filled with classes. Again, this doesn't need to be something extravagant, maybe you make last-minute plans to join a friend in Center City for lunch, or you take your homework to a coffee shop you've always walked past but never visited.
Even though sunlight isn't nearly as abundant now as it is during the summer, it's more important now, more than ever, to make sure you soak in all the sunshine and fresh air. It's sure to improve your mood and help clear your mind. On the slightly warmer days try to take a walk around campus or take the longer walking route to class. On the colder days, make sure to open all your blinds and curtains and make it a point to sit by a window. We may not photosynthesize, but you'll definitely feel a boost of energy thanks to the sun.
Sometimes, you may not feel like leaving your apartment at all, believe me, it happens to the best of us. The goal isn't always to get outside or go somewhere, the point is to find ways to still make the most of your day or find something enjoyable to do so you don't spend the entire day agonizing over schoolwork. Ideas include playing board games, baking or cooking a new recipe, or following along with a yoga session on YouTube. Inevitably, the class assignments will take over, but taking a break to do something fun for yourself can greatly improve your day and mental health.
I hope you try and incorporate some of these ideas into your daily routine during this winter term, and remember not to let the cold weather or pile of homework prevent you from having a fun term!