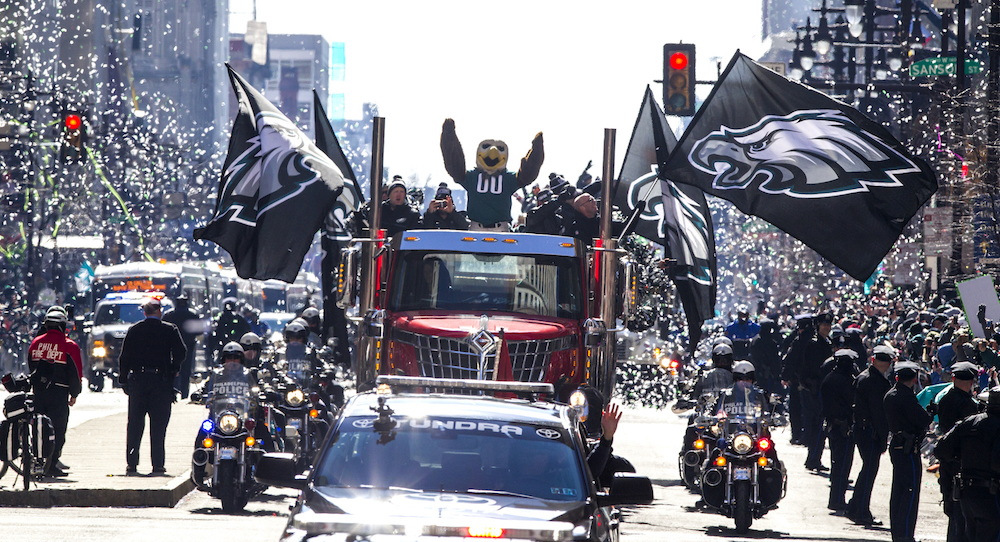 Hands down, without a doubt, football is the best sport that was ever invented. It was made for all ages and genders and it's probably one of quickest sports to catch onto, making it the epitome of America's favorite pastime. With every great sport comes an even greater city.
On Feb. 4, the long awaited 13-year Super Bowl rematch between the Eagles and the New England Patriots took place, and the Philadelphia Eagles won the 52nd Superbowl. Fans swarmed many streets downtown once the score against the New England Patriots was final, 41-33.
The Eagles had been the only team in their division never to win a Superbowl. They had taken on the term "underdog" and the city couldn't have been prouder.
The New England Patriots had won five Super Bowls and made nine appearances overall. They'd been to the Super Bowl more times than any other team. They are the only football team for the New England region, which includes Connecticut, Maine, Massachusetts, New Hampshire, Rhode Island and Vermont.
They tried to come for Philly but failed.
The Eagles fans weren't worried about a thing, though! Hello, we are the city of Philadelphia and according to a Sports Illustrated poll, Eagles fans are the most intimidating fans in the NFL.
Now with a Superbowl ring under its belt, the city can become part of an even more elite club, the four timers.
Philly is now one of five cities to win a championship in all four major sports: The National Basketball Association, Major League Baseball, the National Football League, and the National Hockey League.
The Flyers (NHL) won the Stanley Cup two times, in 1974 and 75. The 76ers (NBA) won the Larry O'Brien trophy two times, in 1967 and 1983, for their championship.
In recent years, The Phillies won The Commissioner's trophy for The World Series (MLB) two times, in 1980 and 2008. And now, rounding it all off, the Philadelphia Eagles have had their first Lombardi trophy for the Superbowl.
Philly sports fans are happier than they've ever been. They are proving that their sports teams are the best! The city feels as if everything is right with the sports world. Overall, this win is greatly appreciated — we needed to show everyone else Philly is still here, and that they should be very afraid of our sports teams.
This Superbowl win is what our other sports teams in the city needed. Hopefully, it lights a fire for the Flyers and 76ers to jump on the 2000s winning bandwagon.
The Eagles going to the Super Bowl and winning will happen again, come on we're the EAGLES! What type of Philadelphian would I be if I thought otherwise?
The Eagles have been flying high all season long and this final game showed that they "hit 'em low" no matter what.