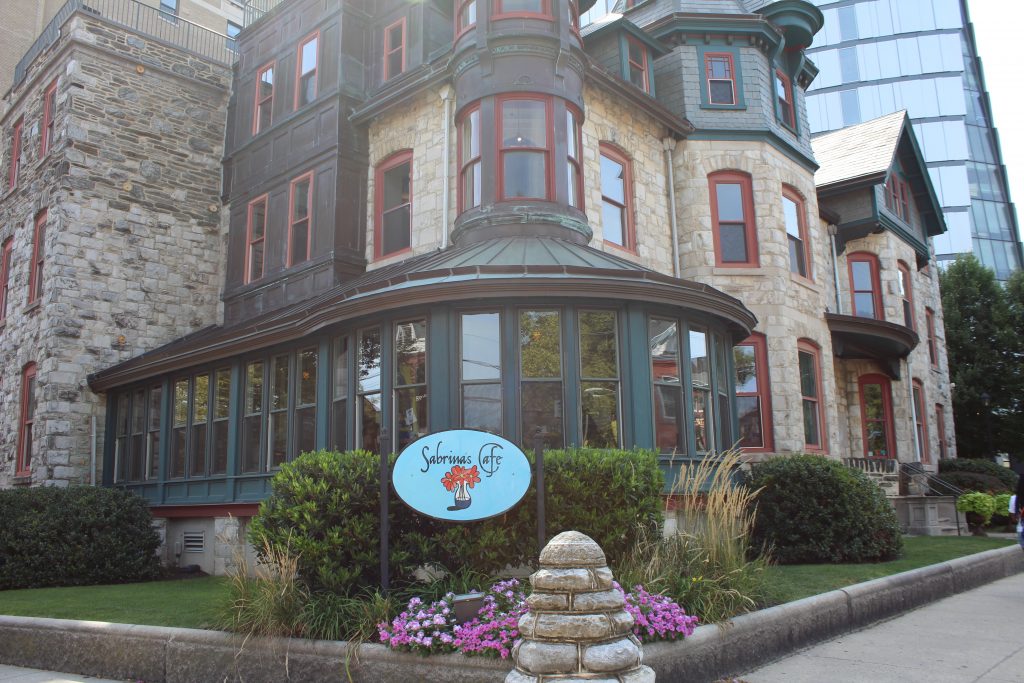 If you are a freshman here at Drexel University, you probably already bought a very expensive unlimited meal plan. Rest assured, there will be many days where you will not want to be eating chicken nuggets and french fries at Urban or rice and vegetables from Hans. When those days come, do not hesitate to treat yourself to a meal at one of the many great options that surround us on Drexel's campus. Here is a non-exhaustive guide to some of my favorite spots to eat around campus:
Crate and Press at 3624 Lancaster Ave: A new addition to campus, Crate and Press is a healthy option specializing in acai bowls and juices, while also serving paninis and wraps. The interior makes for a great spot to enjoy a meal, hang out with friends or study. While the portions are big, the prices are not the cheapest in the neighborhood, so make sure to savor every bite.
Coco's Cookies and Creamery at 3632 Lancaster Ave: They say you can split your Drexel experience in two parts: before and after you try Coco's. You absolutely must take the short walk from the dorms up Lancaster Avenue to treat yourself to some of the best ice cream in this city. My two recommendations are the Fried Oreo Sundae and, a secret menu item, the Strawberry Oreo Coco Crush.
Pizza at 35th and Lancaster Ave: In this area, you will see three pizza places in a row: Savas Brick Oven Pizza, Ed's Buffalo Wings and Pizza and Mad Greeks Pizza. If you were to poll Drexel students, you would see there is a split between people who prefer Savas and people who prefer Ed's (sorry, Mad Greek). Savas offers more of a sit-down, dine-in experience, while Ed's is a more barebones interior. Make sure to try a slice from each place so you can give your input on which place is better. When you go to Ed's, make sure to order the Boom Boom pizza, it is probably Drexel's favorite individual food on campus and an absolute must for students.
Madis at 3527 Lancaster Ave: Another new addition to campus, Madis quickly has blossomed into one of the most popular spots on campus. It is a rarity to find an empty table, but the coffee and food are worth all the hype.
Sabrina's at 227 N 34th St.: Another campus staple, Sabrina's should be your go-to for a nice brunch with friends and family. Famous for their massive portions and reasonable prices, a brunch at Sabrina's will leave you stuffed until dinner time, well worth the $15 you will spend on your meal. Be warned: there are no reservations at Sabrina's so if you really want to get your Cannoli French Toast on a weekend morning, make sure you walk over and give your name to the hostess 30-45 minutes before you plan on eating.
El Taco at 3233 Powelton Ave: If you have a yearning for Mexican food, keep walking past Chipotle and head up to this lowkey spot near Drexel Park. As it is another reasonably priced restaurant, you can get a massive burrito or quesadilla for under $15. And don't forget to order a churro or two for dessert.
DP Dough at 3235 Powelton Ave: If you happen to need food between the hours of 1 and 4 a.m., your options will essentially be narrowed down to D.P. Dough. Luckily, that doesn't mean it's a bad option! You can order from a litany of different calzones, wings and breadsticks, and all of them can satisfy whatever super-late-night hunger you have.
Coffee: If you want coffee near campus, there are a ton of great options. Each shop has different strengths, but you should definitely try Saxbys, Green Line Coffee, Greek From Greece and Arterial Coffee. Try them all and choose your favorite!
Food Trucks: Food trucks are some of the most popular places for students to eat on campus. You should make it your mission to try as many food trucks as you can during your Drexel experience, but some of the most popular are the Halal Carts that are all over 33rd Street, Pete's Little Lunch Box and Happy Sunshine on Arch Street, KC's Smoothies and any of the trucks located on Ludlow Street behind the Main Building. Try them all and see which one you will become a regular at; there is no greater feeling than developing a personal relationship with the wonderful people running these delicious food trucks.