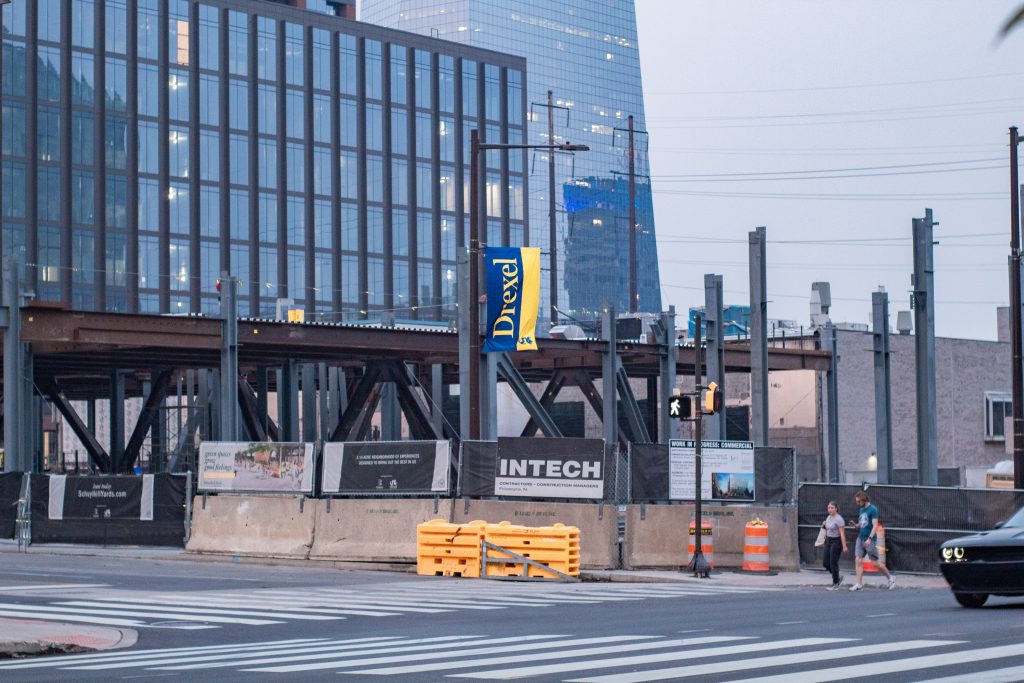 Being situated in the heart of Philadelphia, most of us have become familiar with sounds of construction around us. We live in the city and distinct familiarity lies within bulldozers and cranes.
Drexel's University City campus is currently undergoing an unprecedented amount of construction, with new projects and buildings slated for use in the next few years, ranging from laboratories to office space and even a food hall. As this construction spree changes many important aspects of the campus, students are finding themselves grappling with losing spaces on campus that had been essential in fostering student connection, and with all the new commercial institutions popping up in and around the center of campus, questions become unavoidable: where does it end?
In this instance, removing a student-centered area like Buckley Recreational Field in favor of another research and business-centric building is a heavy blow to a campus already scarce of interpersonal connection and school spirit. While Buckley may not have been the most popular spot to hang out, its Fieldturf synthetic grass surface was perfect for club sports, recreational activities and intramural sports. Some may argue that Buckley's green space, totaling 2,520 square feet, isn't the worst loss to the Drexel student community. But one must acknowledge the gradual reduction of hubs for student life in favor of more commercial spaces. Yes, commercialization can be a good thing for any college campus. After all, as per Drexel's own website on Third party projects, Gattuso Development Partners plan on replacing Buckley Field with 509,000 square feet of life sciences development, including Cambridge-based Smart Labs who signed a lease for nearly 117,000 square feet of the building. Of course, research and innovation are bound to arise from the establishment of the building to campus, as demonstrated by the introduction of Spark Therapeutics. There is no real impact. The building, though certainly advertised to be a welcome addition to the Drexel college campus, only provides two floors for student use, leaving the rest of the building sitting idle right in the middle of campus.
Another huge issue with the construction at Buckley Field, Schuylkill Yards and Spark Therapeutics Development is the removal of the already scarce open spaces for student use. An essential aspect of any college experience, regardless of the school's location, is the need for outdoor multipurpose spaces. A space available for student use on a warm September afternoon goes a long way in alleviating the imminent stress that comes with a full college lifestyle and beyond that, students who commute to school are left with virtually no space on campus for themselves. According to the National Institute for Health, construction and development on college campuses need to be conscious of students' mental health and wellbeing which are becoming an increasing problem within the college student population. Open space is already hard to come by in the heart of Philadelphia, even without the construction of big skyscrapers in place of open ground or fields.
While scientific development and innovation are a huge positive addition to the progression of science and technology, they must not come at the cost of student mental health and wellbeing.