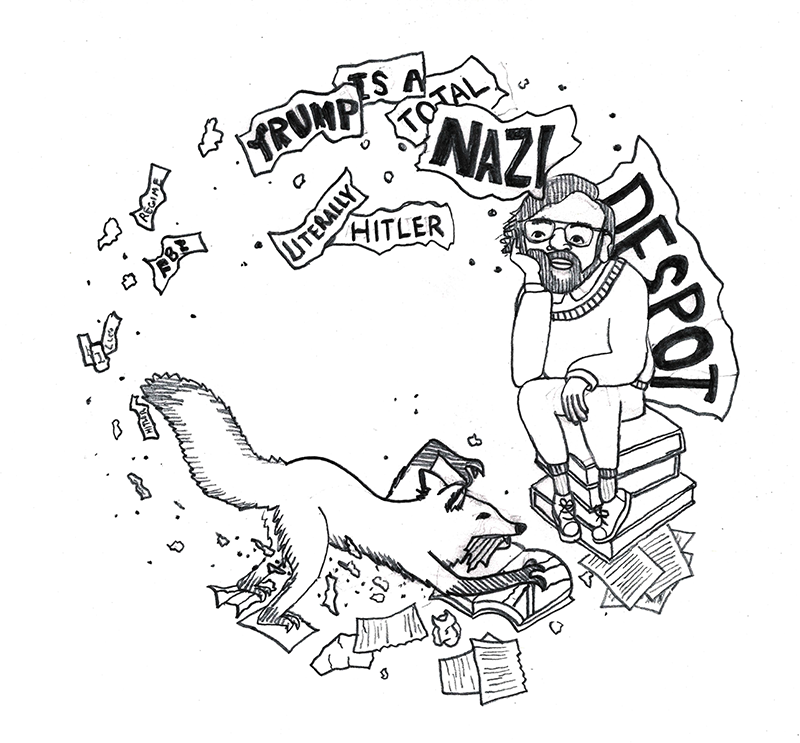 In our previous issue of The Triangle, we ran an op-ed written by Drexel University professor Robert Zaller, titled "It has happened here: fascism in the United States." Within a week, the article along with a link back to The Triangle was posted by Fox News in the "controversies" section of its website. Dozens of comments were posted on our website criticising Professor Zaller for his supposed ignorance of history and misunderstanding of true fascism.
"Such stupid mindless drivel from a scholar imposter", said one commenter. "It's hard to feel triggered when you read this stuff b/c its just so intellectually flatulent", said another.
One commenter even went as far as asking, "How does a clown like Robert Zaller even get access to teaching at a university?"
Ironically, these commenters did an excellent job of proving Professor Zaller's point.
"The fuel propaganda runs on is the lie, and the lie replaces the real when it can freely contradict itself", says professor Zaller.
While our government may not truly be fascist, its supporters certainly do seem to yearn for authoritarian power. They've built a society where dissenting opinions are not only not listened to, they're viscously attacked.
Viewing the comments on Professor Zaller's op-ed and on Fox News speaks for itself. The attempts to lie and discredit him with the same old debunked talking points is a sad sight to see. It's extremely unfortunate to see a group of people on our own website so entrenched in President Trump's cult of personality that any criticism whips them into a frenzy and they immediately call for the dissenter to be punished. If that's not the kind of fascist society Professor Zaller wrote about, we're not sure what is.
Professor Zaller's opinions, despite accusations of the contrary, were supported by examples and were presented in an accessible way to readers. It's clear many of the commenters did not read his op-ed, but rather just the cherry-picked synopsis on Fox News.
Robert Zaller is hardly the first professor to have his character attacked for an opinion he holds — he's not even the first one at Drexel. But Professor Zaller has been writing for The Triangle for over a decade, and is one of our finest and most consistent contributors. To see him attacked by a group of people who clearly have no knowledge of the topic at hand is disheartening to say the least.
Perhaps most disappointing to us were the accusations made against The Triangle, that we censor comments we don't like and we only allow left-leaning opinions to be published. We have always and will continue to allow any member of the Drexel community, whether they're students, faculty or staff, to submit op-ed pieces, regardless of their stance in politics. If anyone has a factually-supported rebuttal to Professor Zaller's op-ed, we welcome you to submit it for publishing. We believe that everyone should have a chance to have their opinion published in our newspaper.
If you would like to submit an op-ed to The Triangle, please email [email protected] with your Drexel email.