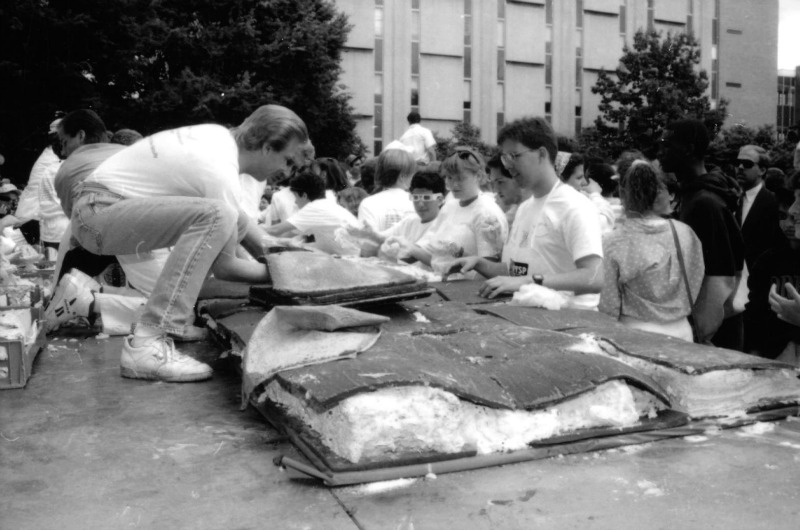 DrexelNOW published an article May 12 featuring a special moment in Drexel history: the creation of the Giant Drexel Ice Cream Sandwich of 1991… and the freak food fight that followed as it was being served. Images from the event show crowds of students on Korman Quad, smiling and digging into the gigantic dairy treat beside the university president before an anonymous crowd member hurled their hunk of ice cream and chocolate and triggered a war. Next thing you know, everyone—students, faculty, administrators—were in the midst a massive food fight hurling ice cream all over each other. It almost seemed like another school, maybe even another universe. "For a few brief minutes, the campus was actually a place where I wanted to be," a '90s student told The Triangle that day. Retrospectively, we can say that those were a few brief minutes that we would want to be on campus too. And while the past is the past, that doesn't mean there can't more events similar in Drexel's future.
Moments like the giant ice cream sammich fight of '91  shouldn't be simply moments in Drexel's history, but the building blocks of our campus community's culture. We need more traditions at Drexel. More events that bring us together as a community, not just an academic cooperative education institution. While the University's main goal is to teach us professionalism, and that's what makes us stand out, it's important to remember that we're also kids. Kids who like to have fun. Kids who are creative. Kids who will gather around the quad to throw ice cream at each other. Kids who will freak out about campus alerts about a man wearing a silver toga. Kids who will dare each other to kiss President Fry at graduation. Kids are so much more than our academics and deserve so much more of a community than the hodgepodge of buildings that currently make up our campus.
Spring Jam and Fall Fest are great events that are a step in the right direction. Greek Life and other student organizations have their own traditions, but those can hardly capture the entire Drexel community. Graduation is less than a month away, when does Drexel bite their hats on Hey Day like Penn? Or throwing toast on the football field for good luck? We've been around for almost 125 years, where are our goofy traditions? We at least deserve something other than the Drexel Shaft. And this is not a plea to administration to spoon feed us some better sense of community; this is on us, the students. We can make our campus what we want it to be. We can represent each other as the great and smart and outstanding people we are. Maybe it won't be a huge ice cream sandwich, but there's got to be something more that brings us all together. Something less subtle than our key phrase "meet me at the dragon." We hope we do, because we have a lot of history behind to make up for… And if someone wants to bring back the giant ice cream sandwich fight as a tradition, that'd be just fine with us.