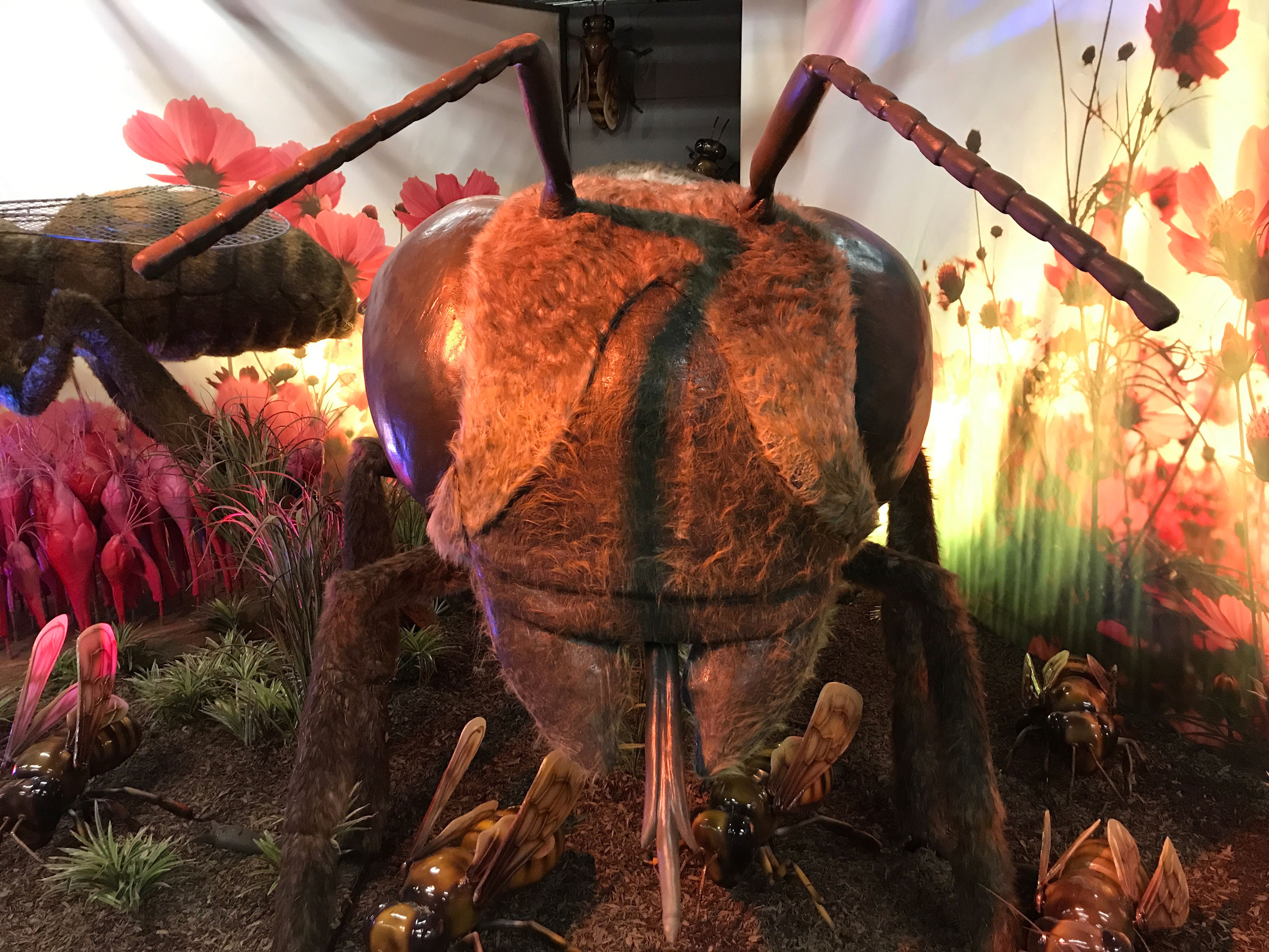 The Academy of Natural Sciences of Drexel University hosted the North American debut of the "Xtreme Bugs" exhibit May 26, where visitors can experience the mind-boggling behaviors and characteristics of insects from around the world through massive animatronics.
"Xtreme Bugs," owned by the same company that built the "Dinosaurs Unearthed" exhibit, features nearly 20 over-sized moving insects — from fluffy bumblebees to blood-sucking bed bugs to spiky-haired ants to creepy, crawly spiders.
Each insect has its own display where it demonstrates a specific behavior in its appropriate habitat. The traveling exhibit incorporates mechanical technology, detailed sculpting and imagination to capture the rare aspects of an insect's life, according to Mary Bailey, manager of public engagement at the Academy.
"You're not just looking at a sculpture [of an insect] in an environment, you're observing their behaviors in certain situations," she said.
In one set, a group of gigantic ants can be seen fighting off a scorpion in a desert environment. In another, smaller ants are fighting against a 20-foot centipede.
In addition to physical landscape mattering in each set, the sound design does as well. Hissing, buzzing and clicking sounds from the enormous insect models raid the ears of visitors as they walk through the exhibit. In the leafcutter ant display, the pitter patter of raindrops on the ground can be heard as it simulates the atmosphere of a South American rainforest — the critter's natural habitat.
Interestingly, the lighting design on each set also plays an important role in the unique, ambient experience the Academy hopes visitors receive.
"We create a microscopic effect through the lights design that makes it look like you're seeing [the insects] through a magnifying glass," Bailey said. "The lights provide an atmospheric, experience."
The Xtreme Bugs exhibit also offers interactive learning activities for children, such as touch screen games with insect trivia; a costume section where the kids can dress up and take selfies; a gigantic magnet board; and an opportunity to dig for ancient arthropods.
During the exhibit's tenure at the museum, an insect keeper will be present on Saturdays, Sundays and Wednesdays at noon to answer questions about the insects. Meanwhile, on Tuesdays and Sundays, a live invertebrate cart — where kids can speak with a bug expert, touch live insects and play trivia games — will be present.
Bailey hopes the activities and games not only become an opportunity for the youth to learn about insects, but also remove the negative perceptions about them.
"This exhibit fits in perfectly to what we're already doing here," she said. "Bugs get a bad rap, so we're trying really hard to advocate for invertebrates because from a biological and evolutionary standpoint, they're perfectly adapted to do what they do."
Admission to the museum is free for Drexel faculty, staff and students as long as they have a valid Drexel ID. However, tickets to the exhibit cost $7.
The "Xtreme Bugs" exhibit will run through Jan. 21, 2019.