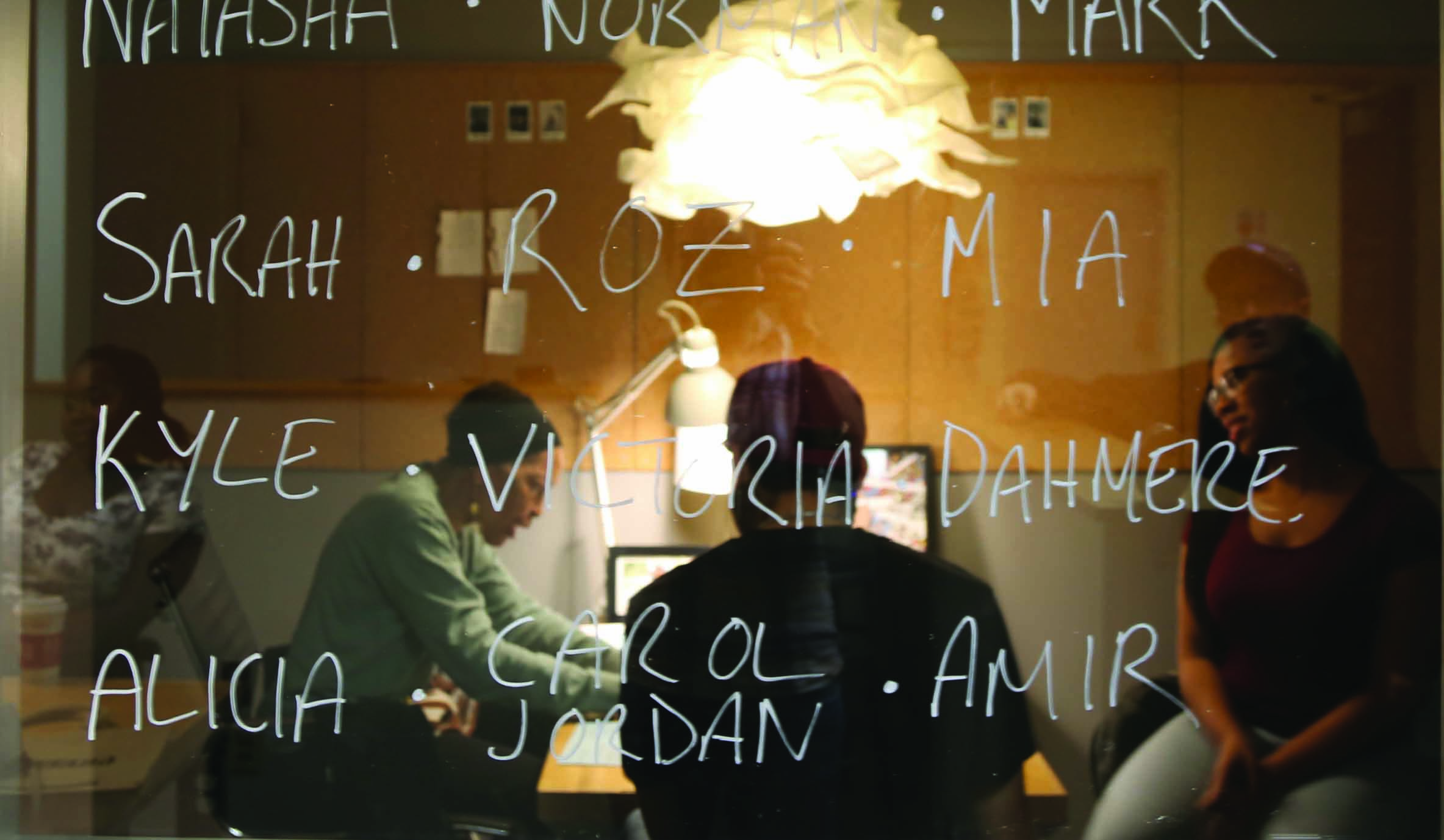 Between the Campus Activities Board office and the vending machines in MacAlister Hall lies a new space that Drexel University students and West Philadelphia residents alike will call home.
Marked up with chalk on the doors and housing contemporary DIY items throughout the area, the Writers Room on campus serves as an extension of Writers Room's first home at the Dornsife Center for Neighborhood Partnerships, located at 35th and Spring Garden streets. The new space was unveiled at a Studio Warming Party Dec. 7, 2017.
"I think Writers Room is a place where the communities of Drexel, Powelton Village and Mantua in West Philadelphia really come together to create a shared story, whether that be through writing, through photography or through other artistic mediums," said Lauren Lowe, a Drexel alumna, Artistry Fellow for 2017-18 and Writers Room member.
The space itself holds great meaning for Lowe in particular. Lowe was one of the first students to start going to Writers Room events during her sophomore year at Drexel and eventually completed a series of three independent studies entitled "Writers Room Study" with Rachel Wenrick, professor of English and director of Writers Room.
"I did my senior project in this space pre-sprucing … It was just me alone with a desk and a single corkboard. If I had this place all the way through college, I would have never left," Lowe supposed.
The refurbished studio in MacAlister Hall used to be the facilities office. To redesign the office into the modern and relaxed studio that it is now, Lowe and Wenrick relied on Pinterest for DIY inspiration.
"It was a lot of hard work, but a lot of fun. It's been a lot of making it our own. We're really happy with it," Lowe stated, calling Wenrick the mastermind behind it all.
Wenrick also donated many books and some furniture of her own. In addition, the Academy of Natural Sciences donated a large writing desk and wooden table.
"We have this new space where we can do workshops or have a sort of back-and-forth so that work is not happening in isolation or in parallel, but all happening together," Lowe observed.  "It's really drawing a more physical connection between our neighborhood and our campus."
The location of the new space is part of the reason the studio will become an integral part of Writers Room as it expands and develops further.
"The location allows us to open the door to our neighbors without having to swipe an ID and the building has wonderful hours," remarked Wenrick. MacAlister Hall also has a ramp and is close to public transportation, which Wenrick and Lowe deemed important considering Writers Room includes Powelton Village and Mantua residents who are older in age.
"[The new space has] definitely aided Writers Room, it's been a nice place to bridge the gap. But having this space on campus [allows us] to have a two-way flow and really anchor it to what we are doing here, and making it visible for other people to see … I think having [the space] now and being able to invite our neighbors down to campus from Dornsife Center is amazing," Lowe said.
The studio has already aided in the initiative's newest project, TRIPOD. The sponsorship project with Canon allows members to work on photography and writing projects for the year to create a shared story about their neighborhood. The 18 writers involved work in groups of three, composed of one community member, one Drexel undergraduate student and one high school student. The groups meet in the new studio once a month and work out a plan for their projects, while also attending First Tuesday workshops led by Writers Room.
One of the members involved in the TRIPOD project is Amir Curry, a current junior at the Science Leadership Academy.
"To me [the studio] is basically a place of free expression … a place where you can let out any stress you have," she said.
The TRIPOD project in particular has helped Curry broaden his horizons, from writing to photography.
"Photography coupled with writing is just a great experience. I do a lot of writing, but coming here allows me to extend that," Curry explained.
Carol McCulloch, Advisory Committee Chair for Writers Room, agreed. McCulloch was able to rediscover her love of poetry through the College of Arts and Sciences' initiative.
"Writers Room is an inspirational place, it's a place for creativity, it means expression [and] joy," McCulloch stated.
The joy Writers Room brings is shared by Lowe and many other members as well.
"Writers Room is really what anchored my education. Working with people different from me was the best thing that I could have found on campus … This to me is the strongest sense of civic peace, where I actually see [fostered relationships] and experience them here in really lasting and meaningful ways … I think as we continue to scale up that will have greater effects on the community," Lowe explained.
"The space is about the culture. It's about the people here … everyone who comes in here is a writer whether you think of it or not. Everyone is interested in learning about you through your work," Wenrick said, emphasizing that the new space is absolutely open to everyone, regardless of your interest in Writers Room or writing itself. "We are not an inaccessible enclave for the initiated … [it's about] being changed by everyone who walks in."
Writers Room is now in its fourth season, having completed seven projects total, including three anthologies that encompass work from throughout the year.
Drexel students interested in becoming involved in Writers Room are invited to the new studio or may attend the monthly First Tuesday workshops at the Dornsife Center. For a complete schedule of workshops and upcoming events, visit http://www.writersroom.online/.