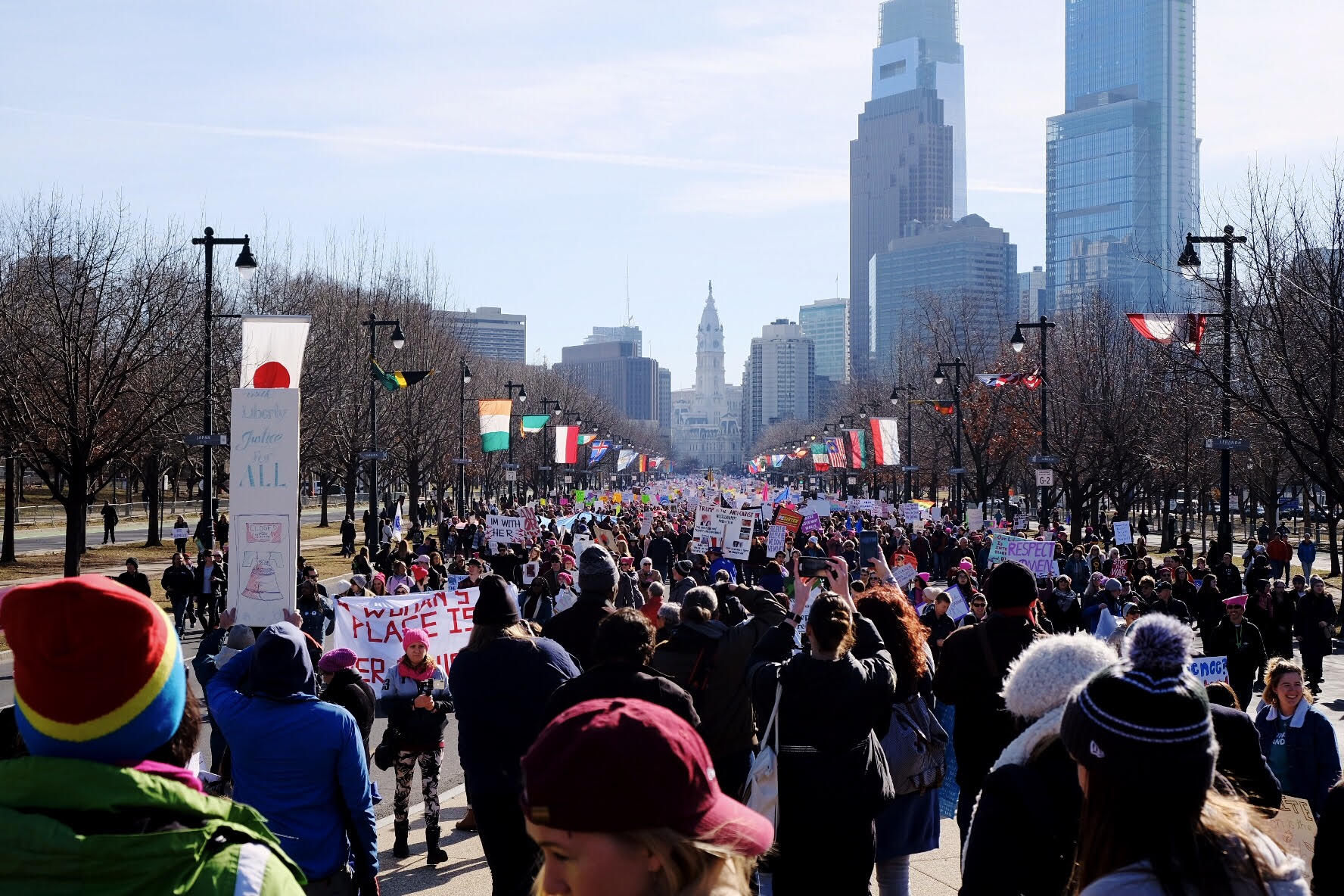 In Philadelphia Jan. 20, thousands took to the streets to celebrate the one-year anniversary of the Women's March.
This second round of demonstrations against President Donald Trump's comments towards women, and in support of women's rights globally, boasted the tagline "We Resist. We Persist. We Rise," and had about 50,000 participants, according to an estimate by Mayor Jim Kenney's office. Around the country, there were an estimated 1.6 to 2.5 million participants, according to University of Connecticut and University of Denver summaries.
"The mission of Women's March is to harness the political power of diverse women and their communities to create transformative social change. Women's March is a women-led movement providing intersectional education on a diverse range of issues and creating entry points for new grassroots activists and organizers to engage in their local communities through trainings, outreach programs and events. Women's March is committed to dismantling systems of oppression through nonviolent resistance and building inclusive structures guided by self-determination, dignity and respect," the Women's March website reads.
The Philadelphia march began at 11 a.m., though participants began arriving at Logan Square at 8 a.m. The event began with a march from the square to the Philadelphia Museum of Art down Benjamin Franklin Parkway, and the rest of the events were centered around a stage set up in front of the museum.
Speakers began at noon and they included local politicians such as city councilwomen Jannie Blackwell and Cherelle Parker; Rebecca Rhynhart, Philadelphia's first female controller; and Amber Hikes, director of the Office of LGBT Affairs.
"Philadelphia has never had a woman mayor. Pennsylvania has never had a woman governor. Pennsylvania has never had a female senator. Pennsylvania is 40th out of 50 states in terms of female representation in politics," Rhynhart said during her speech.
Other speakers included Jenny Entin, a computer science major at the University of Pennsylvania, who spoke about women in engineering; Daejah Vaughn, a 15-year-old spoken word poet; and Voices Rising Philadelphia, a chorus of women and men, among others.
The events concluded around 3 p.m..
POTUS tweeted before the demonstrations that were in direct opposition to him, his policies and his administration.
"Beautiful weather all over our great country, a perfect day for all Women to March. Get out there now to celebrate the historic milestones and unprecedented economic success and wealth creation that has taken place over the last 12 months. Lowest female unemployment in 18 years!" Trump tweeted.
The women's march morphed from general opposition last year to a clear goal of urging women to run for office.
"It's women who are holding our democracy together in these dangerous times .. To change the system, we need to change the players and have women at the table," Kirsten Gillibrand, Democratic senator from New York, said to the New York Times.