Drexel will be offering classes with the Rape Aggression Defense System beginning April 8, with the aim to educate women about the importance of self-awareness and to strengthen their ability to escape an attacker.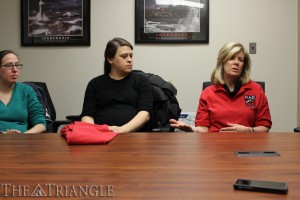 Unlike other female-only self-defense programs, which spotlight the use of physical self-defense, R.A.D. encourages women to think and act intelligently in order to stay safe. Women learn to be conscious of their behavior and surroundings before using force and are instructed to retreat before utilizing fighting techniques.
R.A.D. Systems is a network of over 11,000 instructors that teach at colleges, universities, municipal law enforcement agencies and other community organizations internationally. The program fosters four three-hour-long classes taught by certified instructors. Classes are free and private, so students can learn techniques in a safe environment. R.A.D. instructors must complete all four classes themselves before they are permitted to teach. Therefore, they are able to relate to the process their students undergo.
R.A.D. first came to Drexel in 2008. Today the program fits with the community-oriented approach to safety that new director of Drexel Police Operations Eileen Behr has spoken about.
Students in past classes have come from all walks of life. All women, no matter their height, weight or physical condition, are welcomed in learning practical techniques to use in case of an attack.
"R.A.D. uses a lot of physics to maximize a smaller person's, or whoever's, physical ability," said Durda Rajsic-Catto, R.A.D. instructor and resident director of Stiles Hall. "There is a lot of physics in how we're taught to do things as well as in the tricks and tips."
According to Rajsic-Catto, students learn to take pride in their own strength and are transformed through a mental process that manifests itself physically.
Melody Latare, a R.A.D. instructor and Drexel police officer, is impressed by the changes in each person she has taught.
"A lot of women come to our classes that don't even look up or speak to anybody," Latare said. "But, when they leave our class, they're screaming, 'No, stay away, back off and leave me alone!' It gives them a feeling of empowerment, of standing up for themselves, building their self-confidence."
Before they are taught self-defense skills, students first learn safety tips. In the first class, students learn how to be vigilant in specific locations, such as their driveway, parking lots, on trains or beaches. They learn safety measures to take in their homes.
Today, the use of distracting cell phones or other electronic devices when walking puts people at a higher risk of being attacked.
"That's a behavior that people can easily change," Ali Geigert, R.A.D. instructor and administrative coordinator of student affairs, said.
Instructors recommend that students be aware of their personal space and pay attention to what they can see and hear in their proximity, so that attackers are less inclined to approach them.
"Some [young people] are not raised with the empowerment of surviving, because they're always like, 'Oh, I'm going to call my mom,'" Latare said.
The second and third classes of the program teach self-defense skills. During the fourth and final class, students are given the opportunity to use their skills to defend themselves during an optional attack simulation. All who wish to undergo the simulation are padded for protection and then pitted against a "red man," or simulated attacker, who is prepared to fight and who is padded as well. The fight is moderated in case of emergency.
"It is a little scary, until it starts. We all have that fear. There is an anticipation," Geigert said. "But once you're done, there is this amazing release."
According to Geigert, students often surprise the "red men," instructors and themselves with their ability to fight.
Fire safety specialist for fire and emergency services Madonna Calderoni and Drexel Police Sgt. Glenn Keenan are both R.A.D. instructors who play the attacker during simulations.
Two-thirds of sexual assaults are committed by someone known to the victim. The techniques that the R.A.D. program teaches are meant to protect women against all threats — family, friends or strangers.
The Department of Public Safety is also aiming to bring R.A.D. for Men to campus in the near future. According to the R.A.D. website, R.A.D. for Men teaches men to "raise their awareness of aggressive behavior, recognize how aggressive behavior impacts their lives, learn steps to avoid aggressive behavior, consider how they can be part of reducing aggression and violence, and practice hands-on self-defense skills to resist and escape aggressive behavior directed toward them."
Karen Sams, R.A.D. instructor and executive assistant to the vice president of public safety, hopes to improve men's knowledge of sexual assult with R.A.D. for Men.
Sams is resolute in her belief that all R.A.D. programs make a difference in the lives of many. According to Sams, all women who take a R.A.D. class will change for the better.
"We all have that instinct in us to protect ourselves, but a lot of us may not be aware of it. This brings that out," Sams said. "It's in there, but sometimes you have to wake it up."
All females on campus and in the surrounding community may register to take classes at Drexel. This spring, classes will be held April 8, 10, 15 and 17. To register for the program, visit drexel.edu/publicsafety/crimeprevention/programs and click the "Rape Aggression Defense Program" link.
Drexel faculty, staff and students may request to schedule their own R.A.D. classes if they are unable to attend the days in April. Sams can be contacted at 215-895-1464 for more information.