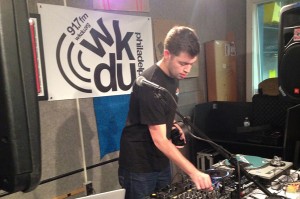 WKDU 91.7 FM, Drexel University's entirely student-run and independent radio station, hosts a series of hourly public service announcements in place of commercials, just as every college radio station is allowed to do. However, the PSAs at WKDU have been running for quite some time, without the addition of new material. On April 25, the staff at WKDU will change that. The station will host a PSA workshop, inviting Philadelphia-based nonprofit organizations to come into the studio to write and record PSA announcements that will be put into WKDU's automatic PSA playlist.
According to Chris Burrell, adjunct marketing professor at Drexel as well as the electronic music director at WKDU, the idea for the workshop came up among himself, General Manager Peter Liu, Station Manager Es Hamidi and Director of Public Outreach and Community Involvement Jon Plotkin. The group decided that a number of PSAs they broadcast were outdated and in need of refreshment. The group then discussed the types of PSAs that would mean the most to each of them, as well as relevant community listeners. Most of the group ended up valuing many ideals highlighted by Philadelphia nonprofits.
Burrell said that "there are so many nonprofits out there that could use our help and would also help us engage the community and our listener base. We're always open to nonprofits sending us their public service announcements."
The staff at WKDU began reaching out to nonprofits to encourage them to record and send in PSAs as MP3 files. "We wanted to find a way to engage as many local nonprofits doing amazing work as possible" Burrell said. However, this strategy did not work out so well.
Nonprofits do not often have the resources available to be able to record and send out their PSAs. WKDU thought that the best solution to the problem would be to provide the means for these groups to create their own PSAs. The workshop will allow nonprofits otherwise unable to broadcast their own PSAs a new opportunity to be heard. As a nonprofit marketing professor, Burrell noted that he has been able to see just how many worthy nonprofits exist in Philadelphia without a voice to help get them the support they need. He hopes that the workshop will be a resource for those nonprofits to raise awareness in the local community.
Burrell also said that the workshop would be a healthy networking opportunity, "We realized that in addition to getting new PSAs, [the workshop] would be a great way to start meeting some of these nonprofits and really building relationships with these nonprofits. … Building new relationships with nonprofits increases the opportunities we have to raise money and awareness for causes that our listeners are passionate about. We want to provide a voice for the community by broadcasting local nonprofit PSAs."
The station has set up PSA recordings with at least six nonprofits so far. Burrell stated that they are looking to add another 10-15 organizations to the lineup. "The thing is that so many people know a nonprofit or know someone who works for a nonprofit, so we want all those people to get in touch with us and reach out," he said.
WKDU will host the workshop in their studio, located in the basement of the Creese Student Center. The staff will be on hand to ensure that all the organizations' representatives have someone to assist them. There are two basic steps, Burrell noted, to make a great PSA: Writing engaging and interesting text that will attract the attention of radio listeners, and then simply recording a voice reading that message. Once all of the PSAs have been recorded, they will be put into automatic rotation on the station. One PSA will be played every hour, amid other content the radio broadcasts, including music and free-format materials.
Student staffers at WKDU are trained and subjected to prerequisites before they can join the club. The club can accommodate students of any educational background, although the experiential learning gained in the club will be most beneficial to those students who are studying related topics.
"WKDU is a great way for students of many different majors to get hands-on experience related to their field. For example, students in marketing or digital media have designed our logos and flyers for events; engineering students have spent lots of time in our production room interacting with electronics; computer science students have helped to develop our website; and music industry students have received experience working with record labels and promoters. We believe our station is closely aligned with Drexel's key competitive advantage: experiential learning," Burrell said.