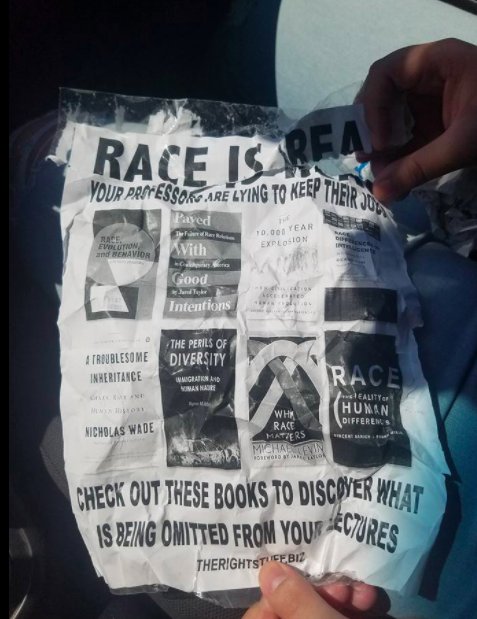 Flyers containing white nationalist messages have been reportedly found on Drexel University's campus, according to a July 2 tweet by Twitter user 72pfm.
The tweet depicted a photo of a flyer that read: "ARE YOU SICK OF ANTI-WHITE PROPAGANDA IN COLLEGE? YOU ARE NOT ALONE THERIGHTSTUFF.BIZ." The twitter user 72pfm captioned the photo "Spotted on campus. Tear these down."
The tweet has been retweeted 113 times. One of those retweets was Drexel professor George Ciccariello-Maher.
"The flyers, which claimed to be against 'anti-white' racism (not a thing) and so-called 'white genocide' (also of course not a thing) are part of a broader strategy by the 'alt-Right' to tap into mainstream feeling of white victimization … when you follow the link on the flyers it leads to a podcast called 'The Daily Shoah' (a reference to the Holocaust) run by open anti-Semites," Ciccariello-Maher told The Triangle.
Ciccariello-Maher gained media attention for his Dec. 24 tweet that read "All I Want for Christmas is White Genocide." Drexel supported his right to free speech and expression following this and another tweet months later.
When asked about the free speech right of the unknown author of the flyers, Ciccariello-Maher explained that racist rhetoric and harassment has been growing all around the country.
"While Nazis may have the legal right to speak in public, no one in their right mind would let this go unchallenged or grant them a platform to recruit and spread their hate on campus," Ciccariello-Maher said.
Victor Stugart said that he was walking with his girlfriend when they discovered two of the signs on the corner of 34th and Lancaster.
"We were shocked, but not entirely after hearing about the ones posted on Penn's campus a little while back. We took them down because we didn't want the poster to think those ideas would go uncontested on this campus," Stugart said in a digital correspondence.
In April, neo-Nazi propaganda fliers surfaced on the University of Pennsylvania's campus, reported philly.com. Penn's president Amy Gutmann condemned the fliers days after they appeared.
Drexel Communications has not responded to The Triangle's request for comment.
The Triangle will continue to update this story as more information becomes available.