The upcoming renovation of Drexel University's URBN Center will soon make the facility home to many majors within the Antoinette Westphal College of Media Arts & Design, Dean Allen Sabinson announced Oct. 24.
The Center, located at 35th and Market street, will feature major-specific workspaces, studios and labs throughout the building, as well as a black-box theater for the college's theater program. The renovation will also add an expanded Leonard Pearlstein Gallery, a multi-use screening and lecture room, and offices for the College's administrative functions.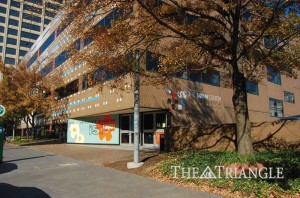 "Our intent is to be finished and open for school in time for next fall," Robert Francis, Vice President of University Facilities, said. "We intend to make our schedule; we haven't missed a deadline yet."
In Sabinson's message, posted to the College's website, he said, "The URBN Center will move [CoMAD] ever closer to being recognized as one of America's premier universities for design, media and art."
Many parts of the renovated building will feature the skills of CoMAD students. The main lobby of the building will have a 16-foot media screen with students' work on display. In addition, a storefront display window will allow design and merchandising students to apply business skills. The space will have lounge areas, a cafe and a student services office .
Adjacent to the office space will be a hybrid making studio that will be available to students in all programs and departments throughout the University.
According to Sabinson, students will have access to "laser cutters, rapid prototyping 3-D printers, large-scale fabric and paper plotters, computer workstations and traditional hand tools."
On the second floor of the Center, a motion-capture studio, gaming research facility, compositing lab and computer studios will also be available to students. The third floor will offer program tools to fashion design majors, including studio space, a fabric-dying and printing studio, sewing labs and a computer-aided design studio. There will also be room designated for the Charles Evans Fashion Library, which is presently on the fourth floor of Nesbitt Hall.
CoMAD's current home is in Nesbitt hall, and the upcoming renovation will provide permanent housing for many of the College's programs, including the architecture and interiors programs. Other features of the upcoming URBN center revamp include drawing and design studios, CAD labs, printing and plotting facilities, a model-making shop and a resource library. There will also be large, spacious studios and dynamic areas with pivoting walls for group presentations and workgroup sessions or critiques.
"We tried to mix different majors that would have some affinities on different floors," Sabinson said.
The upcoming Center's fourth floor will offer 24-hour access to computer studios and a large open lab for the graphic design program. Drexel's student-run record label, MAD Dragon Enterprises, will also move from MacAlister Hall to the URBN Center.
"The new URBN Center is going to be great. I'm especially excited that Mad Dragon Records will be getting new offices," George Legatos, a sophomore music industry major, said.
CoMAD is in possession of Drexel's Historic Costume Collection, a library of 13,000 garments housed in Nesbitt Hall. The collection will also be moved to the new space after completion.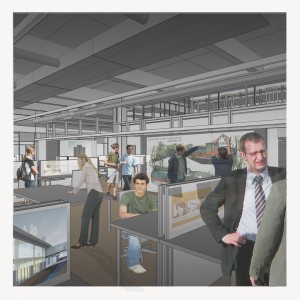 "A basic tenet of the design is to provide opportunity for observation, collaboration and fortuitous happenstance. Through being exposed to multiple disciplines and creative work and sharing spaces for designing, making and presenting work, students and faculty in all these majors will doubtlessly see and seize new opportunities for cross-fertilization," Sabinson said.
"I can't wait for the new building. I think it will great opportunity for current and future students to really express themselves creatively and grow as artists in their field," Samantha Hesslein, a sophomore entertainment and arts management major, said.
The URBN Center is housed in the former Institute of Scientific Information office building, a four-story,130,000-square foot space designed in 1977 by famed architect Robert Venturi. It was purchased by Drexel University in 2009 following an anonymous $25-million donation to the Westphal College.
The school also has space in another building located at 34th and Filbert street, a much smaller location that will house Westphal College's public venues and the newly expanded Leonard Pearlstein Gallery, currently in Nesbitt.
Plans for renovating the buildings began immediately after purchase and were finalized last December. During a meeting of the Drexel board of trustees in September, a financing package for construction was approved.
According to Francis, construction is moving at "Drexel speed," and the internal demolition of both buildings has already begun.
"We want every project we do, especially in Westphal, to be transformational," he said. "We want to create an incredible campus experience for people, and we really mean that ."
The famous architectural and interior design firm Meyer, Scherer & Rockcastle Ltd., the designer of the Urban Outfitters warehouse at the Navy Yard, was chosen as the firm to be responsible for renovating both buildings.
Francis said that in planning the design, it was crucial not to disrupt Venturi's architectural intent. The architects showcased their proposal and invited local architectural groups to comment.
"It is an important building in terms of architectural heritage. This is Drexel University's responsibility as the steward of a public treasure," Francis said.
A collaboration of student focus groups and faculty from all departments was used to decide what features and equipment would be present in the new home of the Westphal College.
"I think one of the biggest and most important requests was for places to bring together students from different programs. The world is interdisciplinary, and the fashion designers need photographers, [and] film makers need composers and graphic designers to do their credits," Sabinson said.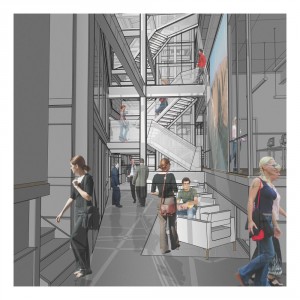 Lounge areas and casual spaces were also requested, as the facility will be open 24 hours.
Plans for this building include huge slits that will be cut out of the floors to create mezzanines.  Lithograph prints by graphic artist M.C. Escher inspired the stairs that will be connecting the floors and also give way to a skylit center atrium.
"The best feature of the building is that what is happening with it in the inside is exactly in keeping Robert Venturi's original vision for a decorated shed, that in the inside it is a piece of plastic to be shaped and molded and to do anything you want with it, and on the outside, it is what it is," Francis said.
The expansion of the College's physical space might also translate into an expansion of programs offered through Westphal.
"Undoubtedly, there will be new programs, but we don't specifically have anything in mind," Sabinson said. "We really want to grow out the existing programs, so it's not a high priority.  I do think, in a general term, what we intend to do down the future is create more master's programs."
"Over a century ago, A.J. Drexel envisioned a university where creativity would thrive — one in which the advancements of entrepreneurship and technology converge to empower society. With the completion of The URBN Center, The Antoinette Westphal College of Media Arts & Design will continue to carry that vision into the 21st century," Sabinson wrote.
A blog will soon be available for access on the College's homepage that will give updates on the progress of construction.
"If a new big thing happens with the construction, we'll get a great picture and take you behind the scenes of what's going on," Zeek Weil, the director of communications & events at CoMAD, said, noting that there will be one to two updates a week.
The Space to Create campaign offers the opportunity to anyone to name spaces such as a lab, studio, teaching space, or gathering area in The URBN Center after a loved one.  There is also the opportunity to create endowed and named scholarships and professorships.
According to Sabinson, a celebration will be held in the fall of 2012 to celebrate the completed building.