On April 3, Drexel University announced that it would be adding the subject art history as a major for the upcoming year to the Antoinette Westphal College of Media Arts and Design. The new major is designed to be one of Drexel's most flexible subjects, with the hope that students can take it on as a second major while pairing it with a different field. Both Bachelor of Arts and Bachelor of Science options will be offered, with the Bachelor of Arts being slightly stricter in requiring a larger and more guided focus in the arts, humanities and social sciences. Two combined B.S. and M.S. programs that incorporate the major have also been designed, one in arts administration and a second in museum leadership.
Allen Sabinson, the dean of Westphal, explained that the idea of an art history major had long been discussed. However, the actual push to finally bring one about came two years ago when Drexel's art history faculty began to grow large enough to support a major. Some of those professors include Pia Brancaccio, who specializes in Buddhist cave painting and far Eastern art, Martha Lucy, a former curator of a Barnes Foundation's collection, and Linda Kim who specializes in African American art and art of atrocity.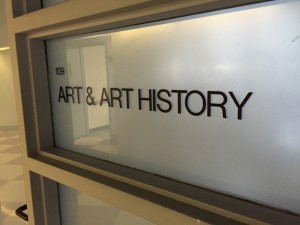 Charles Morscheck, co-director of the art history program, said that the program's flexibility is what makes it attractive for such a professionally focused school as Drexel. The major's curriculum allows for a student to take 85 credits worth of free electives and Morscheck believes that with guidance students can fill those credits with other more technically or vocationally focused skills.
"Right from the moment of recruitment we asked the student what career do path do you have in mind? And if somebody says, 'I want to be an elementary school art teacher.' Well art history would probably be very good for that, right? You'll probably teach some art historical stuff as part of that, but you'll want to take our drawing courses, our basic design courses a few painting courses … or if you want to work as a financier to pay your college debt you could fill this up with business courses and get more business than a business major gets, and it doesn't necessarily have to be the business major, it could just be the business courses you want and not all the business courses they require," Morscheck said.
Both Sabinson and Morscheck agreed that art history will better serve students as an introduction to graduate school than for finding a job straight of college. However, they are working to establish unique co-op connections in the Philadelphia region.
"Museum work, art gallery work, arts publications, independent curators, there is a whole variety of fields. Philadelphia is enormously rich in the art world. We have got the Philadelphia museum, the Barnes [Foundation], the[Institute of Contemporary Arts], the Rodin museum, galleries in Old City. And New York has got a critical mass, which is 10 times what we have in Philadelphia. Like Drexel we have deep relationships. … We have a lot of connections to the arts institutions in our region," Sabinson said.
The establishment of an art history major comes at a controversial point when around the country the value of the arts and humanities are being looked over in favor of the Science, Technology, Engineering and Math (STEM) fields.
Sabinson explained that years ago he too would have been against the concept of an art history major saying, "To some degree, I was probably a bit resistant to an art history major because it's a wonderful course of study, but I want to see our students come out and get employment."
Since then he has turned around his views. "There is a real interesting debate on the value of liberal arts versus a more professionally focused education. I could sit here and make the argument for both sides," he said. However, he continued, "If you look at the outcomes that can happen with an art history major, it is a great major for pre-law. It is a great major to lead to graduate school. It is a major that teaches you how to critically think, how to communicate, how to write, how to analyze and about cultures. Those kind of skillsets over the course of a lifetime and a career are invaluable."
The major was approved too late in the year to recruit freshman from next year's incoming class but both Morscheck and Sabinson said they are seeing significant interest from current Westphal students who would like to either switch to or adopt art history as a second major. Art history will bring Westphal's total of majors to 17.