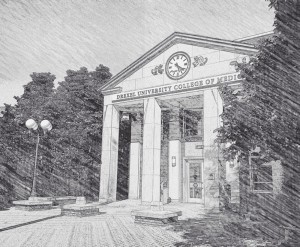 Valerie Weber will join the Drexel University College of Medicine as the new vice dean of education beginning Oct. 1. Weber currently chairs the Department of Clinical Sciences at The Commonwealth Medical College, where she also serves as the associate dean for clinical affairs and as a professor of medicine.
Weber began her career in medical education through her work at TCMC. Prior to joining TCMC, she had growing concerns about the aging physician workforce and its implications for the future of the medical practice. When she was offered a position as the founding chair of clinical sciences at TCMC, she leapt at the opportunity to effect positive change on the medical field through education. Under Weber's guidance, TCMC recently received full accreditation from the Liaison Committee for Medical Education.
Following her success at TCMC, Weber gladly accepted the opportunity to join DUCoM as the vice dean of education. "It was one of the easiest decisions I've ever made," she said.
One of the reasons Weber decided to join DUCoM is its complex and distinguished heritage. DUCoM emerged from the union of The Medical College of Pennsylvania with Hahnemann Medical College. Weber admires how DUCoM blended the influences of both medical schools and emerged with its own, distinct brand.
"I'm very glad, proud and honored to be taking part in that tradition," Weber said. She also added that she looks forward to returning to Philadelphia, where she established roots as a medical student and a young physician.
Weber hopes to guide DUCoM into the next chapter of medical education. The medical field and the healthcare system have evolved rapidly in the past few decades, but medical education across the nation has been slow to change.
"Right now, there is a bit of a disconnect with what society needs from doctors, the skills doctors need to be most effective … and how doctors are being trained," Weber explained.
She plans to use her past experiences of new program development, strategic planning and quality improvement to adapt the DUCoM curriculum in a way that best prepares students for the new demands of the medical field.
When she begins her term, Weber first plans to get acquainted with the students, faculty and leadership. She hopes to then engage the medical school community in a strategic planning process designed to determine the ideal DUCoM graduate. With this model in mind, she will then work with the medical school staff to ensure that the curriculum equips students with the skills they need.
"There are many talented educators at DUCoM and I am looking forward to working with them to create some truly innovative medical education programs which can become national models of excellence," she explained.
Weber's appointment tops off a long list of achievements in her medical career. After graduating summa cum laude from Washington & Jefferson College, she attended the Perelman School of Medicine at the University of Pennsylvania. She went on to complete her residency at the Graduate Hospital as chief resident and also earned her Master of Sciences in health care management from the Harvard University School of Public Health.
Weber has applied her extensive medical training in her position as vice chair of the division of medicine at the Geisinger Health System and as the department director of general internal medicine and geriatrics. In her 10 years at Geisinger, she also maintained her position as a clinical associate professor of medicine at Temple University School of Medicine, clinical assistant professor of medicine at Thomas Jefferson University School of Medicine and as adjunct clinical assistant professor of medicine at her alma mater, the Perelman School of Medicine at the University of Pennsylvania.