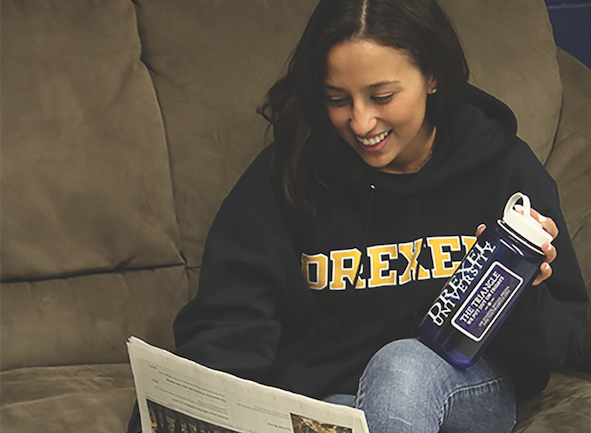 Drexel University's Athletics Department is giving members of the community another reason this quarter to show their school spirit by wearing Drexel gear with its Wear It Wednesday initiative.
This weekly event — which happens every Wednesday from 12 to 2 p.m. during the fall, winter and spring quarters — aims to spread school spirit throughout the university by giving students who are wearing their dragon gear a chance to win prizes by spinning a wheel at their table.
"Wear It Wednesday was created just because we wanted to promote Drexel pride among the Drexel community," Allison Campbell, the coordinator of marketing and tickets for Drexel Athletics, said. "We just thought that by rewarding them for wearing Drexel clothing was a good way to start doing that."
The initiative began two years ago and the response from the community keeps getting better and better, according to Campbell.
"We started this my first year, which was 2016. We got a little bit of traction, but we still had a lot of questions like what is Wear It Wednesday? I've never heard of it. That kind of thing," Campbell explained. "This year, especially since we've had buy-in from the university, overall we have people coming up to our table on Wednesday, and they know what it is. They're wearing their Drexel gear, and they're excited to spin the wheel."
Students wearing Drexel gear are eligible to win one of the eight prizes listed on the wheel. These prizes include a laptop sticker, a t-shirt, a yo-yo, a lanyard and more. However, these prizes are subject to change from time to time, so there is a chance that they may not offer the same prizes every week.
The location of the table also changes every week. This fall quarter they are alternating between Lancaster Walk, Race Lawn and the Dragon Statue. If the weather on one Wednesday does not permit that, you will be able to find them in the Recreation Center Lobby. Students can also follow Drexel Athletics on Twitter for updates on tabling, prizes and more.
According to Campbell, you are welcome to come every single week. The only thing is that you cannot spin more than once on the same day. The table is not be available during finals week, break weeks or over the summer quarter since there are fewer students on campus.
Wear It Wednesday is an event that has had an impact on both the people working behind the scenes and in the Drexel community.
"The best part of this initiative is just getting students and the community overall excited about being part of Drexel and being proud to represent their university," Campbell said. "That's something that we push for in athletics and everything that we do so that's definitely the best part."