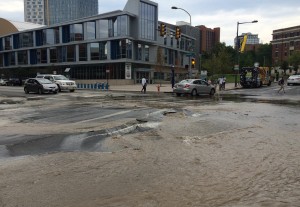 Update, 6:03 pm: The outpouring of water has been stopped at the site of the rupture, and power has been restored to the buildings affected by the outages, according to the University.
The University issued a DrexelAlert which said 33rd Street will be closed from Chestnut Street to Market Street until further notice.
SEPTA is diverting trolley service to 40th & Market due to the break. Market-Frankford service remains unaffected at this time.
***
A water main burst at the corner of 33rd Street and Market Street around 3:45 pm July 21.
The rupture caused breaks in the concrete and water to run down 33rd Street towards Chestnut Street.
Philadelphia Police and Drexel Public Safety shut down 33rd Street between Chestnut and Market streets.
The break also affected power in surrounding university buildings, causing power outages at Hagerty Library and the Drexel University Recreation Center.
The Triangle will continue to update this story as more information becomes available.
Photos of the break below courtesy of Gina Vitale.