Vice President Joseph R. Biden Jr. visited the University of Pennsylvania Oct. 18 to speak with first responders from the Delaware Valley region, including Senior Associate Vice President of Drexel Public Safety Domenic Ceccanecchio, about the effect that the economy and the American Jobs Act would have on public safety.
Biden first spoke with the officers at a private roundtable discussion about the problems they've been having keeping civilians safe during the recession. He then addressed the public about the contents of the discussion and how the American Jobs Act will help reverse the problems with public safety.
"What the group focused on [was] the impact on public safety that the economy was having. How, for municipal police departments, the reduction and budgets forced reduction of personnel and then the impact it was having on the community,'" Ceccanecchio said.
"[Biden] was very open and frank. It was a good discussion, and it's something that I think everybody welcomed. And hopefully some positives will come from it," Ceccanecchio said of his first time meeting with the vice president.
According to Biden, 10,000 police officers and 7,000 firefighters were laid off in the last year.
"Look, it's hard enough for these guys to do their job in good times. It's almost impossible to do it in hard economic times. They're getting gutted. They're getting hollowed out. It's simple. It's not magic. When you don't have the numbers, it's easier to commit crime," Biden said.
According to Ceccanecchio, the Drexel Police Department is in the top 25 to 35 percent of the Pennsylvania police departments with regard to size.
"We do have a regional impact on law enforcement here. We are part of the law enforcement community here. … As law enforcement professionals, we were asked to join the rest of the law enforcement community to discuss these issues that are common with all of us," he said.
Although none of the 34 sworn Drexel Police Officers have been laid off, the cuts that the Philadelphia Police Department is facing are affecting the safety of Drexel students.
"Philadelphia police, I believe, are operating with too much less officers now than they did in the past," Ceccanecchio said. "And when we collectively look at our law enforcement activities, having a strong Philadelphia Police Department and a strong economically viable city only benefits Drexel."
Ceccanecchio explained that because Drexel resides in West Philadelphia, much of the crime that happens near campus is handled by Philadelphia Police.
"Their success impacts our success," he said.
Mayor Michael Nutter, who also attended the roundtable discussion and subsequent public address, said the programs in Philadelphia aided toward putting people back to work were losing funding. He stated that the lack of jobs is leading to hopelessness and that without job opportunities, Philadelphia has become a breeding ground for crime.
"Public safety is not a standalone issue. We know that the best public safety policy is a job policy. In order to create safer neighborhoods, we need to invest in our schools, invest in our health systems, and we need to invest in creating jobs for Americans," Nutter said.
Biden hopes to fix the deficit in the police departments with the American Jobs Act proposed by President Barack Obama in September 2011, which was recently filibustered by Republicans in the U.S. Senate. To debate The American Jobs Act, 60 senators had to vote for it. According to Biden, 51 Senators voted for it and 49 voted not to even debate it.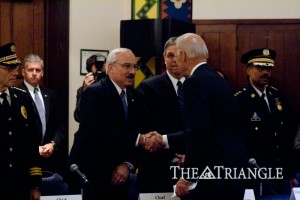 "[Obama and I] literally, when we sat down, said, 'Let's put in this bill things that will actually work and that we know Republicans support.' We weren't looking for a fight. We were looking for an answer," Biden said.
"But in fairness to the Republican leadership, they have trouble selling this. To this new group of [representatives] and senators they have. They're not bad guys. They just have a very different value center than we do," he added.
According to Biden, the jobs act would have put 15,000-18,000 police officers back to.
This portion of the American Jobs Act would have cost Americans $35 billion. According to Biden, the bill will be paid for by raising taxes .5 percent on people who earn  $1 million or more. In other words, a millionaire would have to pay $500 extra in taxes.
"According to some of the polling data, millionaires support this. You don't have to be poor to be patriotic," Biden said.
The American Jobs Act also proposed a Returning Heroes Tax Credit of up to $5,600 for businesses who hire unemployed veterans who have been looking for a job for more than six months. According to Biden, unemployment for veterans is currently at 11.5 percent.
Under the American Jobs Act, 35,000 schools would have been modernized and renovated, and 280,000 teachers would have been hired.
Philadelphia Police Commissioner Charles H. Ramsey spoke further about this, saying, "We can't be talking about laying off teachers and think that we're not going to have to deal with the consequences of that in public safety. Everything is interrelated. Everything is connected.
"In 42 years of policing I've come to learn one important lesson: A good education and a job is the best remedy for crime," he added.
The American Jobs Act includes $50 billion to repair and develop America's roads, rails and airports.
"Is there anything ideological in saying we have to rebuild the roads and highways and bridges in this state? An incredible number of your bridges are literally obsolete and dangerous. And that goes all across the country," Biden said.
"The society of engineers says we have over a trillion dollars in backlog in terms of America's infrastructure," he added.
The American Jobs Act would have also cut the payroll tax for small businesses in half.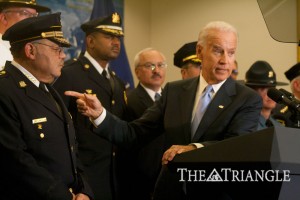 Biden also spoke about the importance of reallocating interoperability of the radio systems for first responders. This radio spectrum, also known as the D Block, would allow police officers, firefighters and other first responders to communicate with each other.
According to Biden, more first responders at Ground Zero on September 11, 2001 would still be alive if the D Block had been allocated for communication.
"So folks, I call on the members of Congress to step up this week. To step up and make a choice. Make a choice for the people in your district. Should they have more teachers back in school? Should they have more police on the beat? Should they have firefighters in the firehouse? Or should you save a millionaire from a $500 tax increase?" Biden said.