Drexel University recently launched a new program named Drexel Edits, which offers editing services to assist local nonprofits.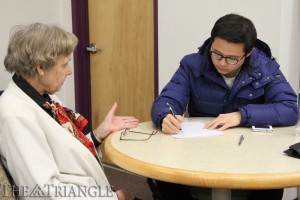 The program was founded by Lawrence Souder, an associate teaching professor of communication at Drexel. For the last six years he has been teaching a graduate course in technical editing for the department's Master of Science degree in communication. There, each of his students works with a nonprofit organization to help improve its documents.
According to Souder, when the University recognized a need for interaction with its surrounding community, he thought of creating a program that implemented his teaching. Souder proposed his idea in November 2012 and began to execute the plan in the fall of 2013.
The program was a result of collaboration with College of Arts and Sciences Coordinator of Community Outreach Cyndi Rickards, Publication Management Program Coordinator Joan Blumberg, and Director of Marketing and Communications Amy Weaver. Drexel Edits is funded by CoAS.
La Salle University's Nonprofit Center and the University of Pennsylvania's School of Social Policy and Practice offer similar support for nonprofits. However, according to Souder, Drexel Edits is geared toward developing and maintaining communication strategies.
Souder said, "In the future I'm hoping to enlist supporters from all of the other colleges."
The program is open to all local nonprofits. Recent clients include ACHIEVEability, a social service in West Philadelphia, as well as the Philadelphia chapter of Habitat for Humanity.
Currently there are only a few student volunteers. These students have worked alongside Souder for some time and have helped him nurse his idea of Drexel Edits.
Lauryn Escobar, a current volunteer and master's student in communication, said she fully believes in the mission of the program and has seen firsthand the success of the program in the community. Not only is it helping its clients, but it is also teaching the volunteers invaluable lessons.
Escobar said she has learned a lot by taking on a consulting role. She said it teaches her how to manage a project while communicating responsibilities. She hopes that this will help her connect with other leaders of nonprofit organizations.
Souder said he believes that "in order to survive in a competitive economy, there should be a strong focus on the nonprofit's long-term goals and short-term operations."
According to the 2014 National Council of Nonprofits report, with the recent government budget cuts, state officials are urging people to seek help from local charities. With an influx of demand, there is increased scrutiny on the reliability of charities nationwide. That is why now, more than ever, there is a need for sound organization within nonprofits.
Souder said, "[Nonprofits] need to attend carefully to written communication tasks such as grant writing, report writing, instruction writing, and social media and Web design."
The service is free to nonprofits. As Drexel Edits grows, Souder expects a training program to be established for volunteers.
The responses from the nonprofits that Drexel Edits works with have been positive. The program is expected to grow and to continue providing these services to the community.