An opening reception took place Aug. 1 to showcase "Spatial Translations," a new exhibit currently on display in the Leonard Pearlstein Gallery. The exhibition is a partnership between Drexel's Antoinette Westphal College of Media Arts & Design and Philadelphia's nonprofit artist network InLiquid.
The exhibit stemmed from the works of Paul Fabozzi and his "Spectral Variant" series, one of which is on display. Fabozzi received a Master of Fine Arts degree from the University of Pennsylvania and was interested in putting on an exhibition in the Philadelphia region.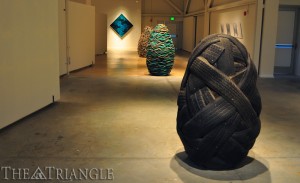 Fabozzi contacted New York-based artist Annette Cords as well as Leonard Pearlstein Gallery manager and curator Amber Lauletta to express interest in the project. Lauletta then approached InLiquid, a nonprofit organization committed to creating opportunities and exposure for visual artists as well as providing a free online public hub for arts information in the Philadelphia area.
Through InLiquid's network, executive director Rachel Zimmerman contacted local artists William Cromar and Brent Crothers. The two artists agreed to be showcased. A collaboration was soon drawn up, and the exhibit opened July 29.
The exhibition consists of each artist using different media to create a common theme. The overall theme of the show is movement through space. All the works stem from the emotional responses a person has when confronted by urban environments. Ranging from political statements to textured abstractions, each artist interprets the city landscape in an entirely separate manner.
Cords' acrylic paintings layer texture on a canvas, creating a tactile sense of movement and structure. Cromar's razor-thin wood is reminiscent of minimalist Richard Serra and is slashed across the white gallery walls. Fabozzi's hand-drawn Mylar pieces map out the negative space within the city. Crothers takes everyday objects such as tires, copper, piping and garden hoses and develops them into a political statement of purpose.
Crother's "Who Broke the World?" sculpture was particularly appealing to many of the gallery visitors, old and young alike. Utilizing wood, copper and nails, he created the sculpture as a direct response to the attacks of Sept. 11, 2001.
"I couldn't understand how the world could get so bad that [you would be] willing to give your life up," Crother said.
Drexel students were contemplative at the work.
"I like the contrast between the industrial and the natural," Joseph Guaglianone, a sophomore majoring in construction management, said. "That's what I like about art really, those opposites."
Guests will also be able use their smartphones to access interviews and explanations from each of the four artists.
This pilot project was designed by Drexel's arts administration program as an attempt to increase visitor interaction with the various works throughout the gallery.
The Leonard Pearlstein Gallery is located in the URBN Center Annex at 3401 Filbert St. The exhibit is free and open to the public from 11 a.m. to 5 p.m. Monday through Friday. It will close Wednesday, Sept. 18.