After winning the Greater Philadelphia Chamber of Commerce 2012 Edward Powell Award Feb. 6, the CEO of Urban Outfitters Inc. announced that he will donate $200,000 to the Laurence A. Baiada Center for Entrepreneurship.
Mayor Michael Nutter presented Richard Hayne, founder, president and CEO of Urban Outfitters, the award for his work as a Philadelphia businessman and his contributions to the city's economy. During his acceptance speech, Hayne pledged the $100,000 cash prize and a matching personal donation to the Baiada Center.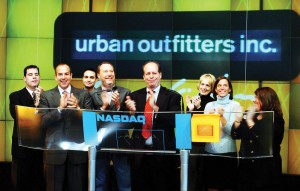 Most of the Baiada Center's funding comes from private benefactors, and donations are used to foster entrepreneurship on campus and give students access to mentors, consultants, incubation and collaboration space, and other resources vital to the success of startup companies. Because of the accomplishments of the Baiada Center and that of its student startup companies, Drexel was ranked among the top 10 universities in the nation for entrepreneurship.
"Just at the moment that Drexel is beginning to talk about our role in regional economic development, Dick has made a powerful statement about his belief that we can create businesses and jobs," President John A. Fry said in a University press release.
Mark Loschiavo, executive director of the Baiada Center, explained that even though there aren't detailed plans for the donation yet, he and other executives at the center know that the money will be used specifically to help launch projects and products from within the Antoinette Westphal College of Media Arts and Design.
"It's going to be used specifically to help provide sort of an accelerator of business ideas that are specific to the College of Media Arts and Design. If you think about the kinds of products and services that might come out of the disciplines of [the college], basically what we're going to do is create a program that's going to make it easier for those ideas to become commercial realities, to be turned into new ventures or new products," Loschiavo said.
Although he is a graduate of Lehigh University and opened the first Urban Outfitters retail store on the University of Pennsylvania's campus, Hayne serves on the board of trustees at Drexel. In 2009 he donated $25 million to buy and renovate two buildings, forming a center for the previously scattered Westphal College.