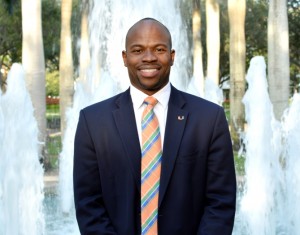 It's been almost a year since Drexel University's former provost and vice president of academic affairs, Mark Greenberg, stepped down, leaving James Herbert filling his role in interim — but on April 17, President John A. Fry released a letter to the University community announcing that Brian Blake will officially fill the role, beginning Aug. 1.
For the University, the provost serves as the chief academic and budgetary officer. As such, Blake will collaborate with Fry in setting overall academic priorities for Drexel, and head the design and implementation of its academic programs.
While it is the first time Blake is coming to work at Drexel, it's not the first time he's thought about coming to campus. In 1996, Blake said he considered Drexel's iSchool as one of his top two choices to earn his doctorate degree. Around 10 years later he was offered work as an associate dean and professor at Drexel's same iSchool. Accepting the position as provost now, Blake described his relationship aptly with Drexel University as "soulmate-ish."
"We largely felt that [Drexel] might have been 'the one that we let get away,'" Blake wrote in an email to The Triangle.
"Well, earlier this year, when we were contacted by the search firm, the interest [in the University] was there and had only grown — we knew the timing was right. After having a conversation with the search chair, Dr. John Rich, and later with President Fry, our excitement grew even more. Then, I was quite humbled to be offered the position," Blake continued.
John Rich commented on what made Blake different from the other candidates saying, "I think what stood out most to the committee about Dr. Blake is the range of leadership experience that he has had over his career at a number of excellent universities, as well as in the private sector.
"He is also deeply passionate about undergraduate and graduate education, supporting the faculty, building interdisciplinary research, as well as engagement with community," Rich continued.
Until August, Blake will continue working at the University of Miami, where he is currently serving as vice provost of academic affairs and dean of the graduate school. Blake's work at Miami has led to the institution of interdisciplinary graduate programs that span across the university's three campuses, as well as the development of graduate initiatives in China, Italy, Jamaica and Spain.
In his letter to the community, Fry wrote about the challenges Blake will soon take on at Drexel.
"As provost, Dr. Blake will be Drexel's highest ranking academic officer. No single role has more impact on Drexel's core mission to prepare students for lives and careers of meaning, to foster research that addresses the challenges of our age and to build an academic enterprise that engages with and reflects the society we serve," Fry said.
Fry also stated that Blake will lead Drexel University's pursuit of academic goals such as heightening student retention and faculty growth, expanding global reach and, in the long-term, building a state-of-the-art research infrastructure.
Blake expressed that he was encouraged to come to Drexel by all the possibilities he feels the University offers.
"Drexel has already mastered the 'next big thing' in academia — experiential learning. Moreover, the Washington, DC-Philadelphia-New York City corridor offers a world of possibilities. I believe the possibilities at Drexel are limitless," Blake wrote.
He also expressed that he thought that Miami and Drexel's institutions shared a certain confidence in their determination to grow and develop.
"During my time at Miami under president Donna E. Shalala and provost Thomas J. LeBlanc, the university has continually made bold advances. The university has carried itself with a confidence, a 'swagger' as is coined at UM, to say, 'We will be the next elite institution … whether you think so or not.' In my opinion, Drexel has that same boldness. Given my background, I feel comfortable that I am going to thoroughly enjoy partnering with students, faculty and staff to really craft the story of America's next great institution."
As for Blake's initial priorities coming to Drexel, he said that taking time to adjust and acclimate to Drexel as well as continue to build support for the University's prominent existing programs.
"I plan to invest time initially getting to know the University and understanding the culture. However, I think it is important for any provost to highlight the signature programs and achievements of the University while also nurturing the infrastructure to support innovative, up-and-coming programs and initiatives. I think the provost has to promote the recruitment of both the best students and the most enlightened faculty. I personally would like to work with the president to articulate Drexel's standing as a research-intensive, experience-oriented university and its prominent position in the city of Philadelphia and abroad," Blake wrote.
"Blake brings an inspiring vision for an agile, experiential, global form of education, honed in a variety of leadership roles at three of the nation's best private research universities," Fry wrote in his letter to the University community on Blake's experience. "He is also an outstanding researcher, teacher and engineer and a graduate of a cooperative undergraduate program at [Georgia Institute of Technology]," Fry continued.
As for his personal education, Blake received his bachelor's degree from Georgia Tech, his master's degree from Mercer University and his doctorate from George Mason University. Before going to the University of Miami, Blake served as the associate dean for research and graduate studies at the University of Notre Dame, working with programs in the college of engineering.
During his time there, enrollment in these programs increased over 30 percent and research awards given to this college doubled. Prior to Notre Dame, he held a position for Georgetown University as the department chair and graduate studies director for computer science. Also on his resume, before his academic career, is his work for Lockheed Martin, General Dynamics and The MITRE Corporation as a software engineer and architect.
Until Blake's arrival, James Herbert will continue to serve as interim provost. In his letter Fry indicated his gratitude to Herbert for temporarily filling the role and said that the University was in his debt for the great work he'd done during the year's span.