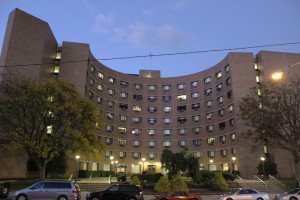 It's difficult to avoid the cost of housing at college but Drexel's prices are more expensive than most. On Oct. 20, Business Insider shared eCollegeFinder's compiled list of the country's most expensive room and board at universities, and Drexel came out at number four.
According to data from the National Center for Education Statistics, one solid year of room and board costs the average student here about $14,415 per year — that's just over $1,200 per month. Nationwide, the campus sits pretty behind three other city-based universities — the New York School of Interior Design, The Boston Conservatory and the University of California, Berkeley. However, it claims the title of most expensive housing in the state.
City-based universities typically have more expensive housing than suburban schools. The real estate in West Philadelphia in particular is highly sought and students have to compete for housing with fellow city residents. Factors such as proximity, curb-appeal and safety contribute to the cost of some housing facilities close to campus.
In addition to this, the quarter system means that Drexel students need to be on campus for a longer time period than most students at semester schools.
"Drexel's quarter system (fall, winter, spring) is 234 days while the average number of days for semester schools is 214 — resulting in an additional 20 days of services provided at Drexel," Christopher Heasley, executive director of university housing at Drexel, explained in an email, suggesting what might make Drexel more expensive than other Philadelphian higher education establishments such as University of Pennsylvania and Temple University.
In fact, staying on campus for three terms at Drexel means that students have to live on campus nearly a month longer than their semester contemporaries. The difference becomes even more significant when considering that many students stay the full year in Philadelphia due to co-op programs.
"This factor certainly impacts the cost differential between Drexel University and semester-term schools," Heasely wrote.
Further, the University's two-year residency program that President John A. Fry enacted in 2012 mandates that students remain Drexel's nine dorms span prices between $6,000 and $13,500 per year. Rather high, but competitive with surrounding affiliated housing complexes which drove the average cost of Drexel housing up to $14,415 per year.
Sanjay Patel, a pre-junior business administration student, currently lives in Evo — an apartment building close to campus on 29th and Chestnut Streets priced at $1,550 per month ($18,600 per year). He was drawn to the pricier housing option by the lavish amenities and convenience the complex offers.
"It's not too far from campus which helped a lot that there was not much walking to do for classes," Patel said.
"One other thing is that there are no other expenses on my part besides rent. Internet, cable TV and all the utilities are included in the monthly rent so I wouldn't have to worry about so many different bills each month," Patel went on.
Evo is one of several more costly affiliated housing establishments on campus. Students agree that complexes like these provide safety and put one in a comfortable vicinity of the school.
"As long as the housing is on the campus, the different buildings can afford to charge more because of the location. Since it's on campus, people don't have to walk far and parents know that it's in a safe area so they can have some peace of mind," Patel said.
However, some students go the opposite route and move into houses after their freshman year to try to save money.
"I think that on campus, [places] like Chestnut Square and University Crossings are really overpriced. I lived in Chestnut last year and it was great because everything was all-inclusive but I honestly paid so much money for it and I was kind of dissatisfied with the furniture," Rebecca McCool, pre-junior health science major, stated.
McCool currently lives in the Powelton Village area, where rent can be as low as $500 dollars per month. Her housing includes no amenities or furniture.
The two-year housing initiative allows students to live off-campus if they submit an application to the Office of University Housing, where Heasley works. As long as their housing meets all the zoning requirements for the city of Philadelphia it should be approved.
"I think most students chose to live in off-campus apartments because it's cheaper for the most part, you don't have to deal with the security — so you don't have to always sign people in, sign people out. It's just more like [with] your own space, you feel more adult," McCool explained.
"Some disadvantages are the safety I guess, like I know a lot of people where I live get bikes stolen all the time and things like that," McCool said.
Zaid Salman, sophomore biology major, described the process of finding housing at Drexel as a game. "It's like monopoly, kind of. For two years you have to live on-campus."
Salaman currently lives in University Crossings, an affiliated housing complex that costs $3,300 per term or $13,200 for the full year.
"[Freshmen] have to live in the dorms, [sophomores] have to stay on campus. After the dorms, students either stay in their Drexel housing or go to houses around campus. That's what my roommates and I are going to do for next year," Salman said.
Another downside of Drexel dorms seems to be their age and the overlooked upkeep.
"I lived in Towers my freshman year and University Crossings my sophomore year. Both of those places were not the nicest places to live and were more on the older side of buildings," Patel recalled.
"When I lived in Myers, the bathrooms were always breaking, everything's old, the carpet smells. So we pay them so much for this housing, but Drexel doesn't really renew them," Salman said.
The high price to pay for living closer to campus seems to lean towards the safety and proximity aspects. The $14,415 per year average rate suggests that students are choosing closer, pricier options placing their safety and convenience before their wallets.