George Tsetsekos, R. John Chapel Dean of the LeBow College of Business, will resign from his post at the end of the academic year after a decade of service, as announced April 16 in a University press release.
Tsetsekos felt that he has accomplished all the goals he set for the college during his time as dean, and he said he looks forward to returning to teach as the George Francis Professor of Finance after completing a year's sabbatical starting Sept. 1.
"I was a professor of finance for quite some time, Tsetsekos said. "I will go back … and immerse myself in something I've missed for 10 years."
The George Francis Professor of Finance position was most recently held by the late Thomas Hindelang, a good friend and former colleague of Tsetsekos.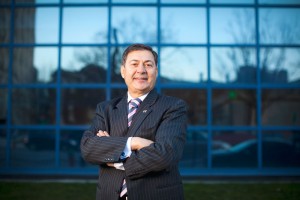 "I had an outstanding relationship with him," Tsetsekos said. "He was a mentor and an individual who assisted me in the process of becoming a great academic professor. I'll always be grateful to him."
In the joint Drexel press release, President John A. Fry and Provost Mark Greenberg said that they would announce interim leadership for the college and more information about the University's national search for LeBow's new dean before the end of the academic year.
"Thanks to George, the College is well positioned to help Drexel achieve its strategic goals over the next five years, and we expect to be able to attract a leader who will continue LeBow's trajectory to greatness," Fry and Greenberg wrote in the statement.
The message also celebrated Tsetsekos' many accomplishments as dean. He presided over the construction of the Pearlstein Business Learning Center, Drexel's $15 million business building, which was completed in 2003. Additionally, he has participated in the LeBow College of Business Building project, currently under construction.
"In a very short amount of time, we will have another building that I was very privileged to advocate for, fundraise for but also oversee the plans for its development," Tsetsekos said.
The 12-story, $92 million project will be an estimated 177,500 square feet and is slated for a September 2013 opening.
During his time as dean, Tsetsekos also made international relationships a priority, establishing collaborative programs between LeBow and business institutions in Europe, South America and beyond.
"[These] will expand the global recognition of the business school, bring much-needed global perspective to our students and further create opportunities for the business school faculty and alumni to be involved in activities outside of the United States," he said. "This is really important because the next stage of development in my year for the business school is to be much more global. We have demonstrated that we have a prominence at the national level. [But] we need to be out there. We need to be branding our school. We need to be involved with other cultures to be much more aware of business activities outside the United States."
Dawn Armentani, a sophomore business student, said that students and faculty would miss Tsetsekos come September.
"Tsetsekos was a dynamic leader for the LeBow College of Business. Under his direction, the college has been able to reach new heights and been distinguished as one of the premier business programs in the region," she wrote in an email. "Dean Tsetsekos was always available to meet to discuss any matter, and he provided me with much guidance. He even helped me in choosing my areas of concentration, marketing and finance."
"I'm leaving a business school that has only strengths, as opposed to weaknesses. It is my belief that the next team will reposition the school in a way that will be even greater in terms of prominence," Tsetsekos said.
He added, "I think what I will miss from the job is being very close to the alumni and students. They welcomed me, assisted me and provided me guidance and support."