Richie Cohen is a senior business major and a member of Pi Kappa Alpha who will serve as president of Drexel's Interfraternity Council for the 2013-14 school year.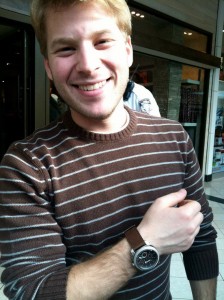 The Triangle: What's your story, and how did you end up at Drexel?
Richie Cohen: I was looking for a different college experience, so I thought co-op was it. I actually applied to Drexel for industrial engineering, and when I went to my orientation, I was told that they have phased that major out of the curriculum (they didn't even tell me) and that they placed me as undecided in engineering. That was not what I wanted at all. After changing my major two times, I couldn't be happier majoring in business administration, concentrating in marketing and management information systems.
TT: When and how did you decide that Pike was the fraternity for you?
RC: I joined Greek life during the fall of my freshman year. I did the usual: enjoyed Night on the Row, went to many fraternities' rush events, and Pike just felt like that home away from home. It was an easy decision for me.
TT: What's your favorite part about being a brother of Pi Kappa Alpha?
RC: The fraternity experience I am getting from being in Pi Kappa Alpha is second to none. Everything I could have wanted out of going Greek in college I've gotten. I love the ability to be able to ask anyone anything, be it help with homework or for a ride somewhere; there's constantly someone there for you.
TT: How and why did you get involved with Relay for Life?
RC: In 2005 my mom passed away from cancer. Since then I have always tried giving back in ways that can help people who have been affected by cancer. When I joined Pike and found out that Relay For Life was a big part of it, I jumped at the opportunity. Ever since then I have been working very hard to help rid this world of cancer. Since being on the Drexel Relay's planning committee, I have joined national advisory teams within the American Cancer Society to help other schools out, too.
TT: What made you decide to run for IFC president, and what did you do when you found out you won?
RC: One year before running for president, I was the vice president of administrative affairs (which is now called executive vice president). While serving as vice president I was able to get an inside view of how the IFC is run. When my tenure was over, there were a lot of items that I felt needed to be changed, specifically, the sense of community among all the chapters. When I won, I immediately started working with my board to accomplish all of our goals while helping our vice president of recruitment, Dylan Siegfried, prepare for the recruitment opportunities at the New Student Orientations.
TT: What are you most looking forward to about being IFC president?
RC: Bringing the fun! It's been my experience that the IFC board has typically just been in place to facilitate communication between the chapters and the administration. This is still a very important aspect, and I plan to continue to manage that relationship. However, there are ways that can be done while still hosting fun events! I plan on finding that balance and bringing the community together.
TT: What do you think is the greatest challenge facing Greek life at Drexel, and how will you handle it?
RC: Policy change and Greek Week. Policies are always changing at Drexel, and I will be making sure that all of these changes positively impact the IFC (and Greek life as a whole). Over the past couple of years, Greek Week has lost its pizzazz. Our current Greek Week chair, Raub Dakwale, has a very ambitious schedule that will reduce Greek Week to less than two weeks. He plans on working closely with both the Multicultural Greek Council and Panhellenic Council Greek Week chairs to try and make this a reality.
TT: What's your biggest pet peeve?
RC: I absolutely hate being stopped at a red light when there's nobody else at the intersection — really grinds my gears.
TT: What's your spirit animal and why?
RC: Monkeys, I absolutely love monkeys. Their ability to hang out and swing on trees all day just seems like fun. They're strong and typically live in groups. Plus I like bananas, so that's good too. Wait did I say monkeys? I meant Dragons … Go Drexel!
TT: What's one thing that most people don't know about you?
RC: The only reason why I didn't join the military was because my dad didn't want his only son going to war. I was enrolled in Junior ROTC in high school and was very involved in it; it just seemed like the next step for me. Needless to say, I have enjoyed my time at Drexel so far and am looking forward to finishing up my senior year!