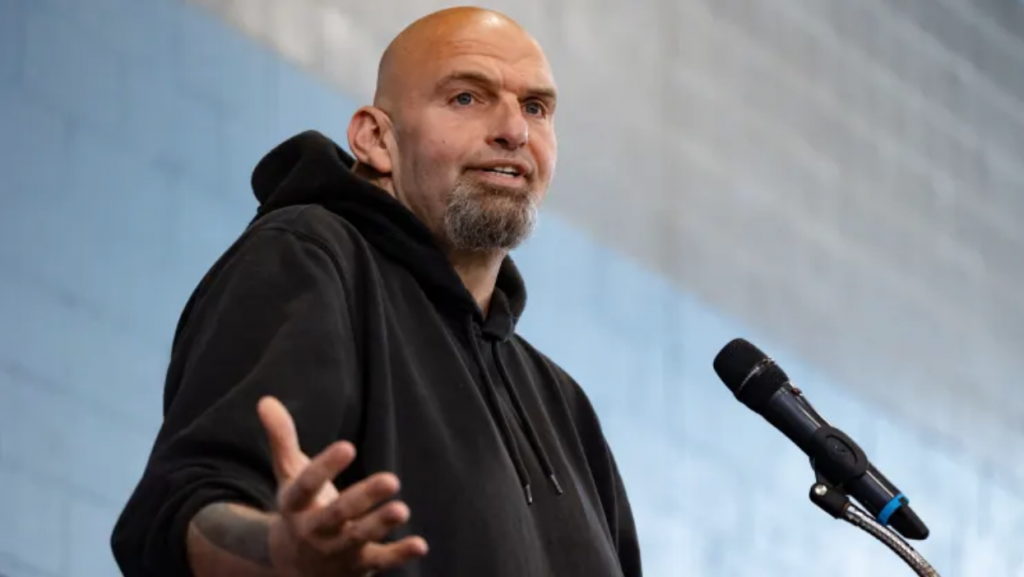 Pennsylvania Lieutenant Governor John Fetterman is the Democratic candidate in Pennsylvania's 2022 senate race, vying for a seat against Republican candidate Mehmet Oz in what some experts argue is among the most important races in the country for changing the balance of power in the Senate. Mr. Fetterman spoke with The Triangle in a brief interview over email to discuss his positions on political issues relevant to his campaign and directly describe to young voters the impact he believes electing him to the Senate would have.
CD: How do you plan to balance your ideas for prison reform with policy that effectively mitigates crime as it rises across Philadelphia and Pennsylvania as a whole?
JF: I'm very proud of my work on the Board of Pardons, which has been widely praised including by elected Republican officials. I took a fair-minded approach to cases, voting to give second chances to the wrongfully convicted and deserving, but also voting to deny hundreds of applications where I felt clemency wasn't merited.
One of the proudest moments of my career is freeing Dennis and Lee Horton, two wrongfully convicted brothers from Philadelphia who spent 27 years each in prison for a crime they did not commit.
My work on the Board of Pardons doesn't take away from the fact that I've been effective at taking on crime. Unlike Dr. Oz, who lives in a gated mansion in New Jersey, I actually tackled crime as mayor and chief law enforcement officer of Braddock, working closely with law enforcement to make our community safer. Braddock was a town deeply plagued by gun violence when I came here to help local youth get their GEDs and find jobs. After two of my GED students were gunned down, I decided to run for mayor to stop the violence. Under my leadership, Braddock's homicide rate declined, and we went 5 and ½ years without a homicide. This hadn't been accomplished in the decades before or any time since. Dr. Oz is going to keep lying on television, because that's what he does, but that's my record on crime.
CD: Can you please explain the steps you intend to take to protect women's reproductive health in Pennsylvania?
JF: Women should have control over their own bodies and their own lives. I support eliminating the filibuster to pass a bill like the Women's Health Protection Act to codify the right to an abortion into law. Dr. Oz thinks that "local political leaders" like Doug Mastriano should have a voice in women's healthcare decisions–he literally said that.
I believe that politicians have no business being involved in these choices.
CD: Can you please explain your ultimate goal regarding access to affordable schooling and student debt relief?
JF: Unlike my opponent, I actually have a real agenda for students and Pennsylvania's young people. The price of college has become outrageous and there are too few opportunities for the many young people who don't think college is the right option for them.
I have always been clear that we need to cancel some of the student loan debt that's crippling Pennsylvanians, especially for folks who are struggling. But we need to do more than that, to make sure that the cost of college isn't so high to begin with.
In Washington, I'll work to increase investments in career and technical programs to prepare young adults for successful and in-demand careers in critical industries. For students who do opt to attend college, I will make sure the cost isn't a barrier. I'll support efforts to make community colleges tuition-free, eliminate interest on federal student loans, and expand Pell Grants for students that come from low-income households.
CD: How would BIPOC and LGBTQIA+ Pennsylvanians feel protected with you representing them in the Senate?
JF: I have consistently stood with the LGBTQIA+ community, even before it was popular. Back in 2013, when same-sex marriages were still banned in Pennsylvania, I was the first and only elected official in western Pennsylvania to solemnize same-sex weddings. I believe everyone deserves equal protection under the law, and with extreme Republicans trying to pass legislation that discriminates against LGBTQIA+ Americans and targets transgender kids to score cheap political points, we need to fight back.
In the Senate, I will vote to finally pass the Equality Act, which would ensure that civil rights laws—like protections against discrimination in employment and housing—apply to sexual orientation and gender identity. I will also support efforts to end the hateful practice of so-called "conversion therapy"– unlike my opponent Dr. Oz who hosted television segments promoting conversation therapy in 2012–and fight to strengthen anti-harassment policies on school and college campuses.
I have also been unwavering in my support for the Black community. I served as mayor of a 70 percent Black town for four terms and I chose to run for that office because gun violence and public safety were my top concerns. And now, as Lt. Governor, I've worked to right wrongs in the criminal justice system by freeing wrongfully convicted and deserving inmates who were wronged by a system that overwhelmingly hurts Black Pennsylvanians.
CD: In what ways do you envision the country improving with the federal legalization of marijuana?
JF: Weed should be legal, nationwide. For jobs, justice, and freedom. It's far past time we end the failed war on drugs and let go of this bizarre superstition and criminalization of a plant. More than 350,000 Americans were arrested for marijuana in 2020, and because marijuana is still illegal under federal laws, people who are using this plant legally in their home state may still be denied federal employment. It's a disgrace.
The reality is that legalizing marijuana would allow our police force to focus on violent crime and crack down on traffickers dealing hard drugs like heroin and fentanyl. There is no reason why our police force should be wasting its time on the use of a plant, when it could be investigating violent crime or hard drug trafficking. Republican State Senators Dan Laughlin and Mike Regan agree that we need to take action and legalize marijuana. This is a bipartisan issue that is supported by the vast majority of Pennsylvanians.
In addition, it would provide extensive economic benefits. Right now, there's a marijuana market in Pennsylvania, but it's an illegal market and the money goes to cartels and dealers. If we legalize marijuana and tax it, like many other states across the country have done, we can use that funding to reinvest in our schools or use the income as a tax rebate for hardworking Pennsylvanians, instead of letting it go to drug dealers and cartels.
CD: In what main ways should students expect electing you to practically affect their lives?
JF: I actually know what people in Pennsylvania are going through. I grew up in York, Pennsylvania, went to college in Reading, and have lived in Braddock, my current home, for nearly 20 years. My commitment to Pennsylvania is clear. Oz is only interested in helping himself and will sell out anyone who gets in his way, just like he has been doing for his whole career.
Additionally, I actually have a real agenda for students and Pennsylvania's young people. The price of college has become outrageous, and there are too few opportunities for the many young people who don't think college is the right option for them.
I'll fight to lower the cost of college and expand access to education, so everyone can make the best decision for themselves without worrying about costs. And I'll vote to eliminate the filibuster and pass common-sense gun reform, implement a $15 per hour minimum wage, protect the right to an abortion, deal with climate change, expand union protections, and fight to implement the kinds of policies Pennsylvania's young people deserve. Dr. Oz won't, it's that simple.
This interview's publication comes following a nationally-televised debate between Lt. Gov. Fetterman and Dr. Oz on Oct. 25, 2022. This debate addressed these and other topics, including inflation and Pennsylvania's minimum wage, the structure of healthcare, energy sources, and immigration. The Triangle reached out to Dr. Oz's team for an interview as well, but received no response. To access the debate, watch the full footage by abc27 News on Youtube or read the transcript at Rev.com.