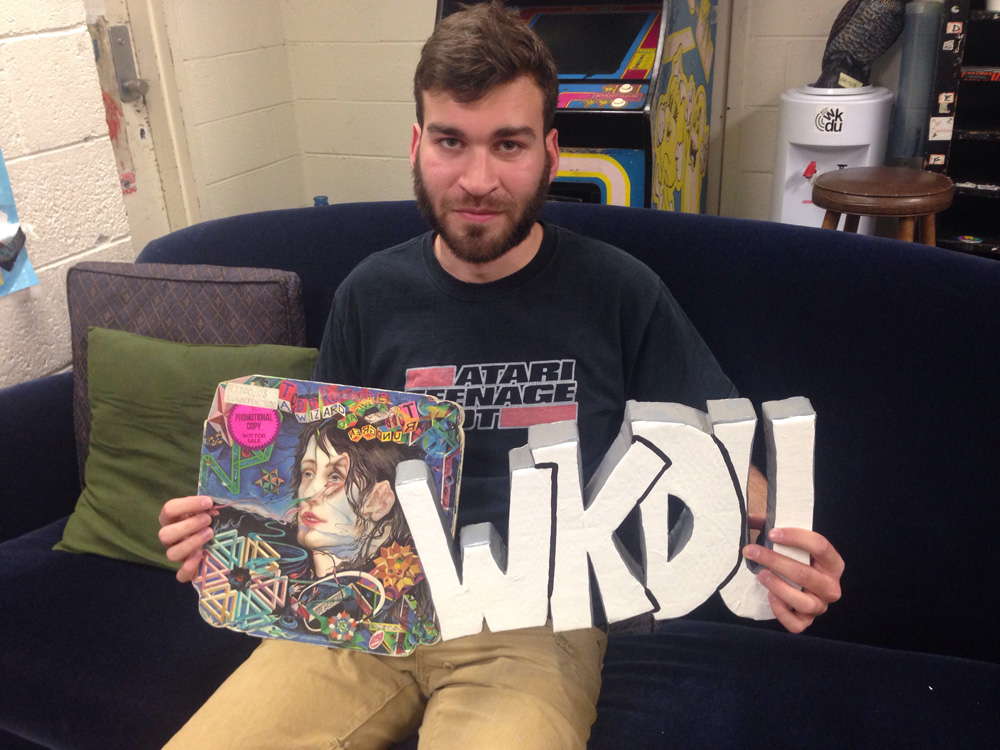 Esmail Hamidi is a junior majoring in Electrical Engineering and the current General Manager at WKDU, Drexel's student-run radio programming station. He's spent just over three years with the organization and garnered experience with companies like iHeartMedia as a broadcast engineer. He talked with The Triangle about signal processing, hip hop hits and how to read a room like a true DJ.
The Triangle: What's your involvement at WKDU and on campus?
EH: I joined WKDU Spring term of my freshman year in 2013. I became chief engineer in my sophomore year and rose to station manager my junior year. Now I'm general manager. I've had a few radio shows. My first one was 'Rhyme Enforcer 235', a hip-hop show. With WKDU this year I help put basketball on the radio. I help with this program with Lawrence Souder in the department of communications called 'Good Morning Neighbors,' which is on the air now Mondays, biweekly at 9 a.m. I guess I should mention also that I am entering the Campus Activities Board spring DJ competition.
TT: What inspired you to start your first show?
EH: My first show, Rhyme Enforcer 235, was inspired by a lyric to a Kool Keith song. I've always been into music. I was in concert band, but I quit. I like records and I wanted to be immersed in a genre I was unfamiliar with. I wanted to become more knowledgeable. You want to talk about experiential learning, running around with records and not knowing what to play next with two minutes left in your song, digging through your records and hoping the next thing is good– that's the ultimate way to learn music."
TT: So you didn't know very much about hip-hop when you kicked that off?
EH: I knew the hits.
TT: You just picked a genre that you thought would be new or a different experience for you?
EH: Yeah. And it's been great just to discover music because it's all here physically, and you can pick through it and look at the covers and discover it in real time.
TT: You mentioned before that there was a training process before coming to WKDU. Can you tell me about that?
EH: It's pretty intense. Eight 'service hours', organizing records and CDs and helping the music director with new music submissions, then eight new music listening hours where you have to discover music on your own, then three sit-ins with current DJs who teach you the technical aspects of queueing up music on the air and all the stuff we have to do on the radio and generally becoming more familiar with station activities.
TT: You have been involved with other types of radio through co-op. Do you want to talk about that?
EH: My first co-op was in broadcast engineering with iHeartMedia, and that was a lot of hands on work. I did sound for Jesse McCartney, actually, and still work there doing work for WDAS fm: Philly's best R&B and Old School. It was a great co-op experience, and I honestly wouldn't have gotten it without my experience at WKDU.
TT: You mentioned you play instruments, but most of your work so far has been more on the technical side of things. Do you prefer one over the other, or do you find DJing to be an interesting middle ground?
EH: There is a performance aspect to DJing. Reading the crowd is important, and you can't do that as much on the radio, but it's one of the most fun things to do when DJing live. You really have to see the room in an entirely new way. The true ethos of DJing is about putting music in front of people that they might not usually know about or listen to. It's kind of like being a curator of what people are hearing and picking the right song for every moment. I've really been an advocate of WKDU DJing events, rather than just broadcasting all the time. We've done Accepted Students Day for the past couple years, the freshman move-in barbecue, the homecoming bonfire, and even Philly Zine-Fest this past year. Some of our DJs will play bars, some are involved with the Philadelphia DJ Group.
TT: Tell us about your submission for the Spring Jam DJ competition.
EH: My mix is not what you typically hear, especially at a Drexel event, but I think that's a good thing. I think the music you hear should be challenging and make you think, rather than just being the hits. I dug really hard for Steve Aoki tracks that I liked and felt resonated with the sound I was going for. I found one that had a sample of Chiddy Bang, which is great because of the Drexel tie-in. The tag I used for the mix was from Funky Dividends, the Three Times Dope song. "They call me E.S. / the overlord of fresh."
TT: How did your work with Rhyme Enforcer 235 impact your DJing now? What was the biggest thing you took away from the experience?
EH: I came to really love DJing on the radio because it gets me into a state of mind where I'm always thinking, always moving. I push the chairs out of the room while I work so I can run–literally run– back and forth from the vinyl library to the studio. I don't have to think about anything other than what I'm doing and just get fully engrossed and lost in it. It's like playing sports.
TT: What do you want your legacy at WKDU to look like?
EH: I want reggae to still be on the air. Please quote me on that. Though, I'd also love for us to have more visibility on campus and be able to teach and foster the appreciation of music and radio.
TT: Do you think radio still has a strong future ahead of it?
EH: Yes, absolutely. Radio is the highest reaching medium, with Philadelphia being the 9th largest market for it in the United States. I could talk for hours and hours on end about radio's survival, but the key points are that radio has a massive reach and there are more and more low power FMs popping up. Big radio is dying, but smaller operations have never thrived like they do now. The engagement and personality of radio is its strong suit, and will continue to be like that for years to come.