Bindal Makwana is a pre-junior psychology major who is studying abroad in London.
The Triangle: What's your story? How did you end up at Drexel?
Bindal Makwana: I live in a suburb right outside Northeast Philadelphia and have always loved Philadelphia. I knew I would apply to schools all over the country and thought I would enjoy moving away from home, possibly to California. However, the minute I came to visit Drexel's campus, I knew this was the school for me, and today I'm here happier than ever before! I knew the great undergraduate programs, five-year program with three co-ops, strong reputation of the school, and wonderful city of Philadelphia would be the perfect fit for me.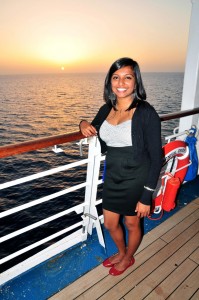 TT: What are you studying, and what do you hope to do with it in the future?
BM: I am studying psychology and have hopes to get my [doctorate] in neuropsychology. I wish to do clinical work with patients for a while and then move my way into a lab to continue doing research. Hopefully, this research lab can be at a university and I can begin teaching as a professor as well. I hope to be a mentor to graduate and undergraduate students and give them the experiences that I have gained through my research lab in college now.
TT: Why and how did you decide to go to London?
BM: I have never been to Europe before, and I have always wanted to go to London. I always dreamed of studying abroad and being in another country for longer than a few weeks on vacation. I looked into the program and saw that it was flexible with my schedule and five-year time line. I spoke with my advisers and applied. As soon as I got accepted into the program, I knew it was the right decision, and I began preparing for my time abroad.
TT: What are you studying during your time there?
BM: I am studying Shakespearean literature, British culture and visual media, British history [from] 1815 to present, and photojournalism in London. It is refreshing to take such different classes than I do at Drexel. It has really given me a chance to explore new areas and taught me a lot about England as well.
TT: What is the biggest difference or adjustment you've encountered?
BM: The entire culture as a whole is different in many small aspects such as English in the U.K., the customs, the monarchy, and even social life differ from back home in the States. The biggest difference is how reserved many people are in England and how Americans stand out for the smallest things such as complimenting someone on the bus or tube. I came here thinking language would only be a small issue; however, British English and American English seem like two different languages in some instances. It is exciting, however, to learn new phrases and words, but it can get confusing in conversation.
TT: How do you spend your time in London?
BM: I have learned to balance my time in London between being a local and being a tourist. I love being a tourist with all the major sightseeing; however, I also enjoy seeing all the little corners of London that only a local would visit. I am also traveling to many other countries while I am here, including France, Spain, Ireland, Scotland, the Netherlands and Italy.
TT: What is your favorite thing about studying abroad?
BM: My favorite thing about studying abroad is being completely immersed in another country for a long period of time. I love getting to know the country and becoming a true local. It really feels like I live in London now and that I am not just visiting the country. I absolutely love traveling, and it is also significantly easier to travel around Europe; London has multiple airports and stations that make it so simple. It has been wonderful to experience lots of cultures at once and also being able to identify myself as a Londoner in these other countries.
TT: What do you miss most about Drexel and/or Philadelphia?
BM: I miss my family and friends the most. It has been strange talking to everyone in the States with the time difference in the way. Also, being away from Drexel during Panhellenic recruitment was difficult. I missed supporting my sisters of Alpha Sigma Alpha and did my best to stay in the loop while I am over here in London.
TT: Do you think you'll return to London in the future?
BM: Yes, I hope to return to London a lot in the future. I absolutely love the city and the culture of England as a whole. I cannot wait to bring my family and friends here one day and show them all around. So far I have gained a really good sense of how to dive right into the culture and have experienced a lot that I would love to share with my friends from back home. My family is also planning on visiting London during a Europe tour, so that will be nice as well. I would honestly come back to this city in a heartbeat because it has already become a home to me.
TT: Has there been a landmark that took your breath away?
BM: Being on the London Eye was truly breathtaking. I went on the Eye with my cousins and absolutely loved the bird's-eye view of London. I think I also appreciated it more because I already visited most of the major buildings such as Parliament, Big Ben and the Globe Theatre. Hence, seeing these monuments in a new angle was nice. Also, we went on the Eye during sunset, and the view was just beautiful, especially when it was dark and the entire city and the bridges were lit up.
Triangle Talks is a weekly column that highlights members of the Drexel community.