Alex Bock is a junior at Drexel. He is involved in theater and studied abroad in Ireland during Fall 2015.
The Triangle: Can you tell me a little about yourself and what you do at Drexel?
Alex Bock: I'm a business major with a minor in theater in the graduating class of 2017. I thought of doing a business major and theater minor so the business aspect will help me get a job, work the nine-to-five, do that grind, but theater is something I've always been interested in and passionate about.
TT: So you're really interested in theater. How many hours per week do you spend theater-ing?
AB: Theater-ing. I like that verb. Drexel dance was the last show I worked on. During tech week, it was seven days of tech from 5 PM until midnight. It's a long day — but I love it.
TT: So it's like a full time job?
AB: Oh, it certainly is.
TT: How do you have time for your schoolwork?
AB: You make it work. It's all about time management.
TT: Let me rephrase that — do you sleep?
AB: No, I do not sleep. Ever. I run on coffee.
TT: You studied abroad in Ireland fall term — why?
AB: I knew that I wanted to go abroad and that I definitely wanted to go to an English-speaking country, but I didn't want to go somewhere that everybody goes. So I really narrowed it down to Ireland and Australia. Australia seemed a little dangerous with all those venomous animals — I'm sure it would have been fine, but I decided to go with Ireland because I do have some Irish blood, and the history and the culture really appealed to me.
TT: What classes did you take in Ireland?
AB: I was over in Galway, which is on the west coast of Ireland. While I was there, I did not take a single business class. I took a whole bunch of free electives and I thought of it as an "educational vacation." I took courses basically covering the history of Ireland. Of course, I had to take a course on the Irish language itself — a very beginner intro for foreign exchange students.
TT: Any great stories from Ireland?
AB: My first night in town, I went out to one of the pubs to hang out and meet some people. At the end of the night, I was trying to get home and this guy came up to me, a student about my age and said "Hey friend, how are you?" and we started talking. He said "Oh, are you out looking for the craic tonight?" And I said "No, sir!" I said, "No, I'm not looking for crack." And I'm very taken aback by this. I'm thinking "Jeez, you're very open about offering me illicit drugs." He's like "No, I don't think you understand – the craic is good here!" And I'm like "Great, but…I'm still not interested…"And he's very confused why I'm acting this way. I'm very confused why he's offering me drugs and we're having this back and forth for probably 15 minutes before one of his friends comes over and says "Oh my God, are you American?" I said "Yes."And his friend was like "Great. Here's the issue. You think he's offering you drugs, he thinks he's telling you to go have a good time." So that's when I got the translation that craic is just the Irish word for fun. At one point, you know, just to be polite, I said "You know, I don't have the money for crack tonight."And he said, "Well the craic doesn't have to be expensive!" It was quite the cultural exchange that night. It really was.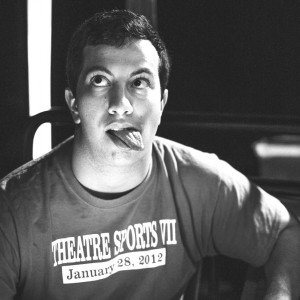 TT: What do you want to do when you graduate?
AB: When I graduate, I want to go into sales. It's something that I'm very interested in doing, just meeting new people. Everyday is a new adventure in sales. I'd like sales to be my nine-to-five, but in the evenings or on weekends, I would still love to maybe start a theater company, or help manage a small local theater company, or do lighting, or do sound, or help the local high school theater. Just stay involved, keep it a part of my life.
TT: If they gave out the Alex Bock award, what would it be for?
AB: I think that my legacy here at Drexel is going to be in the theater and dance department world, because that's where I spend all my free time. The Alex Bock award would be for spending way too much time in the theater — for never leaving.