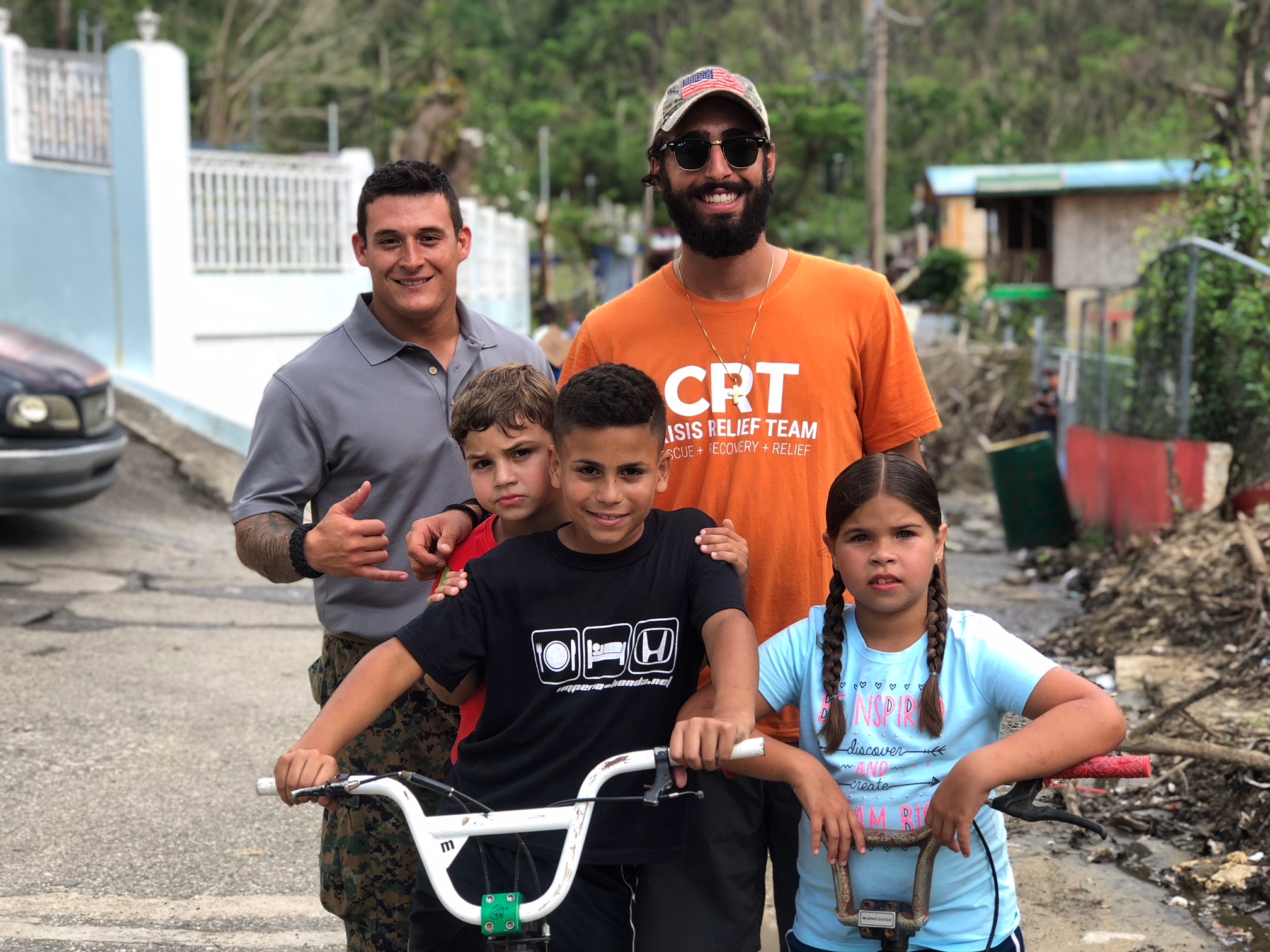 Costa Sardelis is a 21-year-old from Gaithersburg, Maryland. He enrolled in Drexel University in 2014 at age 17. He originally studied photography during his freshman year. Sardelis then did a year of undefined study before he became a member of the Lebow College of Business. Sardelis took a leave of absence from Drexel to help out those who were affected by the recent hurricanes in Texas, Florida and Puerto Rico. This interview was conducted over FaceTime and has been edited for brevity and clarity.
The Triangle: How did you end up in Puerto Rico?
Costa Sardelis: The crazy thing about my story and my team members' stories is this didn't start with Puerto Rico. This actually started with Hurricane Harvey way back. For most of us this is hurricane number three in a row that we've now responded to or deployed to, depending on how you phrase it.
So how I got involved was, back on Sept. 8, a couple of friends and I as private citizens did a crowdsource for donations to take down to a church in Houston that had been struggling to keep its food and water storage up, so we filled an 18-foot box truck. We got a truck donated from Enterprise.
Myself and a good friend of mine, we actually drove all the way to Houston to deliver the supplies ourselves and on the drive back from Houston, I had a gentleman contact me … He contacted me [through Facebook] and said he had two palettes worth of donations collected at his house and had this … trailer that he wanted to take down to the Florida Keys.
Sept. 15 is when he contacted me and he said 'I want to leave on Friday, can you get this project going?' I was on my way driving back from Houston at the time so I was like 'Uh I don't know, I guess we could try.' So I launched another Facebook page, another donation page for GoFundMe. Basically did the whole thing over again.
We left from Maryland on [Sept.] 17 at like three in the morning and had some problems with the trailer, we had two tires blow out and a couple other headaches and so I reached out through my network and found someone in Atlanta that was willing to let me spend the night at their house and try to figure out getting up on an Angel flight … so Angel flights are this really cool concept. There are a lot of different organizations that do them. This was a privately donated flight and I actually flew from Atlanta [DeKalb-Peachtree Airport] on a donated Learjet with supplies down to Homestead, Florida where I met up with the airbridge airlift operation … I'm not well versed on all their exact details, but they're like a global organization that does supply distribution via donated planes and pilots and so from Homestead, Florida I took my personal gear and boarded a Cessna 170 and flew into Summerland Key.
I met up with two different volunteer organizations, groups — they weren't official organizations at the time. From there, I was working at the Summerland Key airstrip which is, quite literally, a slab of asphalt, that's it. There's no air traffic control, there's no runway lights, there's no nothing. [I was] unloading planes from that operation until that operation wound down. And I met up with a team up in Marathon in the Keys. We were in the Keys for a total of seven weeks, working routes, doing supply distribution out of the warehouse in Key West … we left from Fort Lauderdale on Oct. 26 to go down to Puerto Rico and I just got back on Nov. 24. Yeah it's kind of a crazy story to try to consolidate.
TT: Were you the only Drexel student that went to Puerto Rico?
CS: To the best of my knowledge from my monitoring of all the hashtags and everything, yeah I did this totally solo … on my own. Living off of my crowd-funded donations and the goodness of people's hearts.
TT: What inspired you to start that GoFundMe?
CS: It's kind of ironic how it all started, like for weeks I had been watching the news coverage on how things were going in Houston initially and one of my buddys one night texted me and he was like 'Don't you ever wish you could do something to really impact people that have been affected by the hurricanes?' and I was like 'Yeah I'd been thinking about it nonstop honestly' Because I've got family from Florida and family out in Louisiana that had been affected by Katrina. 'I've been thinking about it a lot. I was debating doing a donation drive or something like that' … and it was just kind of like the moral obligation of like 'yeah let's do it' and now here I am, however many days later, three months later I'm still doing hurricane work … I am going back on Dec. 4 to go back down to Puerto Rico for another three weeks.
TT: How has this interfered with your studies? Have you been taking classes while you've been doing this?
CS: I'm on a leave of absence … I'm coming back to Drexel winter term and then spring term I am going to take another leave of absence…I'll come back do a couple classes for that one term and then I'll take another leave of absence and go back down.
TT: Do you have any crazy stories from Puerto Rico? What is the thing that stands out in your mind when you tell people about your experience?
CS: I've done so much crazy stuff being down there. I mean we've driven to some really isolated regions, like quite literally the roads are washed out and you can see off the cliff side and you can feel your tires like right on the edge. We've worked hand in hand with the National Guard and the United States Army Reserves so we got to do some really cool stuff with the military regarding [light medium tactical vehicles] and stuff like that … It's difficult because it's become so like my normalcy you know. Working hand in hand with the military, working with the state police and working with the municipal police. Like when people are like 'What's a crazy story?' Honestly, nothing amazes me anymore. It's so crazy some of the stuff we've done.
I remember driving through the mountains like two weeks ago, going to do a food and water distribution and it was raining to the point where you couldn't see three feet in front and we were driving on all these switchback turns and the military trucks in front of us were just driving through it like it was nothing. And we were all in rental cars from the Government Service Administration and were like in Hyundai Sonatas … and Mitsubishi Outlanders that are not meant to be driving on these roads at all. It was really intense, because you literally could not … I kid you not … see four feet in front of you. And they were like 'We're going to keep going,' and we were like 'Oh my god, are you kidding?' and they're like 'Yeah it's fine, it's going to be great.' And we were like 'Uh okay.' It's been pretty crazy.
TT: What is the best thing you have learned from this?
CS: For me personally, I kind of amazed myself with what I am capable of doing physically, emotionally, mentally. I remember when we first started in the Keys we were running on three hours of sleep and still being able to get up and go in the morning, smile and be friendly to people."
Sardelis has found his experiences in Texas, Florida and Puerto Rico to be life changing. He hopes that the communication, self-discipline and time management skills he has learned will help him during the rest of his time in college and in his future career. Sardelis encourages anyone who wants to help to get out and volunteer. More information about the Crisis Relief Team and Warfighter Disaster Response Team, organizations Sardelis worked with, can be found on their websites, http://crisisreliefteam.org/ and https://warfighterdrt.com/.