Steve Ward, a Drexel alumnus ('03) and host of VH1's "Tough Love," spoke to students in Behrakis Grand Hall May 2 to answer their questions about relationships and dating.
Ward's advice was based around the importance of technology in today's society, especially for college students and young adults.
"Dating is evolving because technology is evolving, but we're not," Ward said.
He gave a rendition of the 20-year technological revolution beginning with car phones and answering machines all the way up to modern gadgets like GPS navigators. Ward accused college students of not knowing the correct ways to use technology in the dating world. One piece of advice that made the audience laugh was, "Don't text until there's sex."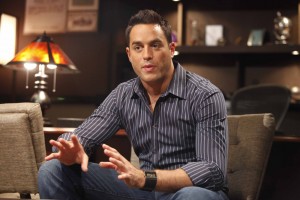 Ward began the night by answering the question of why he's single given that he is a matchmaker
"[My problem is that] five minutes into the date, I tell them I've got a guy in mind for them," he said.
However, Ward did say that his ideal woman is smart, sexy, funny, family-oriented, lean, and even though height doesn't matter to him, he tends to date taller women.
Some of Ward's featured tips of the night were to "be creepy" and "do your homework" on potential dates so that you know what you're getting into. He advised students to keep the important things private on their own Facebook or Twitter profiles, because once pictures and text are posted online, "they are there forever."
"Be efficient while using technology," he said, although he admitted to using AOL Instant Messenger in his teens to talk to girls and says that he still uses Twitter and Facebook.
"Do not put your phone on the table. Keep it on silent and in your pocket. If you really need to use it, go to the bathroom, but you can only go to the bathroom once on a date."
Just like on "Tough Love," Ward created an improvised "hot-seat" and picked four female students to take turns answering questions to discover why they may be single.
Ward has plans to begin a "Tough Love" series with college students, targeting different universities for each season. Even though this idea isn't in action yet, his mother is currently in the process of creating a different spinoff of his show.