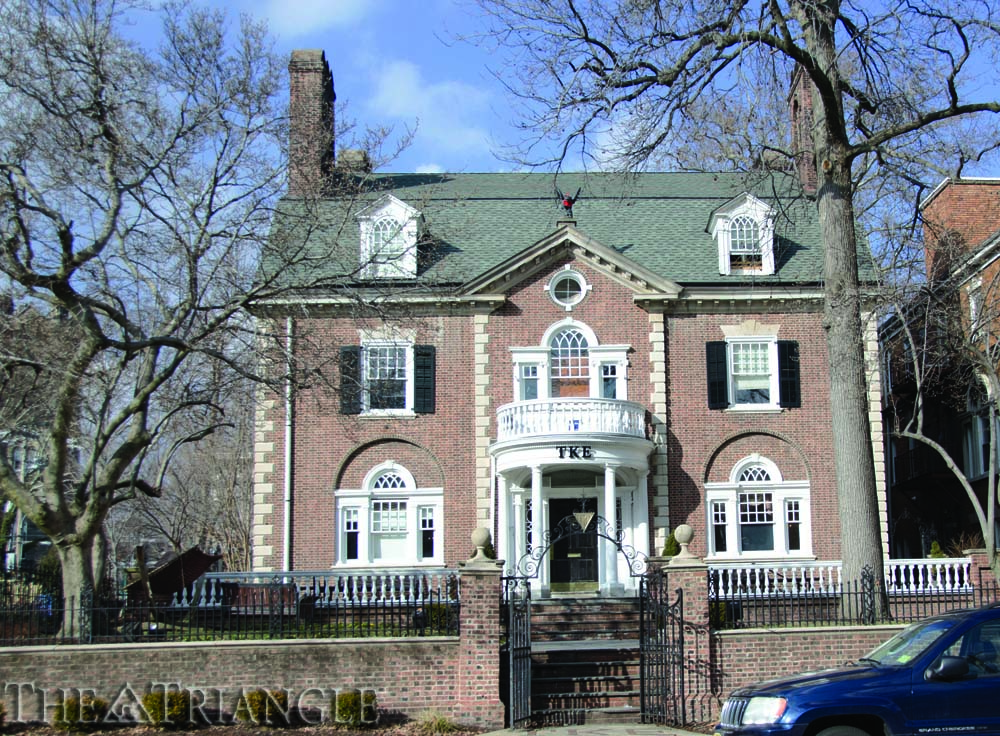 Drexel University placed the Alpha Tau chapter of the Tau Kappa Epsilon fraternity on a five-year suspension on May 23, an anonymous source told The Triangle.
The sanction is the result of two unregistered socials and alcohol violations to which the fraternity plead in violation. This means that the fraternity can only appeal the severity of the sanction, rather than their violation of the policies. The fraternity must appeal by June 2, if it chooses to do so.
"Suspension will result in the loss of privileges including, but not limited to, the use of campus facilities, participation in University activities, hosting and/or participating in events with alcohol, use of allocated funds, and sponsorship of official activities. Loss of privileges may also include recruitment and pledging activities," Drexel's 2016-2017 student handbook reads.
The suspension means that the fraternity must vacate its current house at 3421 Powelton Avenue by June 17.
According to the anonymous source, this suspension is completely unrelated to the recent allegations of sexual assault occurring at the Tau Kappa Epsilon fraternity.
Three alleged sexual assaults occurring at the Tau Kappa Epsilon fraternity at 3421 Powelton Avenue were reported over the course of the last month. According to the Drexel University Crime Log, these incidents were reported on April 28, May 4, and May 18, and are classified as "Sex Offense-Rape – Forcible Rape," "Sex Offense-Rape – Known Acquaintance," and "Sex Offense-Rape – Forcible Rape," respectively.
The incidents reported April 28 and May 4 are alleged to have occurred on the weekend of April 28. The third alleged sexual assault, while reported May 18, is reported to have occurred in 2016. More details can be found in the Crime Log.
According to the anonymous source, the Lambda Chi Alpha fraternity was placed on interim suspension May 19 following allegations of hazing and alcohol violations. Lambda Chi Alpha was also placed on interim suspension in the mid 2000's following hazing violations.
The Triangle will continue to update this story as more information becomes available.
UPDATE 5/25: Drexel University released an official statement May 25 to The Triangle. The statement, in its entirety, is printed below.
"The Alpha Tau Chapter of Tau Kappa Epsilon Fraternity has been sanctioned through the University's Student Conduct process for failure to comply with the University's alcohol policy and regulations with a five-year suspension of recognition. The decision was made after considering the chapter's risk management deficiencies. 

All privileges and benefits conferred by recognition have been suspended. As a result, Tau Kappa Epsilon must cease all operations, including sponsoring, co-sponsoring, or otherwise participating in any activities alone or with other organizations. The University is working in partnership with the fraternity's alumni and International Headquarters during this period of transition.

Drexel values its fraternity and sorority community and recognizes the positive impact membership can have on the individual experiences of students and the esprit de corps of the University. It is unfortunate when any student organization loses recognition at the University.

This sanction is subject to appeal through the University Student Conduct Board."