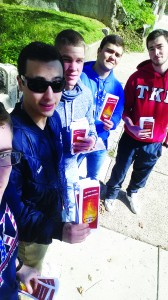 In conjunction with Fire Prevention Week, several brothers of the Tau Kappa Epsilon, Alpha Tau fraternity chapter distributed fire safety pamphlets to houses in Mantua as part of a volunteer community service event Oct. 12.
The distribution started at 34th and Haverford streets and the volunteers were able to fan out to homes around the area.
The sole event organizer, TKE vice president and senior marketing student Matt Herman said, "I feel like education is the key to preventing these situations and saving lives."
Herman, a volunteer firefighter of five years, said he had the idea for this event because of Fire Prevention Week, which fell on the week of Oct. 5 this year. He also said he planned this event in conjunction with the fraternity's 75th anniversary jubilee in September.
"We wanted to give back to the community. We wanted to get involved. I mean, we've been here for 75 years," he said. "I feel like [fire safety] is a good area to get involved in, especially if you live around here."
Herman referred to the recent spate of fires that happened in Philadelphia this summer — in particular, the April 23 fire that ripped through a group of Drexel students' rented townhouse on 36th and Spring Garden streets and the July 5 fire in Southwest Philadelphia that claimed the lives of four children, aged one month to four years.
"My hope for this event is that if something does happen to any of the houses we distributed the pamphlets to, people will remember the information we gave them and hopefully that will save some lives," he said.
Herman worked on the pamphlet's contents with Drexel Public Safety's Fire and Life Safety department as well as University of Pennsylvania's Fire and Emergency Services.
"I reached out to a couple of firefighters in the city to get their approval as well," Herman said. "I want the information to be as clear and concise as possible."
However, despite the good intentions of the fraternity's event, only four other brothers signed up to participate.
One of the volunteers, Nick Savino, a sophomore mechanical engineering dual undergraduate-graduate degree candidate, commented on the event. "I want to make sure my fraternity participates in the community," he said.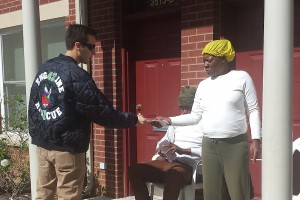 Despite the meager turnout, Herman kept his hopes up.
"I would love for this to be an annual thing and hopefully each year we can spread the reach of it," he said.
Herman said he hopes to use similar events to give back to the neighborhood as well as to turn around TKE's reputation, referring to the fraternity's suspension in May of this year and in February 2013.
"The best way to improve [our] image is to do something — philanthropy, community service — do something to prove we really care and that we aren't taking advantage of what we have," he said.
TKE's recent philanthropy events included a grilled cheese sale held at their house Oct. 10 with all proceeds going to St. Jude Children's Research Hospital, one of the fraternity's national philanthropies.
The fraternity also intends to host an obstacle course at their house Oct. 25. The course is designed to simulate what firefighters experience in a burning house, and to educate participants on fire safety. All proceeds of that event will go to the National Fallen Firefighters Foundation, an organization that assists family members of firefighters who lost their lives in the line of duty.
Herman says he hopes these events will not only educate the community, but educate students as to what TKE is about.
"This is a family to me," he said. "I would love to help build TKE back up to what it should be."