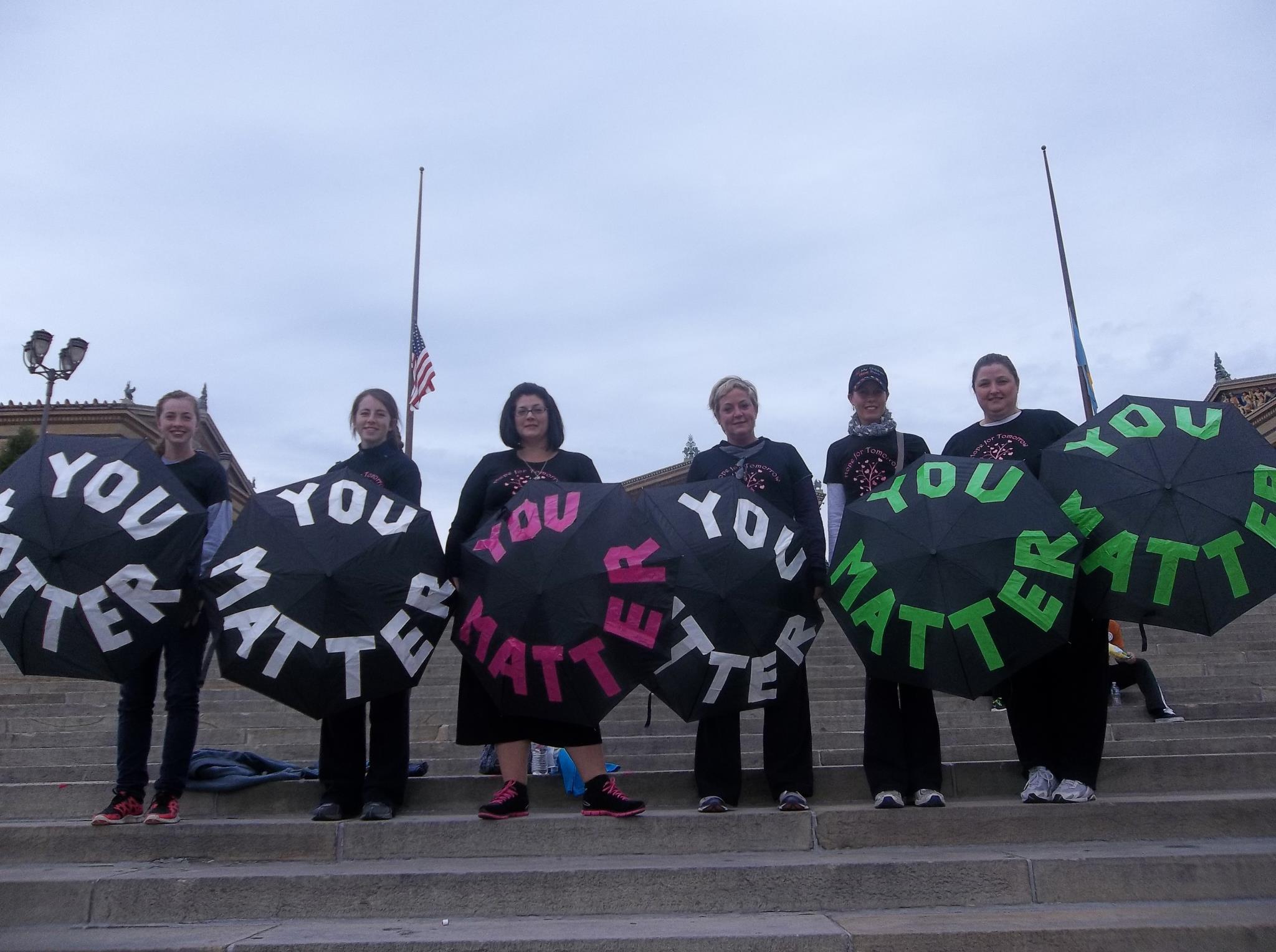 The American Foundation for Suicide Prevention (AFSP) kicked off mental illness awareness week Oct. 2 with a charity walk on Martin Luther King Drive to raise money and awareness for suicide prevention.
The Out of the Darkness walk left from the Philadelphia Art of Museum where the opening ceremonies were held at 8:30 a.m. with a live band, audible from University City, several speakers from the AFSP, as well as the introduction of all fundraising teams. Most of the teams were made of up of family and close friends. They walked in memory of loved ones lost to suicide. Many team captains became teary-eyed on stage when asked to tell the crowd why they were walking.
Walkers wore "honor beads" around their neck, each color signifying their personal connection to the cause. White beads signified the loss of one's child to suicide, red the loss of one's spouse, gold the loss of one's parents and so on. Honor beads were available at several tables located by PMA.
Blue beads, which simply signified that one was supporting suicide prevention, were the most popular color. However, it seemed nearly every guest was wearing colored beads that signified the loss of a loved one in addition to their blue beads.
The walk was led by the color guard, and accompanied by a group of bagpipers. It spanned three miles along Martin Luther King Drive, lasting until around 11 a.m.
"I just won't let us lose loved ones when it is diagnosable, preventable and treatable" says Catherine Siciliano, Philadelphia area director for the AFSP, when asked about how she got involved with the organization.
The OOTD walk serves to raise awareness in and of itself, but it also raises money to fund programs to continue doing so all year long.
"We need to break the stigma around mental illness and suicide and start having a conversation, and get the support and the funding that we need to turn the tide," Siciliano said.
This year the annual event raised a total of $485,783, and attracted more than 4,800 participants. All the money raised stays within the AFSP to help fund research and education programs at high schools, colleges and workplaces, as well as helping to finance programs for those who have lost loved ones to suicide.
The funds go to programs such as More Than Sad, Talk Saves Lives and The Truth About Suicide: Real Stories of Depression in College. Additionally AFSP uses the money to support the college-oriented project, The Interactive Screening Program, which allows students to anonymously take mental health assessments, and if it is revealed that they are in crisis there are anonymous counselors to whom they can talk.
The AFSP focuses a lot of its energy on college students due to the historically high rates of suicide in college-aged people. When asked about the AFSP's involvement with Drexel specifically, Siciliano explained that Drexel University has teamed up with the AFSP, Thomas Jefferson University, as well as CHOP in order to pool resources and adequately help any student in crisis.
Gabriella Frost, a freshman at Drexel, founded a program called the Buddy Project that helps to prevent suicide. The Buddy Project helps young people with mental illnesses by pairing them with "buddies" based on mutual interests. As of today she has paired up more than around 140,000 individuals. She says that she would be interested in getting her organization involved with the AFSP and other far-reaching mental health organizations.
"[Organizations like the Buddy Project and the AFSP] show people with mental illness that they are not alone, that there are people who feel the same way, and people who are here to support them," Frost said.
In 2015, suicide was the leading cause of death among people ages 10-34. In 2016 it dropped to No. 2. Siciliano believes this shows that these programs are working, and that we are moving in the right direction.