Drexel University and real estate developer Hospitality 3 LLC held the official groundbreaking for its newest addition to campus, the new hotel "The Study at University City" May 8. The building is currently under construction and is replacing the James E. Marks Intercultural Center on 33rd and Chestnut streets.
President John A. Fry and representatives from the University were in attendance along with Councilwoman Jannie L. Blackwell, and Principal of Hospitality 3 Paul McGowan. The development company's subsidiary, Study Hotels, will take over management after the hotel's completion.
This new hotel is modeled after The Study at Yale, which was built by Study Hotels in New Haven, Connecticut, on Yale University's campus and designed by McGowan, founder of Hospitality 3. McGowan has voiced that he hopes the design of the hotel will create a sophisticated but welcoming environment. The Study Hotels brand seeks to provide a space for researchers and academics and others to accommodate those who wish to be a part of the fast-paced, work driven lifestyle of University City with full-service lodging.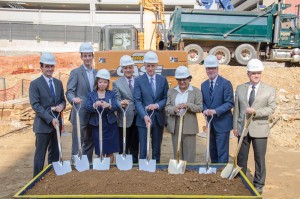 In addition to 212 rooms, the 1.5 million square foot structure will have 7,000 square feet of banquet and meeting space, as well as restaurant, a bar and a fitness center. The layout is designed to stimulate social interactions with all guests, the majority being prospective students. Fry believes the hotel to be exactly what Drexel's campus needs.
Paul McGowan, creator and developer of Hospitality 3 spoke to the Triangle about the hotel's amenities, saying "Study guestrooms feature our signature leather reading chair and reading lamp in addition to abundant work surfaces for those wishing to be productive or just kick-back and relax. Our acclaimed seersucker robes, luxurious amenities and collegiate-chic uniforms are inspired and enhanced by the personality of the university environment. Free wireless internet and exceptional task lighting will offer working guests the ability to optimize their stay. Our daily events initiative dives deeply into the community to capture all that is being offered to enrich our guests' stay."
McGowan voiced that Study Hotels typically partner with local non-profits, community organizations, theatres and cultural centers and help them celebrate events. Those who stay with Study Hotel are also offered complimentary tickets for local and on-campus events, in order to help the guests be connect to the community and engage with the University.
"What has been missing is an outstanding hotel for students and families, faculty, researchers, entrepreneurs and all visitors drawn to this unique place," Fry said.
McGowan spoke on what differentiates The Study from other hotels around campus.
"We are hard at work developing the concepts and features of the hotel to create a strong sense of place within the vibrant setting that is University City. The Study concept incorporates themes of design, community, locally sourced food, sustainability and wellness together in a fresh, active and social environment," McGowan commented.
"The Study at University City will be more than just a hotel. It will serve as a cultural platform where the richness of its surroundings will be integrated into the design and service philosophy in order to enhance the guest experience," he continued.
Hospitality 3 is collaborating with DIGSAU, a Philadelphia-based architecture firm, in the hopes of designing the hotel so that it matches the atmosphere of University City: intellectual and modern. The building is slated to be completed by fall 2016.