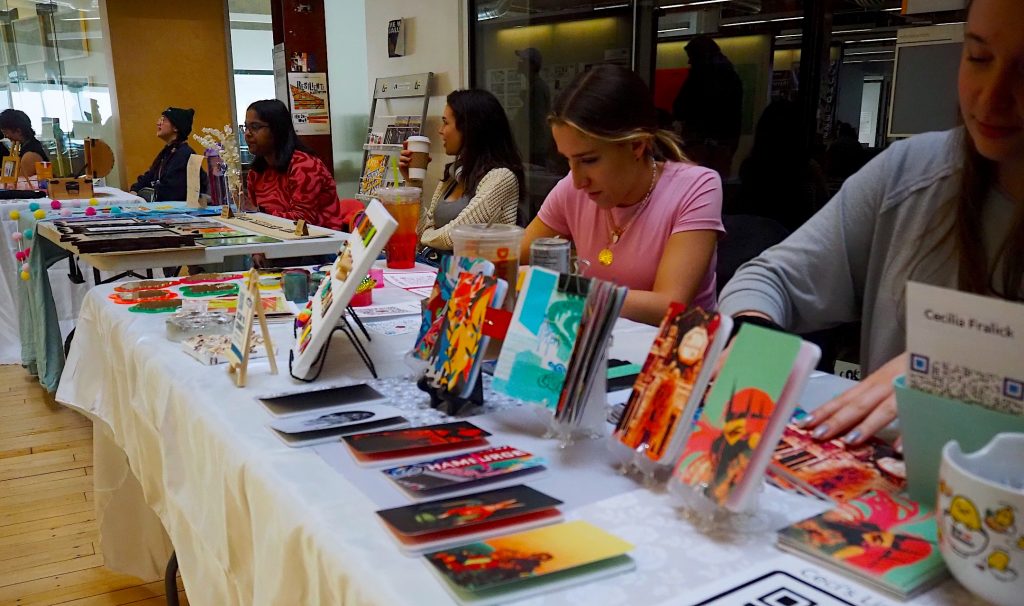 What do you first think of when you picture an art gallery? Maybe it is the hanging paintings sectioned by rope barriers with support signs that read "DO NOT TOUCH," or the nameplates beside them with short descriptions of artists whose faces you have never seen.
If so, you would likely have a very different experience than expected at the Heart Gallery. On Saturday, Feb. 11, Drexel's URBN Center bustled with beaming young artists arranging original artwork on tables at their own colorful stations. Each one of them highlighted unique creations, from full canvas paintings and small prints to handmade jewelry, portfolio bags and custom sneakers. Many artists bounced from table to table as everyone finished setting up, laughing as they chatted with fellow artists or helping them organize their work in a way that matched the art's aesthetic.
As guests filed in, the artists struck up conversations with visitors to their stations on any work that caught their eye, whether it was the framed dollar bill brandished by a detailed drawing of Pikachu or the huge poster of Childish Gambino against a space-like background. Then, after a short transaction, they handed off their own work to new owners and pocketed the money they had earned.
The Heart Gallery was the third such showcase organized by WestPhil Marketplace, a space created for the buying and selling of original student artwork organized by Eitan Goldberg, a graphic design student in Drexel's Westphal College of Media Arts and Design. According to him, the motivation to begin developing the marketplace almost a year ago came during an otherwise ordinary school day.
"A friend of mine brought this really awesome poster to class, and even though we don't usually talk about buying each other's work, a bunch of people offered to pay him for it, Goldberg said. "It made me think, 'there should be an easy way to do this,' so I created this marketplace for people to get experience putting themselves out there and getting paid for their work as easily as possible."
A creative in his own right who manages his clothing brand Juicebox and practices photography in his free time, Goldberg is both a facilitator and a vendor at WestPhil Marketplace's events, so being part of the Heart Gallery he brought to life gave him a unique perspective.
"The amount of time and effort that went into [organizing the Heart Gallery] is hard to quantify honestly, because it's a year in the making," he said. "But it's always exciting doing these events and watching them grow."
Artists like Westphal students Valeria Morales and Cecilia Fralick who have been involved with WestPhil Marketplace since the beginning have seen this growth firsthand. Sitting side by side behind a large spread complete with Valeria's brightly colored mirrors and Ceci's illustrated notebooks was no longer new to them, but they still enjoy the opportunity to display their hard work at events like the Heart Gallery.
In Ceci's words, "It's been really, really cool to have a space to sell stuff that we wouldn't normally make in school, being able to sell illustrations on subject matter I love."
While making money from their work is rewarding, they also appreciate the chance to see the wide variety of creative styles that artists bring to WestPhil Marketplace. The organization's events welcome new vendors regularly, and the Westphal student vendors also get to see a new side of their classmates
"I know a bunch of these people, and here I get to see their work unrelated to schoolwork," said Valeria. "So it's like you can see everybody's passions and it's nice."
The inviting community is what attracted artist and software developer Henry Dotson, who unveiled his RPG game "Ghosted" at the Heart Gallery after seven months in development. While Dotson is in the minority of WestPhil Marketplace's vendors as a non-Drexel student, the encouragement he received from joining their events is something he has valued ever since moving to Philadelphia.
"My friend and former coworker Ceci actually introduced me to this market, and this is my second time vending here. I moved up from DC where I also used to show art and one thing I had there that I've also found in the art scene in Philly is a sense of community and mutual support between everyone," Dotson said with a smile. "You can't have art without the human side of it."
The success of WestPhil Marketplace's creative community has attracted other budding artists eager to try their hand at making money from their art. So far, the organization has built a network of 42 vendors, with 21 of those selling their work for the first time. In total, these vendors have sold 424 pieces of original artwork, generating over $3,600 in revenue.
As helpful as in-person events are for artists, WestPhil Marketplace also understands the importance of promoting their work on the social media front. Marketing manager and graphic design major Yuki Mak operates what the organization calls their Digital Marketplace to support vendors on Instagram.
"I send out messages and flyers to as many people as I can whenever our vendors have events happening, and I've created a Google form that new vendors fill out to help them transition into the marketplace," Mak said. "With our advertising we've gotten a lot of variety in our vendors and what people are selling."
WestPhil Marketplace's social media doubles as a hub for artists to network with each other, and Mak believes that whether they are together physically or virtually, the community they've built is at the heart of what they do.
"It's been great getting to know the artists, they're all so creative. Everyone has their own personality, their own talents, so it's amazing seeing what people can create and meeting more people as we grow."