Despite the hodgepodge of local acts that performed May 19 at Drexel University's Spring Jam, the performers all found common ground by bringing out the crowd's local pride.
Spring Jam featured mostly Philadelphia-based bands such as Cheers Elephant, The Wonder Years, Man Man, and LA Riots, with mashup group Super Mash Bros. headlining the event. The concert took place in parking lot F between the Main Building and 30th Street, where students slowly gathered to the event in 80-degree weather..
The concert opened with performances by the winners of Drexel Battle of the Bands, Drexel Voice and Drexel's Best Dance Crew.
By the time The Wonder Years, a pop-punk band from the Philadelphia area, got onstage, the crowd had finally warmed up.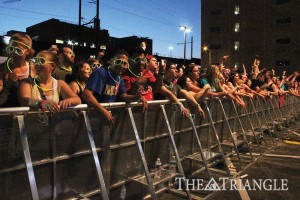 "A lot of people had no idea who we were when we were first started here, so it's really amazing to come back and see people singing the words," lead singer Dan Campbell told the crowd before their final song. Drexel students responded with a demand for an encore.
The Wonder Years featured an alumnus on guitar, as Casey Caveliere graduated from Drexel's music industry program in 2009.
"My freshman year, I remember New Found Glory playing in the gym. And when we got asked to do this, we weren't really sure if it was just like a random show or if Drexel had started doing a concert series, and then we finally realized like a week ago it was Spring Jam," Caveliere said. "So that was pretty cool to think I went from a freshman seeing New Found a few hundred feet from Towers, and now we're the ones playing Spring Jam, which is pretty cool."
Some of the other perks of Spring Jam included free food provided by Subway and Chick-fil-A as well as ice cream, cotton candy and popsicles. Other activities such as henna, spin art and face painting were sponsored by various Greek Life and student organizations.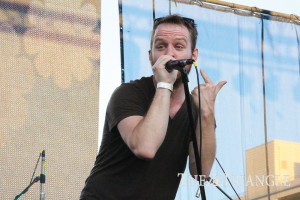 Los Angeles-based Super Mash Bros. was the headliner of the night, featuring Nick Fenmore, Dick Fink and Ethan Dawes.
Even though the sun had set by the time Super Mash Bros. went on to perform, that didn't stop the Campus Activities Board from handing out glow stick sunglasses to the students.
"There's a lot of nostalgia tonight. You're going to feel old," Fenmore said of their set list before going on stage.
Dawes, a film major in college, was responsible for assembling the show's film components, which was the visual mashup of film clips and '90s imagery played on the jumbotron behind the group during their performances.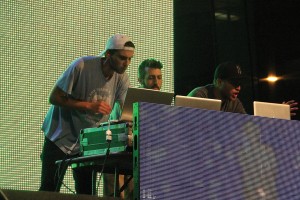 Although the group often performs at college settings, Fink, an environmental studies major, and Fenmore, an economics and geography major, never graduated.
"I did my freshman year, my sophomore year and my junior year part-time, and then after that I just gave up. Stay in school, kids, it will get you far," Fenmore said.
"But then again, there will always be 20-year-olds," Fink interjected, adding that the group plays most of its performances at colleges and universities.
Members of CAB gathered onstage with foam water guns, spraying the crowd periodically to keep everyone cool.
The highlight of the performance was when Super Mash Bros. played the intro song to the popular '90s television show 'The Fresh Prince of Bel-Air.' Several lines into the song, the music was cut and Drexel students finished the lengthy lyrics without missing a beat.
"That was the fastest I think we've ever heard anyone do that," Fenmore said to the students afterward.
CAB hosts Spring Jam annually. For information on future CAB events, go to http://drexelcab.com.