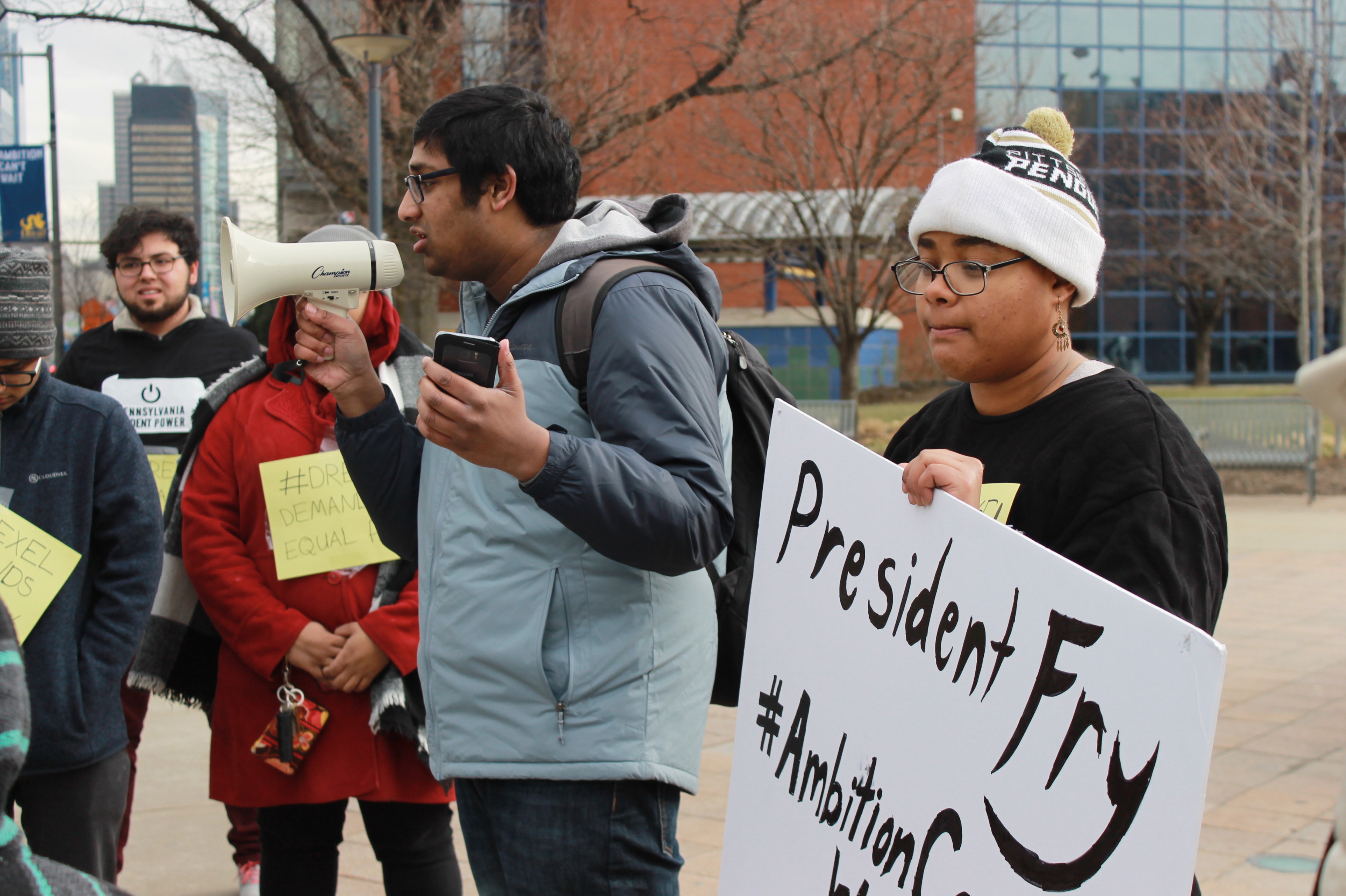 On Dr. Martin Luther King Jr. Day, Jan. 15, Philadelphia college students held a rally in front of the Dragon statue protesting Drexel President and Philadelphia Chamber of Commerce Chairman John Fry's opposition to Philadelphia City Council Bill No. 160840, a "prior pay" wage equity law.
The ordinance, which Mayor Jim Kenney signed in January 2017, bars employers from asking job applicants about their salary history.
Along with prior wages, employers are prohibited from inquiring about definitions, duties, penalties, posting requirements and a private right of action. It is an amendment to Title 9 of the Philadelphia Code, "Regulation of Businesses, Trades and Professions."
The rally, organized by the Pennsylvania Student Power Network, focused on the negative implications of the lawsuit Philadelphia's Chamber of Commerce filed against the bill. Marginalized groups, the students claim, will be greatly affected because the bill is designed to help eliminate the pay gap along racial and gender lines.
"To ask someone about prior pay is to replicate the inequalities," said Avy Srinivasan, a political science major at Drexel and PSPN leader. He explained that when employers ask about salary history, it gives them validation to offer a new, lower wage that is in accordance with the wages the job applicant was previously receiving. This means there is no room for advancement in earned income.
Because women and racial minorities on average do not earn as much as men or white people, asking about wage history is thought to limit these groups from earning a greater income, and instead they fall prey a cycle of low wages. On average, a white woman earns 79 cents for every dollar a white man earns, a black woman earns 60 cents for every dollar a white man earns, and a Hispanic woman earns 55 cents for every dollar a white man earns. The gender earnings gap also varies widely depending on aspects like education, age and geographical location.
"The question remains, who is most widely impacted by asking, 'What is your pay history?' It is the marginalized and the underrepresented." Melissa Robbins said, explaining the devastating impact on the household that occurs when women are forced to work multiple jobs due to low wages.
Robbins is on the board for the National Organization for Women and was a speaker at the rally.
"It all goes back to people being underpaid and not being compensated not because they're qualified for the job, not because of their merit, but because they're a woman," Robbins said.
The PSPN also notes that, "In his role as Chamber Chairman, President Fry has been a leading voice in opposition to the law, calling it 'unnecessarily burdensome.'"
The Chamber first attempted a lawsuit against the bill in early April of 2017, but the case was thrown out because the Chamber failed to identify a member who would be harmed by the law. The Chamber claimed the law would cause inefficiencies in the hiring process and violate employers' First Amendment rights. The Chamber amended its complaint in June last year, citing that the law would harm members like the Children's Hospital of Pennsylvania and Drexel.
The PSPN point out in their online petition that the local companies that would be allegedly harmed historically lacked diversity.
"Not surprisingly, [witnesses in the case are] mostly white men whose corporations have been historically lacking in leadership from women and people of color."
The petition also explains why the lawsuit against equal pay harms Drexel students in particular.
"President Fry should be ashamed for the harm that this lawsuit would cause to Philadelphia workers — including Drexel students. Drexel boasts career-focused, year-round education with a unique co-op system. As students, we deserve employment based on merit and qualification, not economic or social status."
"Nobody wants to get out here and yell and scream just to be treated fairly, but sometimes you have to take matters into your own hands. Chairman Fry … withdraw your lawsuit, we are not going away," Robbins urged at the rally.