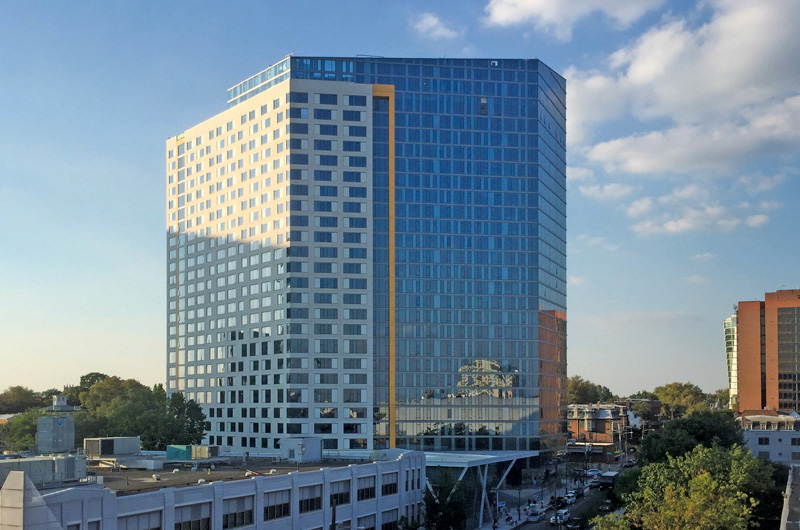 At around 9 a.m. Jan. 23, students in The Summit at University City were woken up for the third time this week by the now familiar blaring alarm, flashing lights and the words "attention, attention, an emergency has been reported in this building. Please standby for further instructions."
However, this time, unlike many others, there was an actual emergency.
An eight-inch fire sprinkler water pipe burst, leading to the partial flooding of the lobby, second floor and the subsequent evacuations of all the rooms affected.
The students who were forced to leave their rooms were only allowed to return hours later to briefly retrieve personal items before once again being asked to leave.
Affected students will be placed in The Study at University City while their rooms are being dried, cleaned and inspected to ensure they are habitable.
During this time, many of the buildings amenities such as the gym, study rooms and game rooms are closed with students being told that they can go to the other American Campus Community buildings, Chestnut Square and University Crossings, to access these amenities if needed according to an email sent to students. It is unknown how long these amenities will be closed.
When pre-junior accounting major Alyssa Melincoff heard the alarm she didn't bat an eye and got dressed for class, but was horrified to see a flooded hallway spread out before her.
"I think it's ridiculous that I can't stay in my own space and am being forced to leave. I have schoolwork to do; I can't worry about this," Melincoff said.
This is not Summit's first time experiencing issues with its water.
Last week many students were forced to go without hot water as a pump system had broken and took multiple days to repair. This left students with no alternative except to take cold showers in the middle of winter. It is not known if these two events are connected.
Staff at The Summit declined to comment to The Triangle.
"Eleven units in all were impacted with water damage. They repaired the sprinkler pipe that burst and restored the residential sprinkler system in the building," a spokesperson from The Summit told NBC10.
Students are expected to be back in their rooms in the coming days, if not sooner.