Two students in the Goodwin College of Professional Studies had the opportunity to work with Chef Gordon Ramsay on an episode of "Kitchen Nightmares" that aired March 30.
Andrew Bohinick, a junior majoring in hospitality management, and John Boswell, a junior majoring in culinary arts, worked to transform Zocalo Mexican restaurant, located at the corner of 36th Street and Lancaster Avenue.
The students worked with Ramsay and his team for a week in November, during which time the show was taped. In a typical episode, Ramsay and his team reconstruct an entire restaurant, from the food to the decor. Because Zocalo already featured authentic Mexican decorations, Ramsay focused on revamping the menu by adding new items and tweaking a few of the existing ones. The menu now caters specifically to college students.
"I had never had experience with Mexican cuisine, so just seeing how they came up with menu items and did research on them was really interesting," Bohinick said.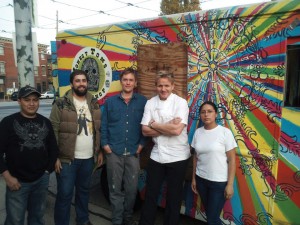 Boswell and Bohinick cooked alongside Ramsay's team to learn new culinary skills and how to prepare the items on the menu.
"When I'm in class and I'm doing something in the realm of Mexican cuisine, I go 'Oh, I already know how to do that,'" Boswell said.
Before the transformation, the kitchen staff consisted of owner Greg Russell and one additional person. The producers approached Drexel and asked if there were any students who would be interested in working with Ramsay, which put a new twist on the show.
Members of the hospitality program faculty assembled a list of students they felt were qualified to work on the show. The producers interviewed each student before narrowing the search down and having Drexel select the final two students.
"I came in one day, and Chef Ramsay said he brought in Andrew and John. We met them and started working together and clicked. They did a great job," Russell said.
Relaunch night proved the transformation to be a success for Zocalo, which has increased business significantly since last year.
"It was difficult to lose control of the restaurant for a week, but in the end it was definitely worth it," Russell said.
Russell even offered Boswell and Bohinick the opportunity to continue working in Zocalo's kitchen after the show finished taping to keep up with business.
"It was good to see how after learning the menu in such a short time, we were able to still put out good food," Bohinick said.
The Goodwin College participates in at least two professional events each month and strives for its students to pursue off-campus positions.
"There are a lot of opportunities to work with local companies. I hope some of the other people who have seen the show, restaurants and hotels will reach out to us and realize we have a really good pool of students at Drexel," Radesh Palakurthi, director of the hospitality management program, said.