Campus Philly welcomed students to a new school year Sept. 29 with its annual event, College Day 2012, hosted on the Benjamin Franklin Parkway.
Students received citywide discounts, giveaways, entertainment and free admission to museums as part of Campus Philly's initiative for students to study, explore, live and work in the Greater Philadelphia area. Maria Papadakis, daughter of former Drexel University President Constantine Papadakis, hosted the event.
Food trucks and live entertainment were part of the celebration as College Day swarmed with students enjoying free admission to popular attractions such as the Philadelphia Museum of Art, the National Constitution Center and the African American Museum. Radio 104.5 and Red Bull provided live music by Tanlines and IAMDYNAMITE.
In Love Park, Campus Philly hosted FallFest, another component of College Day, which featured live music, food trucks, fashion designers and vendors.
"College Day has been happening for over 25 years, mainly with the Philadelphia Museum of Art spearheading the day," Cara Donaldson, project manager of College Day for Campus Philly, said.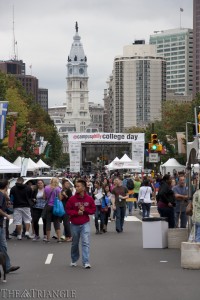 The idea behind this interactive day was to allow college students from the area to venture out and realize how much the city of Philadelphia has to offer.
The Philadelphia Museum of Art held an exhibit for students titled "Full Spectrum."
This collection, which will be open for general audiences through Nov. 25, displays prints from the Brandywine Workshops. Featured artists include John Biggers, Moe Brooker, Rodney Ewing, Joyce de Guatemala, Kenneth Noland and many more. The Brandywine workshop was founded in 1972 and focused on the emergence of printmaking as a serious art form. Located in Philadelphia, the workshop features local artists and embraces nearby communities.
A grand theme of the prints in this collection was identity, which directly relates to college students everywhere. Like these artists, who struggled with finding their true identities in a complex society, college students are faced with similar issues when forced to leave their safety nets behind and venture into the real world. Some highlighted artworks from the "Full Spectrum" collection were "Untitled" by Danny Alvarez, which features his take on Mexican heritage, and Judith Schaechter's "Virtue of Triumph (When the Devil Sleeps)," an allegory based on Venus and Cupid that depicts the thin line between love and jealousy.
"Full Spectrum" proved to be a perfect collection for College Day with its diverse nature. Campus Philly brought a festival component to College Day in 1999, first at FDR Park and then at the Mann Center, finally settling on the Benjamin Franklin Parkway in 2002.
Additional reporting by Surina Seetha