Students and administrators gathered Oct. 3 in the Intercultural Center for "#SHAFTED," an event centered around discussion about Drexel's campus community and students' involvement with University decisions.
A flyer used to advertise the event read, "Tired of seeing your friends leave Drexel? Sick of unpaid CO-OPS and tuition increases? Want a real say in how this university is run?" The flyers posted around campus and distributed via social media sites such as Facebook and Twitter invited Drexel students to the event to voice their concerns about Drexel.
"#SHAFTED was inspired by ongoing youth and student movements in Spain, Chile, Mexico and Quebec. As student loan debt in the U.S. surpasses $1 trillion this summer … Drexel continues to grow both physically and fiscally. The need for student resistance is apparent," one of the organizers, who asked to remain anonymous, said.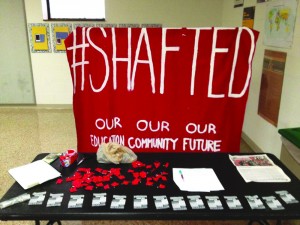 "There were only a few students present, and the issues they brought up ranged from: experiences of having to leave DU because of their inability to pay, the high costs of education and the sacrifices that some students must make, the sophomore residency requirement, cuts to student organization budgets, and where tuition money is allocated," Rebecca Weidensaul, associate dean of students, wrote in an email.
Students encouraged the administrators, who were originally seated at a table away from the students, to join them and engage in the circle of discussion.
"I saw the notice for the meeting, and as an administrator of the University with responsibilities for student financial services, I was interested in learning what the students' concerns were. While there were only a few students at this meeting, I believe that all student concerns need to be addressed through the USGA for possible resolution," Amy Bosio, vice president for financial planning and student financial services, wrote in an email.
Administrators from the financial aid office, the Office of Planning and Budget, Student Life and the Student Center for Inclusion and Culture attended, some of whom were vocal during the discussion.
"The open forum allowed for students to express their grievances, while some administrators who were present also contributed to the discussion and expressed interest in resolving some of these issues," Kenny Wittwer, a sociology major at Drexel who was forced to take time off due to financial reasons, said.
"Most of the meeting focused on enumerating problems versus finding solutions through communication and partnerships with the University. I hope that the group will consider my advice to work through the USGA. Blake Bostick, USGA president, is open to hearing from students with concerns, and he meets regularly with the University's administration to communicate and address student concerns productively," Weidensaul wrote.
"We've been meeting regularly since July and went public at the end of September with the launch of our Facebook page," the event organizer said.
The room entrance was staged with a table full of informational handouts and red felt squares, an international symbol for student resistance that began in Quebec, intended to be worn on oneself. A banner with "#SHAFTED" painted on it was draped with the words "Our Education," "Our Community," and "Our Future" written at the bottom.
The group plans to continue to meet and work on ways to get student voices heard by administrators within the Drexel community.