Drexel University's Admissions Welcome Center, designed by Drexel students, opened in April for prospective students' use when coming to visit the University.
Teams of Drexel interior design graduate and undergraduate students presented designs as part of a competition for a cash prize and a chance to have the winning team's plans used as part of the renovations being made to the Welcome Center.
Joan McDonald, senior vice president for Enrollment Management, was responsible for challenging the eight teams of students, supervised by interior design faculty, to come up with a new and fresher look to the Welcome Center.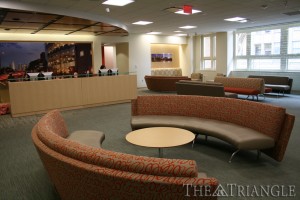 The teams were required to consider safety, code issues, sustainability, appropriate material selections based on durability and maintenance, costs, constructability and coordination with engineering systems.
"The students all presented to us with the same quality I would expect to see from a professional design team," McDonald said. "Although there was one winning team, elements from all of the teams that presented were used in the renovations."
The new Welcome Center, which now features a more open floor plan and contemporary feel, was designed by students Julia Jacob and Gina Limongelli, who have since graduated, and Emona Zaloshnja, a senior interior design major.
"We visited the Welcome Center in its original state and interviewed people that worked there on what wasn't working," Zaloshnja said. "It was very boxed out, with not much orientation. We wanted a big open space, more modern. Not a dungeon."
McDonald got the idea for this project by reading an article in the Antoinette Westphal College of Media Arts and Design's newsletter about another company that held a similar competition for art students to provide designs for renovations.
"The new Center is very open, very light, very airy. There are photographs of the city that translate the excitement of the University's location," McDonald said.
"I would recommend soliciting student ideas for other Drexel projects," she continued. "Students have great ideas and it's your space."
The new Welcome Center is located on the second floor of the Main Building and is now open for use.